Finally, some sun shine.  Honestly, I haven't been home enough to even notice, since my last blog Wednesday afternooon, I have been largely out of the studio/house.
Wednesday night was the business meeting for my guild, Jockey Hollow Weavers, and the new board was "sworn in" so to speak.  So now I am officially the program chairperson, and I am off to a running start.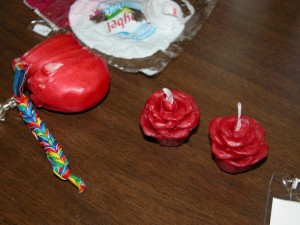 My daughter is a member of the guild, and they always welcome her and are so supportive of whatever she comes up with.  While we were going through the show and tell, she happily sat sculpting rose candles from the red wax left over from the Bonne Belle cheeses at the snack table.
Barbara Herbster was the speaker for the evening, and she talked first about how she uses a supplemental warp to create her beautiful scarves, some of the supplemental warp threads containing lycra to make the middle ruffle up.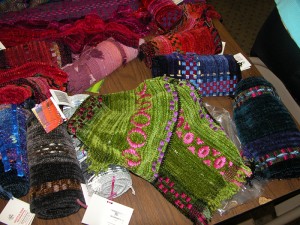 Barbara has one of the best senses of color, and it was inspirational looking at her work.  Barbara was one of my most creative weavers who wove for me during the years I worked on the forecast column for Handwoven Magazine.  I could always count on her to come up with something spectacularly original, keeping with the palette, theme and inspirational photograph I'd give her.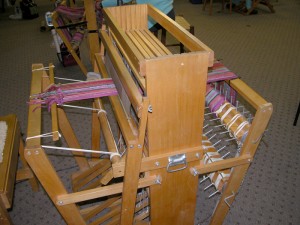 Thursday morning I packed up the 8 shaft loom, and headed out to a workshop with Barbara at the guild, it was a two day workshop on supplemental warp.  Barbara pre-wound the warps, and gave them to us to beam, some were chenille, and some were bamboo.  I got one of the bamboo warps.  I struggled a bit to get it onto my loom, I had a sectional beam, which normally shouldn't have been a problem, but there was a mis-communication about size and spacing, and it beamed incorrectly.  So I spent the day struggling through the first scarf, finally cutting it off at the end, and re-beaming the warp.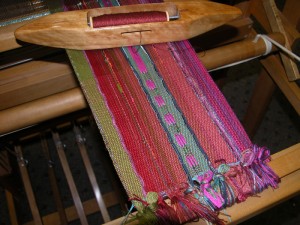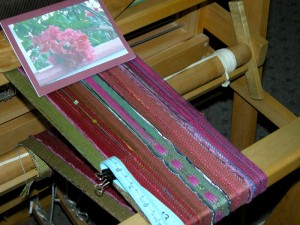 Barbara wound each warp based on a photograph of some kind of flowers she took during her last vacation.  It was a great way to wind a warp, much like I used to do with the forecast column.
Friday night, after the workshop, I unpacked the loom, and the bags of stuff one carries to these kind of workshops, and headed over to the Paper Mill Playhouse, to see their current production of 1776.  May I say that was one heck of a piece of theatre.  A standing ovation, the passion of the times of the days leading up to the signing of the Declaration of Independence, the total dysfunction of the first Continental Congress, and the hilarious witty lines which could have been written about the current Congress some 200+ years later, made for a terrific evening.
This morning I woke up feeling like I had been run over by a truck.  Actually, I am coming down with a cold, I feel crappy, but still managed to get to my American Sewing Guild meeting, where the speaker was one of the guild members, Tomasa, who is currently attending FIT, and she demonstrated to the group how to draft a bodice pattern on a dress form.  I actually learned a few things, she was a very good teacher, and the group was really enthusiastic.  I am liking this group of women more and more, and look forward to the meetings.
I came home from the meeting, and jumped into the car with my husband and we made the hour long trek south to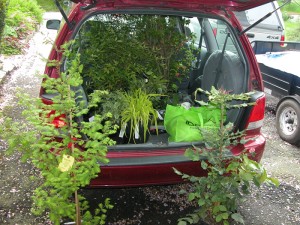 Rutgers, for their spring plant sale.  Plants from Rutgers University you might ask?  Who knew?  They have gorgeous gardens, spreading over acres, duh, they do have an agricultural school, and have a fabulous plant sale every spring as a fund raiser.  My husband and I always look forward to spending a weekend each spring at some nursery or garden center picking through the usual perennials, and shrubs in search of that one plant that catches our fancy.  Well, we hit the mother-lode here.  We were like two starving children in a candy shop.
We filled the car with all sorts of unusual specimens, trying to figure out where we were going to plant all these gorgeous creatures.  We have about a half acre of great gardens, ponds, perennials, all sorts of wet and dry areas, sunny and shady, and it is all pretty lush at the moment, due to all the buckets of rain that have come down in the last week or so.  So lush in fact, I was sort of shocked at how everything had grown about two feet since I last checked.
We found some really unusual things, including the small fern like tree on the left of the photo above, which is actually called Dawn Redwood, yes, that kind of redwood, it is a sequoia from China, thought to be extinct until discovered by the Japanese after WWII, grows to be more than 80 feet.  We couldn't pass it up.  And we think we have the perfect spot for it, but will have to fell a dying birch tomorrow, before we plant it.  We have lost all of our birches in the last few years, from some birch blight, but happily that just gives us more room to plant stuff.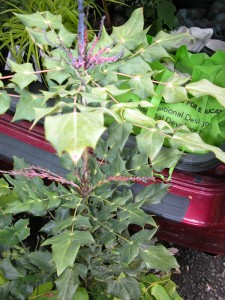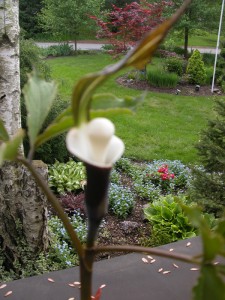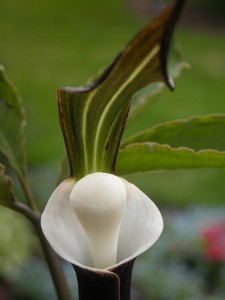 The photo on the left shows a Mahonia, an odd looking holly type of plant, with even odder flowers, which will be perfect in the shade by the bay window in the front.  After I paid for all our specimens, my husband went to get the car, and when he didn't return, I found him back in the nursery talking to one of the volunteers, about this jack-in-the-pulpit variety, that he couldn't resist.  So I went back to the check out table for one last plant.  Apparently this one is a male, which it is when it is suffering from transplant shock, and will eventually settle down and become a female and produce seeds once it likes its new home.  I looked at both my husband the volunteer like they had two heads each, but snatched up the plant, the story is too good to pass up.
So, tomorrow, after church and recorder practice, I'll put on my gardening clothes, and start digging.  I'm looking forward to a mother's day in the gardens, I promise I'll come back with some amazing photos of our yard.  It is really gorgeous.  I just hope my cold doesn't get in my way from spending the day outdoors.  No rain for the next few days, yippee!