Now that I have a son in his first year of college, I often think back on my first year of school.  I "went away" to school, all the way "up north" which meant Northern NJ, since I grew up in Southern NJ.  It was about a two hour car ride, if I had a car, and about the same on  the Trailways bus from NYC to exit 4 of the NJ turnpike when I wanted to go home.  Let's just say I didn't go home too often.
Anyway, my son is a musical theatre major and commutes to the local community college.  So in essence, we both participated in a Fine and Performing Arts degree program.  My son's expenses for a theatre major, mostly consist of books, dance shoes, and the occasional emergency costume, and lots of diner runs after rehearsals.  Of course gas and food are right in there, he is quite fortunate, I ate dorm food for at least two years until I got my own apartment.  Anyway, my expenses as an art student were quite different since I needed art supplies.  Lots of them.  There were books of course, but there were also lab fees, and the costs of paints, canvases, photo paper, film, yarn, and whatever else you needed to create great works of art.
In the spring of 1974, a second semester freshman at Montclair State College (now University), I took my first fiber class in the art department, and well the rest is history.  We learned in that class, a basic overview of fiber techniques, a smorgasborg if you will, and among the myriad of techniques, was spinning on a drop spindle, and for the braver students, the spinning wheel.  Classes were large then, and the fiber department popular.
It is no surprise I loved spinning, and you can read that whole story and how I met my mother in law in an essay I did entitled Circle of Threads.  But this isn't really about that.  At the end of the semester, the graduate assistant for the fiber studio, announced to all the classes that she discovered an opportunity to purchase spinning wheels direct from this place in New Zealand, they would be in kit form, unfinished, and if she could get 10 orders, she could get the wholesale price of $35.00.  I wrote home for more money.  My father wasn't real happy about fronting me the money to some unknown graduate student to send to New Zealand to some company called Ashford, and was pretty sure I'd never see this "spinning wheel" and what the heck did I want with that anyway…  But, gotta love my dad, he sent me the money…
That summer, I patiently waited for my wheel to arrive, I couldn't do much else because I spent most of the summer in bed in the living room with mono.  Back then when you were diagnosed with mono, you went to bed for six weeks.  Heck of a way to spend the first summer home after a year away from college.  Anyway, late in August, 1974,  a big flat box arrived, with lots of wood parts and directions.  All the way from New Zealand, it was my Ashford Spinning Wheel.  I was soooooo excited.  Even after all these years, I still remember how excited I was.  I carefully put it together, and I actually owned a working spinning wheel…
That wheel served me well over the next 35 years.  I spent many a Saturday while in college, demonstrating spinning at the Dey Mansion in Totowa NJ, dressed in a colonial outfit I made from gingham.  I think that dress is still in the attic somewhere.  I brought the wheel to Vermont to learn how to spin better, while staying with my boyfriend's mother who was, get this, a master spinner.  How lucky was that!  (Read Circle of Threads)  I hauled the wheel around whenever I did demo's to school kids and scout organizations, 4-H fairs, and enrichment programs.  And the wheel just kept on spinning.  I replaced the little leather piece on the bottom of the treadle rail.  I replaced the drive band many times, and am constantly replacing the rubber band that controls the drag on the bobbin in the flyer.  And I throw in spinnng wheel oil every now and then to keep it running smoothly.
Alas, about six months ago, as I was dusting the wheel, I noticed that the hub of the wheel had cracked apart, and the whole wheel component was loose.  Since I wasn't using the wheel at the moment, I had inherited my mother in law's upright castle wheel, made for her by Wes Blackburn in Canada,  it wasn't necessary to drop everything and take the wheel apart.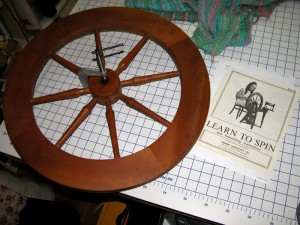 Well, I got a call to teach in about 10 days, a number of 2nd graders in a nearby elementary school, all about fiber, and where it comes from and how we make cloth.  I've been to this school before and it is alway a great experience.  But darn, my wheel is out of commission.  I checked the Blackburn wheel, and the driveband had split apart.  So both wheels were out of commission.  So, I made it a priority today, to root through the files, find the assembly directions for my trusty Ashford, and dismantle the wheel, so I could get a clear shot of the hub, put in glue, and clamp it overnight.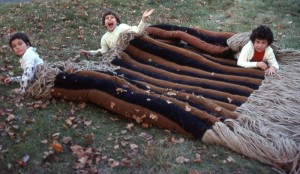 Meanwhile, at the end of my sophmore year in college, I had to write home to my dad again asking for a much larger amount of money, this time for something like 50 pounds of jute.  You see I was making this very large woven project with jute coming out either end of the double woven tubes…  At least I wasn't asking for a loom….    yet…….