The best way to learn how a garment is engineered on a body, is to take it apart.  When I was 15 years old, my mom had me tailoring my own coats, and some of the more affluent citizens of the township where I grew up, began asking me to do some basic alterations to their clothing.  My mom was always nearby if I had a question, but I had quite a lucrative business going, for a 15 year old, doing alterations, basic dressmaking, and learning how to deal with clients, and with deadlines.  I did that for a few years, through High School, and a bit while in college, and then life after college got in the way, and I swore that I'd never do alterations again.  I considered it tedious low pay work, and I hoped with my new degree in art, that I was quite above that sort of thing. (I know all of you are snickering uncontrollably here…)
Fast forward many years.  The current economic crises is what it is, no one is immune, in fact, where I was once booked a couple of years in advance for lectures and workshops, other than the fiber conferences where I am scheduled to teach this summer, there is no contracted guild teaching work at all now and in the foreseeable future.  And there are rumors of lay-offs at my husband's company as well.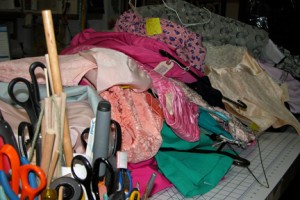 So, though I am very busy inventing things, and creating things, and learning new things, like any artist would be doing with the gift of time, I got my arm twisted to some "minor" alterations to a "dozen" dresses, for a local High School production of Footloose.  They are paying me, which helps, but I was quite unprepared for the volume of work that was waiting for me when I went to pick up the work this afternoon.  Two hours of fittings, and at least three dozen garments, most of them prom dresses, with huge 2 and 3 layer full skirts, at least a half a dozen need to be completely redesigned in the shoulder area.  I can do this kind of stuff in my sleep, though the challenge will be for me to do speed work for costuming, not handwork for couture.  The show is in 28 days, and I gathered from the conversation that this may not be all I have to do for them.
I am grateful for some paying work, and I'm not complaining, I can do this work easily.  But it isn't what I really want to be doing.  I'm sure everyone reading this would rather be doing something else than what life throws at you.  After all, I promised four more projects if you were counting.  Plus the Irish Handwoven Fabric I got for Christmas which I blogged about in December.  Sadly none of that will produce any income, only experience, and publicity, and the thrill of the process.
So I'll hunker down, get organized, and plow into this pile tonight, and keep track of my time since they are paying me by the hour.  Stay tuned…