Yippee!  I finished the jacket.  I am so happy with it.  As a matter of fact, today was a pretty good day, I accomplished a lot.  And this is actually my second blog today.  First the previous blog, with the spinning wheel caper.  While I was in the middle of that, I actually started sorting through all the magazines my textiley friend send the other day, largely because I have a guild meeting on Monday and want to unload all the duplicates, my shelves are starting to bend from the weight!  There weren't too many, and I did get to put away a whole stack of my own recent acquisitions.  I hadn't done that in awhile.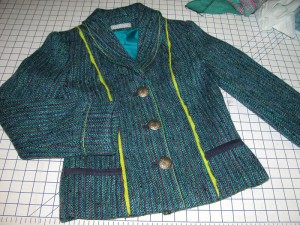 So, I got the lining in.  And it is beautiful.  I love using these sari's as linings, a gift from my husband's last couple of trips to India.  I blogged about it in early February.  I sat chatting with a girlfriend yesterday while I started the hours of handwork, a really good friend who is undergoing treatment for breast cancer.  It felt good to just sit and sew and chat, she lives on the west coast, and in this day of 160 character bytes of information, texts, emails, and twitters, an old fashioned hour and a half chat while I sewed in my lining was just the best treat for both of us.
I spent the afternoon (after organizing my magazines and fixing the cracked hub on my spinning wheel) writing an article for Shuttle, Spindle and Dyepot.  Sandra Bowles asked me to do a series of articles for the next three issues of SS&D, publication of the Handweavers Guild of America, on the Challenge Project I've been talking about in recent blogs.  So I did a synopsis of Loretta's and my experience as collaborators and team members, and wrote the article today.  I just have to proof and upload all the images.  Future articles will be about the other two teams.
So after dinner, I chatted simultaneously with my husband in New Hampshire via instant message on my computer, and my girlfriend Dawn via text message on my cell phone, and continued the hand sewing on the jacket.  I will say that was a bit of a juggling act.  I kept having to put the thimble down and answer the two sets of messages, and eventually just gave up in favor of the old fashion chat via speaker phone.  I finished the lining, took some quick photos, and voilá!