I feel like I am still spinning around wildly on that Merry-Go-Round, and my poor painted pony is running out of breath! But I'm getting closer to the finish line, if that's actually a thing. Truth be told, I seriously doubt it!
So I went off to Sievers. Sievers is a wonderful fiber school on Washington Island, WI, and we determined this is my 13th year there. I'm thinking 13 is a charm? I had an uneventful trip there, made all my connections, bags were waiting cruising around the baggage carousel when I got off the plane in Green Bay. The Sievers Staff sends someone to pick me up, we stop at a Walmart for my week of groceries and the all important box of wine, and off we go onto the ferry and my get away home for the week.
The weather was cold, and crisp, and some days bright and sunny, and other days, raining like the end of the world was coming. It even snowed one day.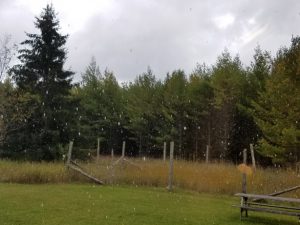 Sunsets were beautiful, and I actually caught the moon peeking through some gorgeous cloud formations as I crossed the road to my cottage about 10:30 pm, leaving students still working, this is one committed group!
Sievers always sponsors a "Getting to know you" breakfast with all the students from both classes at one of the local breakfast places, this time the Sunset, and the beach outside the restaurant didn't disappoint.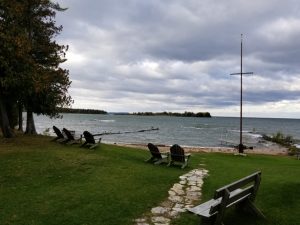 My class was amazing. 8 of the 12 students, really 9 of them had worked with me before, 2 at other venues, but all jumped in pretty quickly. The remaining three were excited and kept up easily with the rest of my Sievers' Achievers. The space is glorious, well lit, lots of tables, and all important cutting tables that are always in demand.
The students took advantage of all of the patterns I now offer, many of them making multiple garments over the 7 day class.
Of course there are always my jacket people, Margaret, one of my new students, but a pretty experienced garment maker did a gorgeous collared jacket with bound buttonholes from a commercial wool. Cindy D (there were three Cindy's in the class) made a longer jacket with a neck band for her yardage she wove from a Blazing Shuttles Handpainted Warp. She worked hard on the layout to get everything to line up.
I had a lot of tunics happening in this class. Cindy M made up a tunic in a commercial fabric she had laying around just to see how it all went together. Linda made up a lovely tunic from a commercial fabric, and Janene made two tunics, the first one, in beautiful watery blue chenille handwoven with Zephyr wool/silk she cut out last year and never got a chance to make it up, so came to class and picked up where she left off. The second one she made in a new handwoven cloth from a superwash handpainted knitting yarn. This one she made with a button placket. Helen also made a tunic out of contrasting quilt fabrics.
Helen was also one of my new students, and in addition to the tunic, she made a vest from her handwoven fabric.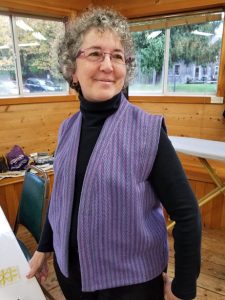 Gerri made a vest from handwoven fabric, this was a commercial pattern we needed to alter a bit. I love the contrasting band, also handwoven.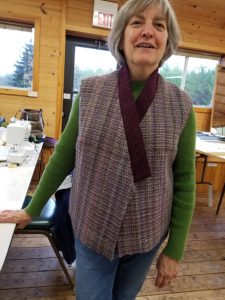 In addition, Gerri started in on the pattern and then the test garment, for probably the most unusual vest I've ever fit on anyone, from the Sewing Workshop, the Fillmore Vest. She had some beautiful handwoven, which apparently I didn't get a photo of, but once we tweaked the pattern, adding bust shaping, she got everything laid out and will cut and assemble at home. Can't wait to see photos of that finished.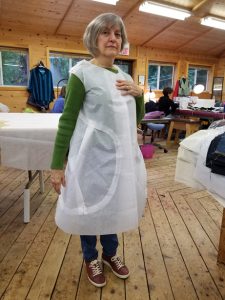 Terry also made a vest, this one we created a pattern from a drawing she brought in to show the kind of vest she wanted to really show off these two cuts of wool she bought on a trip to Scotland. She had a car full of gorgeous fabrics and started in on a swing dress/jumper, from one of my newest patterns. I missed getting a photo on her, but at least I got one on the table showing off what a terrific match job she did on the plaid.
Dawn for her first project also made the dress. And that gave her enough scraps to make the same vest that Helen made.
Cindy M also made the dress from an old fabric from the stash, working hard to get those red and white checks to match.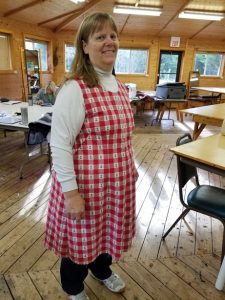 There is a pattern that has been shared around the class, many of the students have made it up multiple times. The pattern I'm sure is no longer in print, but turns out I have a copy in my own stash of patterns, and so it is on my list to make one of these knit blouses too. There is an interesting twist of the two fronts right at the bustline. Linda and Cindy S both made knit blouses from Today's Fit Vogue 1477.
And then we have the new jacket, which is like my zippered vest with sleeves. Dawn had planned to make it up, but had lots of tensioning issues with her handwoven fabric and kept cutting it off the loom when her tension went astray. There was a bit of warp left on the loom, and she hoped that she could get the last sleeve out of it after she got home and finished weaving what was left. She couldn't quite get the jacket finished without the sleeve, since it is lined edge to edge and then the perimeter binding and zipper are applied. A few days ago I got a text from Dawn showing me the remaining fabric is off the loom and with not a quarter inch to spare, it exactly fits the remaining sleeve!
The collared zip vest is fast becoming my most popular pattern. Janene made one last year from a gorgeous handwoven from a Noro knitting yarn. She brought it back because she wanted to alter it to create a side vent. So of course everyone wanted that. Ginnie made one from the fabric she wove with me in my designing yardage class back in July at Peters Valley. And she made a vent too.
Cindy M also made a gorgeous vest from her handwoven, again, really spending time to get the panels to match as best she could.
And Cindy S brought her jacket she made last year, back to class because we could not get the collar right. She had put bound buttonholes in my jacket collar to put onto a commercial jacket pattern she had used before, and for some reason, we just couldn't get the collar to lay right. We ran out of time last year, so she brought it back. Turns out, there was an oops moment, when I removed the entire collar and we laid it out on the table, and discovered that the whole collar had been put on in reverse, the shawl edge against the body. Which complicated things because the bound buttonholes were now on the outside edge instead of the inside edge. With some tweaking and tiny seams, I managed to reverse everything and she got it all back together and once she puts the lining back in and finishes handsewing, and gives it a good pressing, the collar now does what it is supposed to do.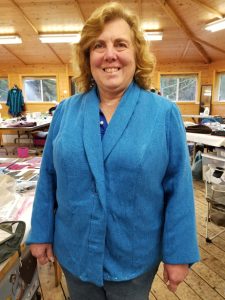 She went on to make a new jacket, this one also from handwoven, and after watching a video from an old Roberta Carr tutorial, inspired by a Threads Insider Video from Louise Cutting on Spanish Snap Buttonholes, she made one for this jacket. Turned out perfectly. I was peripherally aware of this technique, but will now make a garment with them and possibly use them for my closures lecture. They are perfect for a thinner weight handwoven.
And then there was Joy. She sat quietly in her corner of the room, making a gorgeous black duster coat, using my long shawl collared jacket pattern from a commercial wool fabric. Her line of bound buttonholes down the front turned out perfectly. I can't wait to see it finished with the lining installed and all the handwork done.
Here is my Sievers Achievers Class of 2019! And we had great fun at our newest tradition, Monday night Island Pizza night, we get take out pizzas and bring the wine (and beer, this is after all Wisconsin!)
Speaking of Threads Insider, my latest video is up, this one on making a full bust adjustment. Threads Insider is a subscription service, about $5. a month, and that gives you access to everything Threads, including all the videos, online archive and print magazine. There is a 14 day free trial. You can binge watch a lot of videos in 14 days!
And so I started the trek home on Wednesday around lunch time, knowing full well that there was a wicked storm on the east coast and that most likely I would not make it home and have to spend the night in O'Hare. The ferry crossing to Door County Wisconsin was enough of a ride! The water was rough, surf pounding and that tiny ship got tossed around! I got to Green Bay early and was able to hop onto an earlier flight, which was boarding as I was going through the check in process, I was the last one on the plane, pretty sure my bags wouldn't make it on with me.
We made it to O'Hare, where the Club lounge ticket agent also put me on standby for an earlier flight, the trick was finding my bags and hoping they would make it on the earlier flight as well. She knew they made it to O'Hare, and asked me to describe them. Hahahahah! Very very big and very very heavy. Both were soft sided, zippered, on two wheels. None of this spinny wheel thing, I'd break those suckers right off. Both weighed in at 70 pounds and had large straps holding them together.
I made it on the earlier flight to Newark, in spite of the hour and a half air traffic control hold for weather. Apparently they hadn't closed Newark airport, in spite of 60 mile an hour gusting winds, but were just spreading out the planes coming in. We took off, and all was well until landing. I started looking for the barf bag in the seat pocket. Everyone was holding on tight while the plane pitched in the wind, I have to give a lot of credit those two United pilots who got that plane safely on the ground. We sat on the tarmac awhile waiting for a ground crew of marshals to escort us in and I described the plane rocking back and forth in the wind, just sitting on the tarmac like two hippies doing it in a VW Microbus. By now it is about 11pm, two hours earlier than I was originally scheduled to land, and to my complete surprise and extreme joy, my bags came zipping down the chute of the baggage carousel. United, you made me very happy.
And so, I had only a couple days for the final prep for the recorder concert I've been working on for the last year for Montclair Early Music. The Rembrandt concert, shows the life and artwork of Rembrandt along with music of his time. Not having rehearsed with the group for the last month because I've been on the road made me a little nervous. The concert was yesterday, and just about everything went wrong like my windshield wiper flying off the car in the middle of a torrential rain storm on the way to the concert, not having a long enough extension cord, finding the 19th century church building where the concert was held didn't have a three prong outlet, but once all of that was worked out, with only minutes to spare before showtime, the program went off without a hitch. I did the narration and played bass, some of the photos surfaced this morning and I'll post them here.
Meanwhile, the Jockey Hollow Show and Sale is coming up November 9-10. During the evenings at Sievers, I had brought a bunch of scraps from old work and created a number of small bags to sell at the guild sale. I continued that, now that I'm back and have been making a bag a day, I'm really having fun watching YouTube tutorials and seeing all the ways that people put together zippered bags.
Final prep for the Outer Banks retreat, I leave on Saturday! Last retreat of the year. I'm so tired! My daughter is going with me on this one.
Stay tuned…