I almost missed today. It has been 21 years, and I almost forgot. I saw references in this morning's paper to 9/11 and I picked up my phone and looked at the date and realized that I almost forgot. There is so much happening in the world, that we aren't remembering the really important stuff, the stuff that keeps life in perspective.
I looked back over my blog posts of the last 14 years. I referenced this day a few times, but the one I'd like to re-share was from 2009, less than a year into my new blog, where I talked about a letter I wrote to the editor of Handwoven magazine, actually the editor requested that I write it, on September 12th, 2001. She had offered me the position of features editor and I said, though I was honored, I lived 20 miles from ground zero and we weren't even sure yet who in the town had died. Could I get back to her? She encouraged me to write how I felt, and what it meant to be an artist in uncertain times. September 11th was supposed to be my first day of the new semester where I was a substitute adjunct at Montclair State University in their Fiber Department. So here is the link to that long ago blog post with the letter I wrote for Handwoven Magazine. Thank you Madelyn van der Hoogt for the privilege of being able to write about grief, the unknown, and the pain of living through that time.
Moving forward I have spent an exhausting last couple of weeks doing the impossible. I cleared four looms and am working through a fifth. Turns out I don't have to report for jury duty the next three days, I call again Wednesday evening, so I get an extra three days, but still, I needed to tie up loose ends and have things ready in case I am put on a case.
So, the first one I cleared was the last of the 7 mohair throws on 18 yards, I wove from all the mohair I had accumulated over the years. That loom is empty and waiting…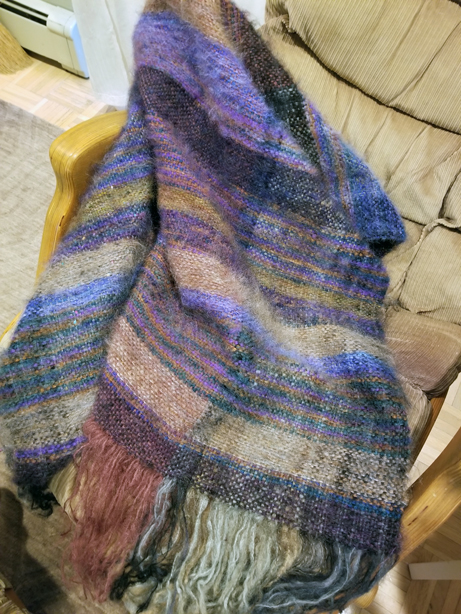 The next loom I cleared was the run of towels I had done to specifically explore a structure for an article I was writing. Those towels are washed and just waiting to be cut apart and hemmed.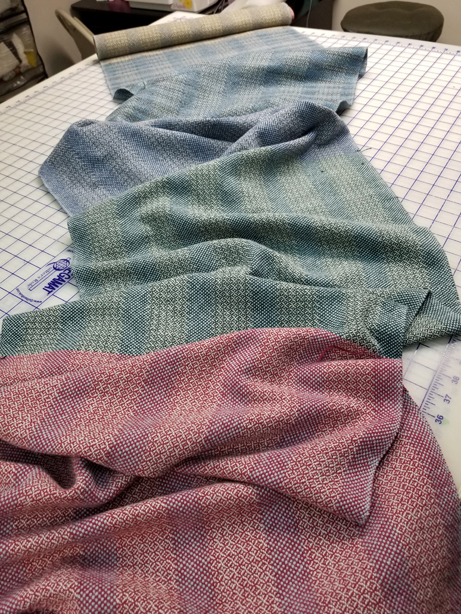 Then I cleared the warp from hell, actually the warp was fine, the way I threaded it, with the plain weave all on two shafts made each shaft stick and I had to manually push each shaft down for every row. 30 picks per inch. It was painful. But the fabric is beautiful. Simple, elegant, and washed. With a couple of unexpected free days, I'm hoping to maybe make up a summer top so I can wear it before the season comes to an end? This is a turned overshot on 8 shafts with a 20/2 cotton ground.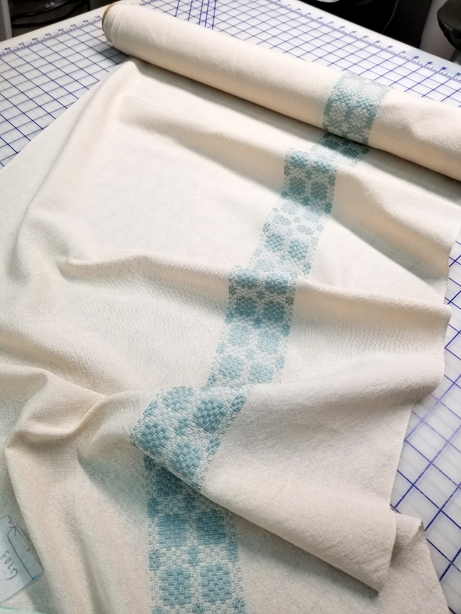 And then I went to the Macomber I had set up early in the year, with the broken shoulder. Brianna helped me with that one, beaming 15 yards with a broken shoulder was challenging. I only had two scarves left to weave, so I hunkered down and polished off that warp. They still need to be washed. I called this run A Winter's Tale (with apologies to Shakespeare), because really, this past winter was quite the tale…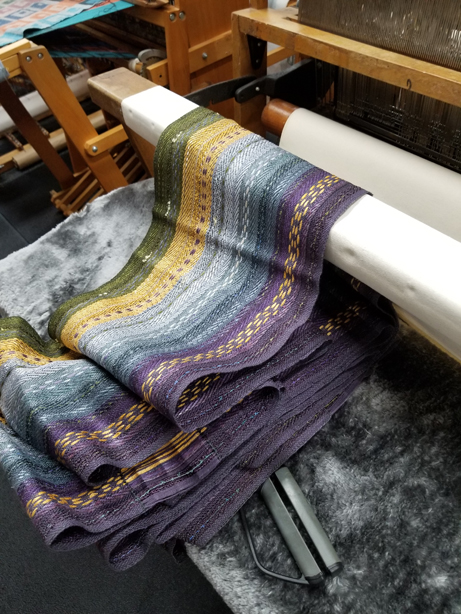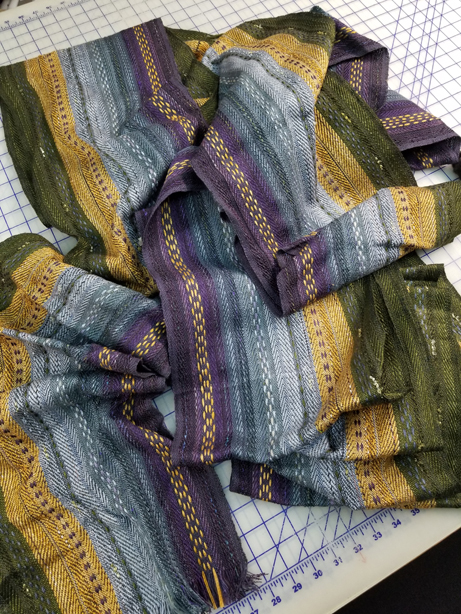 And now, I'm happily weaving off the ten yards of a rayon ice dyed warp woven in a crackle structure. It is really pretty, and with a 5/2 cotton weft, it weaves so much faster than the turned overshot!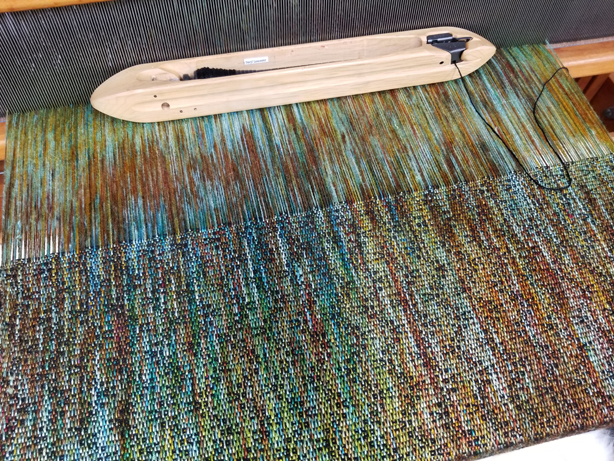 I continue to chip away at entering books into LibraryThing.com. I'm working on the sewing books, finding all sorts of treasures and vintage textbooks. I just hit 1,126 and still have lots more to enter. I opened this vintage sewing manual to check on copyright date and publisher info, most of those have to be entered manually and I got the biggest surprise of the year. There, across a two page spread and into the next page, were beautiful sentiments from my students from my first or second class at Sievers School of Fiber Arts, September 2007. This was a year before I started my blog. I have no recollection of being given this book, but what I really don't think I ever saw, were the beautiful sentiments carefully written inside. I read through them all and because I'm still good friends, after teaching there for 12 years, with many of my former students, I immediately sent them the photo, and we all had a good sharing of memories.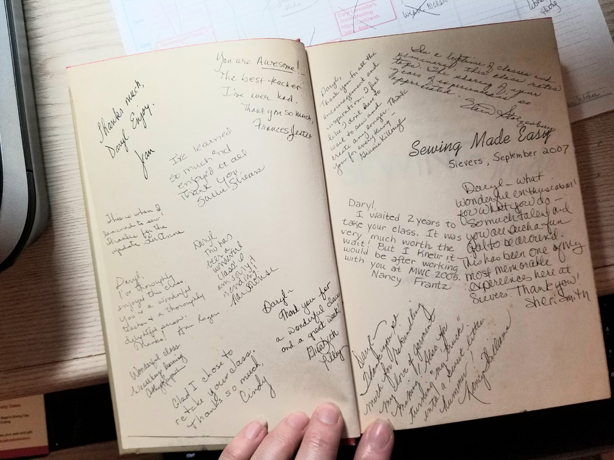 Last weekend, while I was happily weaving away clearing one of the looms, I took a break and came into the living room to find that the cushion in the window seat was, well, a picture is worth a thousand words.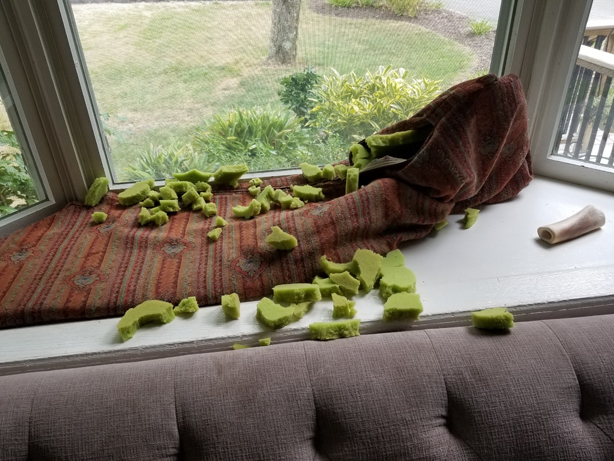 One of the dogs, there is no way to know who, somehow got his nose in the zipper and found the foam stuffing and well, I had a time cleaning the foam out of everything. One of the dogs (probably mine) had already chewed up the cushion and I had repaired it twice. I gave up, drove to Joann's for new foam and a new zipper, and with some fabric from one of my recent weaver estate sales, I remade the cushion.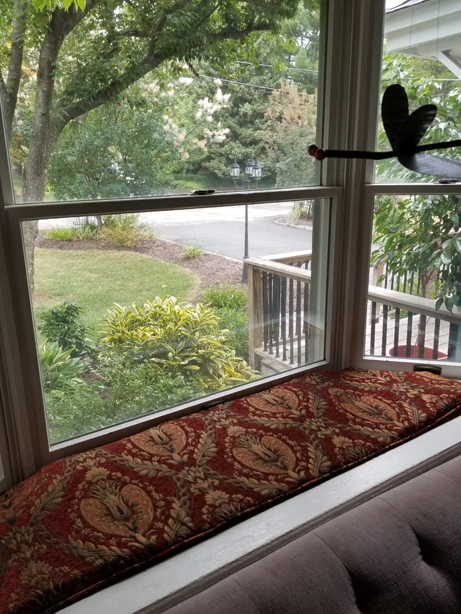 It didn't take them long to adjust to the new cushion.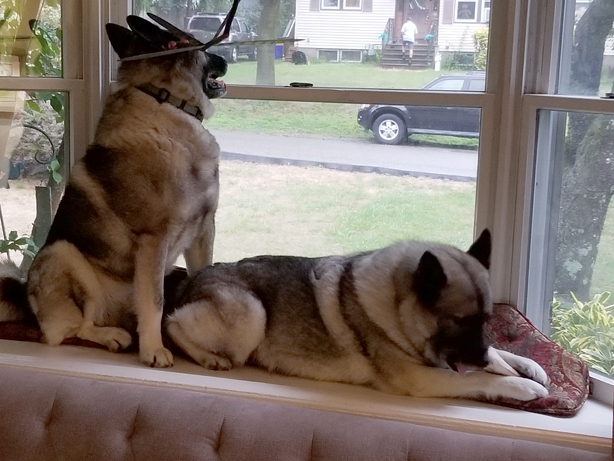 Crossing my fingers it lasts for at least a few months. It is their favorite place to hang out, letting me know about whoever dares to walk down the street. There are actually dogs who when the walk by my house, stop and sit at the curb to watch the show of these two maniacs barking their fool heads off because they are elk hounds and they are bred to find an elk and hold it at bay by barking annoyingly for up to 8 hours until the hunter can come and claim his prey. Sadly they've never seen an elk, so they think that everything that walks by, including baby strollers is potential game and I should be duly informed.
It is raining all day and will into tomorrow I hope. We are having a severe drought, after flooding rains all spring. I welcome the gentle rain. There is lots to do inside. I vacuumed my house and put to bed a 36 page issue I wrote for Heddlecraft magazine. I've been working on that for a number of months. I wanted it finalized before I am potentially placed on a jury.
One of the structures I wove to potentially be used in the article was one from Dr. Bateman, mentioned in a number of publications. This is draft 110 and I was able to weave two versions, get it washed and photographed, and get the loom reset. A couple of repeats a day, should get me through what remains of the three yard warp in no time. I have a lot of practice clearing looms, one repeat at a time…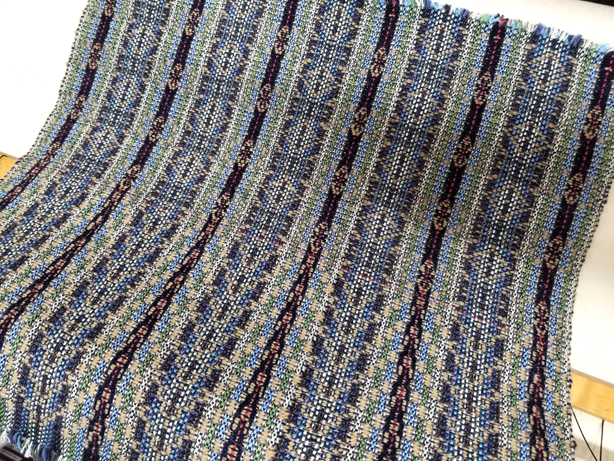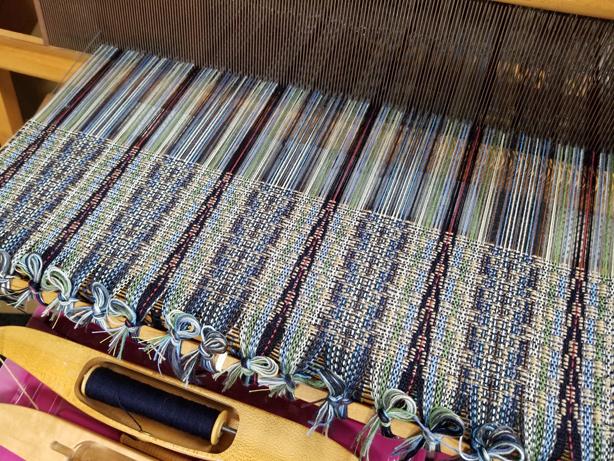 Stay tuned dear readers, hopefully lots more to come… And more looms to clear… And get warped again… Winter is coming…