Travel season is officially here, and I'm pretty much on the road from the end of the month through until November. I have one more getaway planned, a five day watercolor class at Peters Valley, though I decided to commute instead of staying out there since I have a one day turn around before I teach a five day class there in beginning weaving, the first week in August. Final plans for that class are on the to do list along with about thirty other items added since I returned from Reno. I'm good at all this, and lists are what holds me together. As long as it is on the list for me to glance at and deal with from time to time, I don't have to keep it in my head. There is something wonderful about the fact that a piece of paper can substitute for your brain…
I have a lot of updates to do in my files, my prospectuses, my digital files and downloads, I spent the day today updating all 17 project files on my website because as I lay awake Thursday night, with a very sick dog, actually sleeping outside with him to prevent him from getting sick in the house, I realized that all 17 project files had no attribution nor copyright information on them, 10 years from now, no one will remember where they came from nor whose draft and details they should be attributed to. There are days when I'm really not the brightest crayon in the box. I'm not the dullest either. Which is comforting…
Anyway, the great thing about digital downloads is I can correct files, and if you click on the download link again, the one you received when you purchased them, you will always get the latest version. If you've bought a project file from me, you might want to check to see if I've updated anything, especially those who bought them early on. I'm a tweaker of the first degree…
I left for Reno carrying most of my new work, since it related to the patterns I use for my classes, or I had made it to wear to events like the fashion show and the keynote address. When I went on stage after the fashion show to give out the awards, I asked how many people in the audience were wearing something that came from their hands and half the audience stood up. It was so incredible. As if on cue, and this was not prearranged, the house lights came up and I really saw the amount of handweavers out there who wore something they made. There were more than 600 people at each of the fashion shows, so that says a lot.
I'm always reluctant however to travel with new work that hasn't been officially documented in some way, so I was glad when all my work came home with me safely and Saturday morning, after a leisurely breakfast, I ripped apart my studio to turn it into a photo session. It requires shifting looms, moving furniture and equipment, but it works well, and takes me about a hour to set everything up. I take a few photos, run over to the office down the hall, check what I have, see stupid stuff I didn't notice when I was shooting and go back and tweak. Did I mention I am a tweaker of the first degree…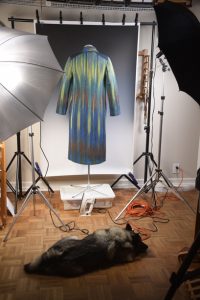 And this is the result. I realized I didn't shoot the back of this jacket. It has a pretty yoke cut on the lengthwise grain. I'll have to go back and shoot that next time my studio is rearranged. The jacket is a version of the Collared Vest pattern combined with the jacket pattern for the armhole, sleeves and pocket variation. The class directions for making these garments are available for free on my website, but you have to take one of my classes to get the patterns. I have not figured out a way to market them. Nor do I want to until I stop teaching. I wove the jacket from Noro Taiyo Lace knitting yarn with a Shetland warp, and cut it on the crosswise.
Then there was the Autumn Patchwork duo, the duster and the tunic, both from the same length of hand painted and handwoven cloth. There was a lot of yardage there. The tunic is from my class pattern, and the duster is a very long version of my jacket pattern with optional shawl collar. The Autumn Patchwork draft is available here.
I used my Jumpstart vest pattern to make this brown melton vest trimmed in the length of fabric I wove in the Karen Donde Bubble Cloth class I took awhile ago at my guild. It just occurred to me I forgot to shoot the crimp cloth vest I did from the Diane Totten class I took. Damn…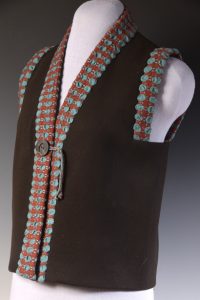 And I made this vest from my Collared Vest pattern, from the turned taqueté fabric I wove in a class with Kathrin Weber using her dyed warps. And I used the same pattern minus the collar to make this small piece of felt laminate I did with an old silk scarf from my late mother in law's stash. There are no side seams.
I cut up my old handwoven gown, and ended up with this lovely top, which I wore to the keynote address, though I sat in the back and few people saw it, I was too tired to interact with anybody having taught all day and then given an hour and a half lecture as the juror of the fashion show. The lower part became this lovely bias top. I can see getting a lot of use out of both of them. The draft for the Frosted Florals fabric is here.
I found some extra fabric from a tunic I made awhile ago and made another bias top, I wore both bias tops at the conference and they were so comfortable. The pattern is a bias variation of my collared vest pattern, but I haven't written the page yet that explains how to convert the vest to the bias top. It is on my lengthy list to draft all the bias top sizes, to save students time. The draft for the Pacific Sunset fabric is here.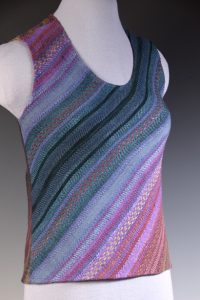 I also made this tote bag from a Krokbragd sampler I did in a Tom Knisely rug workshop. This is the front and the back. You decide which is which.
Then I made this long walking vest with a shawl collar, from a fabric I had done for a potpourri grab bag exchange at my guild. Guild events and workshops are always great for taking you out of your wheel house. I hope that Convergence does that for all of the attendees. The draft for the fabric for this potpourri walking vest is here. I combined my Jumpstart vest pattern, walking vest version, added the optional shawl collar, and overlaid it with the jacket pattern for the armhole opening, and drafted facings.
And last but not least, I made six of these gradient scarves, I may offer a couple of them for sale in my web shop, but they were from my hand dyed yarns, using the Down on the Farm palette from one of my handwoven forecasts long ago. The draft for this scarf and other color variations is here.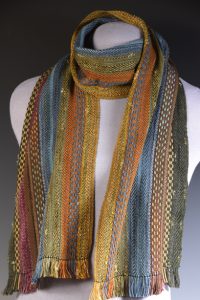 It was a remarkably successful weekend, I'm completely exhausted, but feeling like I'm seeing the shoreline from treading water in the middle of the lake. I have an emergency article to write and get to Threads Magazine before I leave on the 27th for Peters Valley, so that's next up, I'll put my office assistant on the job of updating all my downloads and print covers and handouts with the correct phone number. I'm happy to report the dog is much improved, back to his old bratty lovable self. And it rained all last night, a much needed lovely rain, which made everything green again, and that's a wonderful thing.
Stay tuned…