Well, I accomplished a lot today, none of the things I was actually suppose to do,  I got distracted…
I did get the scholarship applications judged, that was a tough one, all the students were equally qualified.  I'm glad I wasn't the only judge.  And I did spent a few hours getting all the work caught up for my guild programs for next year.  But that was yesterday.  You see, last Friday night, my church had a service auction, and I donated one of the scarves I made in Barbara Herbster's class the week before,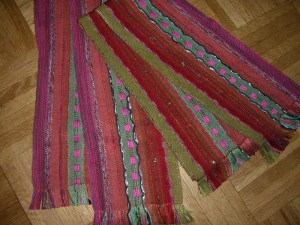 and to my great surprise, there was some furious bidding, and the scarf actually sold for $135.  I talked to the woman who bought it afterward and she told me she was prepared to go to $200.  So thanks Barbara, for a beautiful warp, but it really got me thinking…  And thinking…. And thinking…
Sidebar:  I did craft fairs from 1979 – 1989.  I've been there, and done that.  I have such a distaste for the whole affair, total burn out.  I enjoyed the people, and the lifestyle, for awhile, but making stuff, lots of stuff, to sell, putting a price tag on creativity, trying to figure out the market, spending every weekend of your life sitting in your booth selling your soul, well, let's just say that I swore, no matter what happened in the future, I'd never, ever do a craft fair again….  And I also said, I'd never, ever, ever sell my work again, put a price tag on it, and some of that is sort of understandable because what I do best is clothing, and once I make a garment now, I'm largely done with it, and it is nearly impossible to reproduce what I make, even if someone where to pay me handsomely for it.  Making handwoven clothing in production is no picnic, which is what I did for 10 years, I bought huge amounts of yarn wholesale, put on no less than 30 yards at a time, (weaving  it off in one day),  spent huge amounts of money on booth fees, spent ridiculous hours making stuff to sell, filling orders, running a business, and everything else that goes along with that lifestyle.  I had no life.
However, I was so enchanted with the scarves I made in Barbara's class, mostly because she opened up a new way to look at color and blending, and using small amounts of whatever is on  the shelf to make it work, which Barbara really does do best, and I got to thinking, really thinking…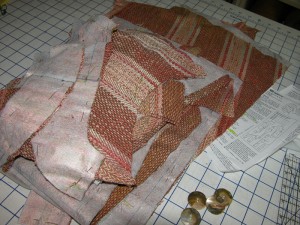 So I basically got the jacket cut out, because it was laying across my floor and I couldn't walk in my studio until I got it cut out and off the floor.  I got all the tailor's tacks in, and played around with interfacing.  I also experimented with seam finishes and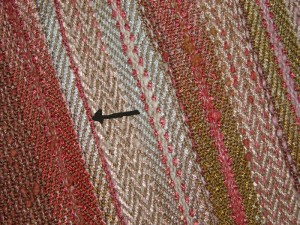 topstitching.  I tried couching with a novelty warp yarn, and it really does define the seams.  And I'm hoping it is pretty flexible.
But the whole time, I'm thinking, thinking…
So, I finally gave up, and started poking around the studio, pulling yarns and skeins, and cones, and bits of stuff, because you really don't need much here, to put on a warp for another round of scarves.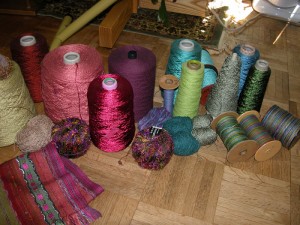 Oh boy was this fun…
So I stared at the pile for awhile, and played around with a draft, and wrapped a card to see if I could get a clue how this would look.  Barbara just grabs yarn and starts winding.  I'm not nearly that confident, but I can see how after awhile, this would be a great way to warp, and I can see doing this for yardage…
I had a number of variegated yarns, and some novelties, but the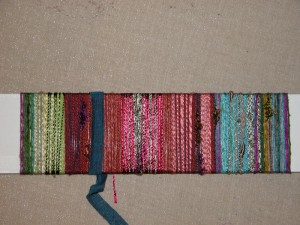 one thing I didn't have was any of the flat tape yarns that Barbara used for the supplemental warp.  I didn't want to duplicate the scarf I did in Barbara's class, after all, that was her design, but I liked the idea of having supplemental warps in some key places, and I actually found a small swatch of a knitted tape, which I carefully unknitted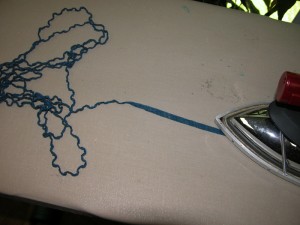 and washed, and then painstakingly pressed to get it to return to its flattened state.  I had about 14 yards, which would work for this warp.
I'm also intrigued by the possibility of combining doup leno with this technique, to provide even more surface texture, but I'll experiment with that down the road…  At this point, it is about getting something on the loom…
So, I grabbed my AVL warping wheel, I figured this would be a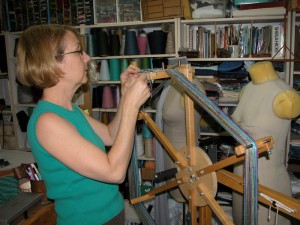 perfect use for it, because I'd be unloading it onto a sectional beam.  So I could wind the warps as I had them on the card, and then every two inches, dump the warp under tension right onto the warp beam.  I love this tool, it is a shame it is so expensive.  I bought mine at a long ago Convergence when AVL first introduced it, at about half the price it is now.  I remember waiting 9 months for it to come…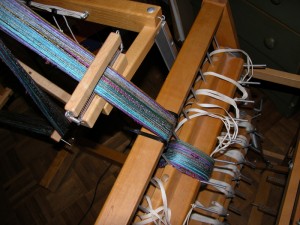 Once I finished winding two inches, I carried the wheel over to the loom, and slipped the end of the 9 yard warp over the back beam and hitched it to the cord for the section I  wanted to wind on the warp beam.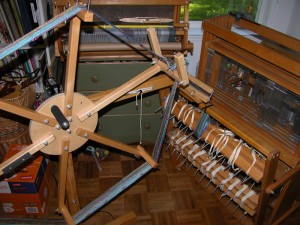 I love this tool!
So, I have 2″ beamed in my 6″ scarf warp, and this will ultimately give me four scarves, and if I like them I can
give them away
add all four of them to my wardrobe
sew all four together into a bigger cloth and make a garment out of them
have a big 'show and tell' at my guild
give them away
donate them all to my church
I'm running out of ideas
OK, I could actually sell them.
My guild, the Jockey Hollow Weavers,  has a fabulous sale in November.  So far I haven't participated because, gee, I refuse to sell my work.  So, depending on how these turn out, I just might actually have something to sell this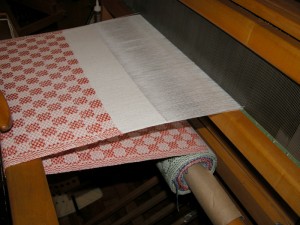 year.  Stay tuned…
Meanwhile, the placemat exchange is coming down to the wire…
Score:  Mom 7, Bri 6
Bri came into the studio tonight, and sat down and did another mat.  The front beam is groaning under the weight of the 13 mats, it is a pretty small loom, and this is the one where the warp beam cracked, so I'm crossing my finger that the front beam holds as well.  After Bri finished her mat, she had about a half hour to kill while she was waiting to leave for the High School, the spring band/choral concert was tonight.  So she grabbed my camera, and shot some pictures of her latest obsession, finger braiding.  She is making all kinds of bracelets from floss, which she keeps in a box and whenever she gets bored, the box comes out and the braiding begins.  I had to share some of the patterns she has done, these adorn her wrists at the moment, and she had to photograph them on her wrists since she can't get them off.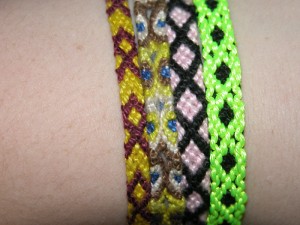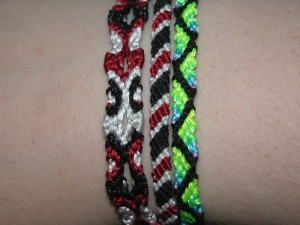 So there you have it, a productive day for the two of us, and one of the best High School concerts I've ever attended.  I didn't work on anything I was suppose to, but you know what?  I had fun…
One more note:
I did spend a couple hours this morning alpha testing the new Weavolution site.  It isn't up for viewing yet, but this should be an awesome web connection for handweavers of all levels and disciplines, Tien Chiu is one of the principal designers for it, and coincidently her blog is one of my favorite must reads.  She talks about the site on her blog today, and the team was mentioned in the last Weavecast Podcast.  One of the features I'm playing with on this new site, is the ability to post a project, and the draft and all the specs.  I got to thinking how I should be doing that with the pieces I've designed and executed since I started this blog.  I've been thinking about that anyway, extracting all the entries for a particular piece into one document, with the draft and yarn sources, and providing it as a PDF in the extras section of my website.  But for now, I spent some time playing with the Weavolution site, some of the early bugs are getting fixed, as we find them, but it is yet another opportunity to spend your days reading about weaving and getting inspired to get something on that loom, or if you haven't joined the ranks of handweavers in this country, this will surely inspire you.  I'll keep you posted when Weavolution is finally launched…