…Or the fabric that keeps on giving…
This is a very long and convoluted story, so grab a cup of coffee and know that even I can take years to complete something…
I started this blog in December of 2008. I really didn't know much of what to talk about in a blog, and here, more than 12 years later, I'm guessing I figured that out. I remember outlining a handful of projects that I thought I'd like to work on, and I thought I'd document how I made them, the decisions I'd make, and if nothing else, it would make a great record of my process for me to look back on.
Side bar… (My life is full of them…)
I'm going to be teaching a three day workshop, remotely, in Indianapolis at the end of the month. The topic is creating a pieced vest, using my creative piecing technique and appliquéd bias tubes. Participants will be making my 500 Vest, and I've already sent them the pattern, the interfacing, the tracing medium and a press bar. I've rewritten the 500 Vest directions to include some of my YouTube videos, The Weaver Sews, and I've actually created a couple of videos to help with the final vest construction; techniques that might not be intuitive. The first one aired last Friday and the second one should air this Friday. Indianapolis has agreed to be a sort of test for this type of workshop, and it helps that they plan to meet together, so they can help each other and take photos of each other to help me assess fit. So far so good.
The issue is, as I started pulling together the presentation on the piecing technique, as it relates to creating a garment, different than the one I've updated and am using to create a pieced mat, like the one I'm teaching for the MAFA conference (wait list only) this summer, I realized that the images in the presentation I've used for more than 15 years, are ones I shot for my first article for Handwoven magazine, using a film camera, which debuted in the November/December issue of 2000. Yeah, 21 years ago. Film camera. Yeah…
So I needed some fresh process shots, step by step, using the actual garment pattern they would be using. Though all of my teaching content existed digitally, going into the pandemic, the need to constantly update presentations is still there, and even more so.
Back to my blog of 2008. One of the projects I outlined back then, called Project Four, very original name, came from what to do with the generous leftovers of this coat I created called Complex Wanderings.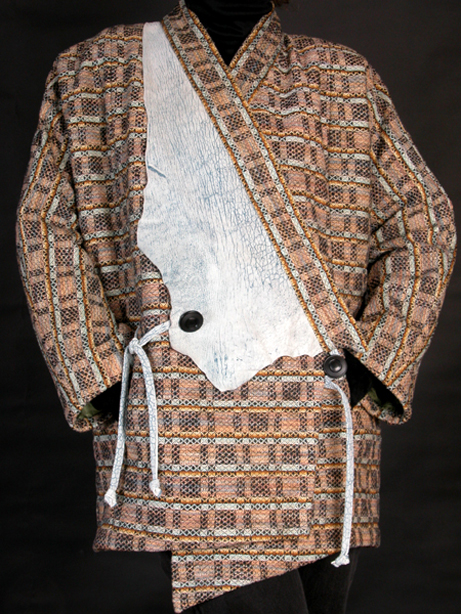 Here is the original post, from 2008, because I can't explain the journey this fabric has been through any better.
"The components for this project have filtered in and out of my life over the last 12 years. It started with a complex 8 shaft point twill fabric, of which I put way too much on my little 8 shaft loom many years ago. I was doing a sectional warping demo, so obviously a long warp was in order. I wove about 5 yards of the laborious two shuttle fabric back in 1995, and it was exhibited in the Portland Convergence 1996 yardage exhibit. The rest sat on my loom. For years. (Note: the fabric is an 8 shaft 2-block Point Twill by Sue Beevers from Carol Strickler's 8 Shaft Patterns, #165)
Fast forward 2002, I am diagnosed with breast cancer, and one of the odd things that came to me as I wandered through my studio, looking at the stash I'd accumulated, at the unfinished projects, at the yardage still stuck on the loom (I had something like 6 more yards to go), and thought to myself, "What if I died from this cancer thing and never actually used any of this stash?" Somehow that silly thought was just what I needed to move into high gear, and dive into my stash and weave/sew with abandon. I had nothing to lose and suddenly, the idea that we are immortal and will always be there to play with our stash was blown away by that one diagnosis, and I thought, how sad if I never got to see where something takes me, to use some of the precious things I'd acquired, and what was I saving it all for?
Getting that remaining 6 yards off the loom became a priority. Besides, I really liked my little 25″ 8 shaft Tools of the Trade Loom and wanted to use it for something else. It had been out of commission for 8 years by then.
I did manage to get the fabric off the loom, and obviously, I lived to write this story, and I did make a lovely coat from the fabric, shown above, titled Complex Wanderings, which is an appropriate title given my state of mind at the time. The piece was exhibited at Convergence 2004 Denver.
In 2006, I had an opportunity to take a five day workshop in Florida with Diane Ericson, sponsored by the Surface Design Guild in Tampa. I adore this group, and hopped a plane in February of '06, and played in the sunshine with Diane and the rest of the terrifically talented women in the group. It was up there with my top fiber experiences. I can't recommend Diane enough as a teacher and as a mentor.
I had to bring stuff to work with. Scraps of things, we would be working on many projects over the 5 days, mostly wearables and accessories. To get the most from the workshop I chose to start many projects, and finish them later at home. Some of the scraps I chose, came from the leftovers of Complex Wanderings, the 8 shaft fabric, and scraps of the light blue leather piece. And I searched my stash for other elements that would coordinate. A silk ottoman, a brocade, a raw silk yardage from my mother in law's stash.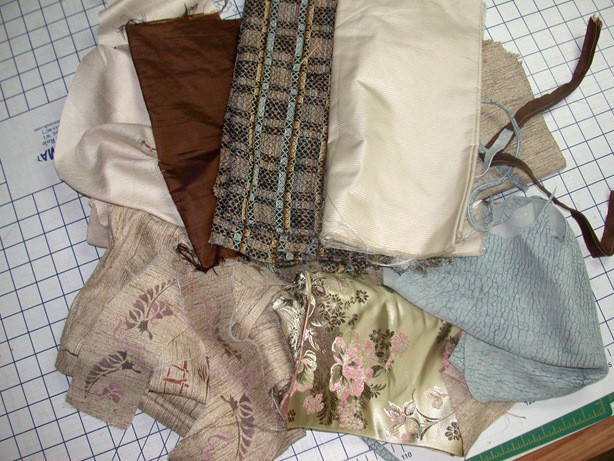 There wasn't enough of any one thing, but together the palette was beautiful. Using one of Diane's patterns, I started a jacket, just feeling my way along, letting the elements take me by the hand, and seeing what direction they went. While I was in the workshop, I loved what I was working on, and after I came home and put it on the dressform, the momentum was lost.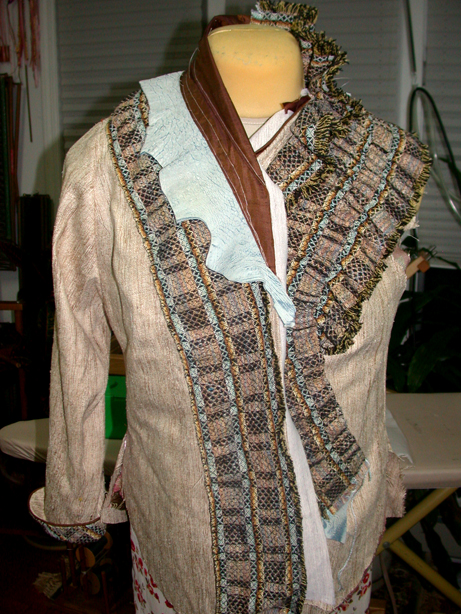 Life got in the way, and I never returned to it until a year later. I just couldn't recapture the direction I was going with it, and put it away for another year. So we are coming on Feb 2009, could that poor half finished jacket be almost three years old? I always tell my students that a piece will tell you what it wants to be, but you have to listen carefully. And it is pretty clear that this piece does not want to go in the direction I had taken it. So, my goal here is to listen carefully, and take this piece to completion, I love the elements, I love the textures and the palette, and I'd like to see something that celebrates all of it, in a playful way, that I will wear and remember a 12 year adventure."
Yeah… That was 2008. As a matter of fact, I recently came across a set of images my late husband shot of my daughter Brianna and me in my studio, from 2007. Yes, that's Brianna, about age 15. And there I am trying to appear interested in what's on the dressform. And yeah, that studio is appalling…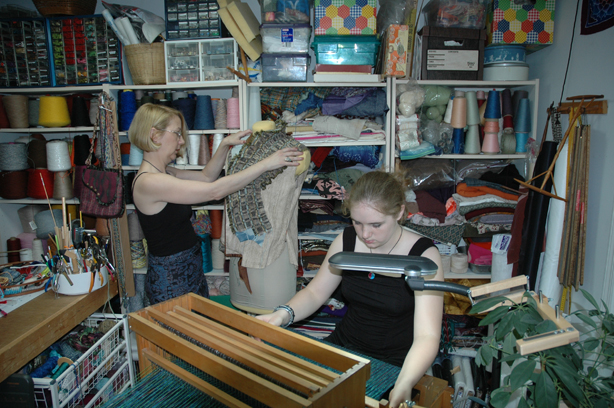 The piece eventually got removed from the dressform, and stuffed in a zippered bag, along with all the fabrics and leftovers I had pulled for the original trip to Tampa. It stayed in my attic until just this past year, when I rebuilt the studios and started pulling bags of stuff from the attic, just to see what was there. I have a cabinet under the stairs now of scraps from old pieces and occasionally make stuff and put it up in my eShop.
So now, April of 2021, my kids are grown, that fabric that I first wove back in 1995, when Brianna was just a toddler, has once again appeared on my cutting table.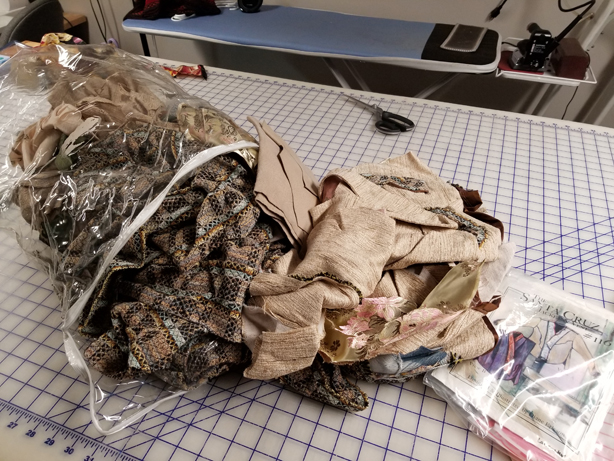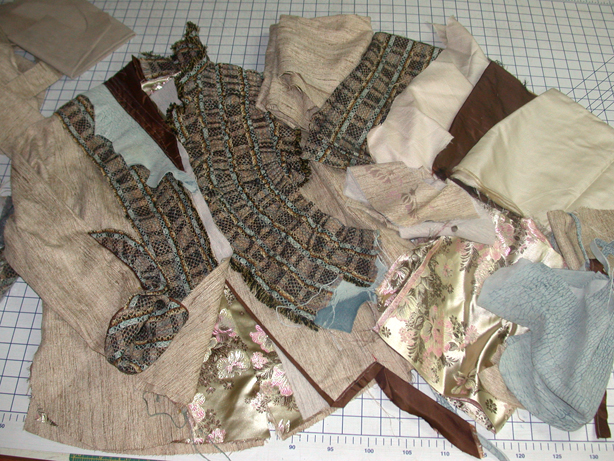 I've taken out the lining, what was I thinking, and completely taken apart the jacket so it is back down to just a pile of raw materials.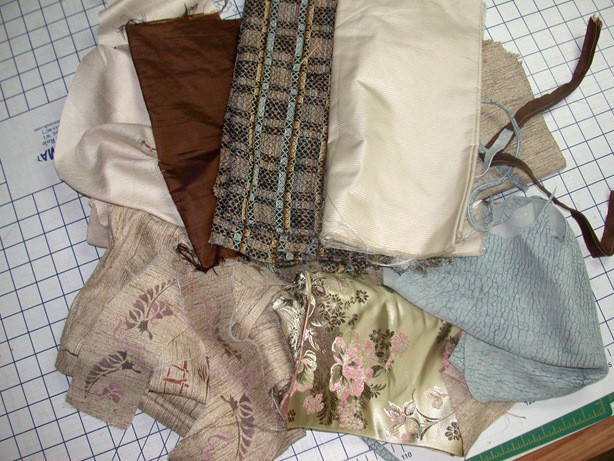 I've reworked the pile into what I think is a more pleasing group of fabrics, and found a lovely handpainted silk lining, probably from a long ago trip to Thai Silks in northern California.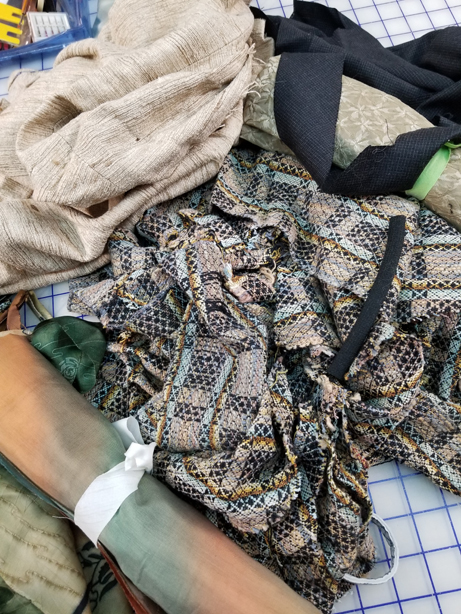 So now, the next step is to create a new vest, using my piecing technique, and documenting the process so I can update the tutorial/presentation for my class in two weeks.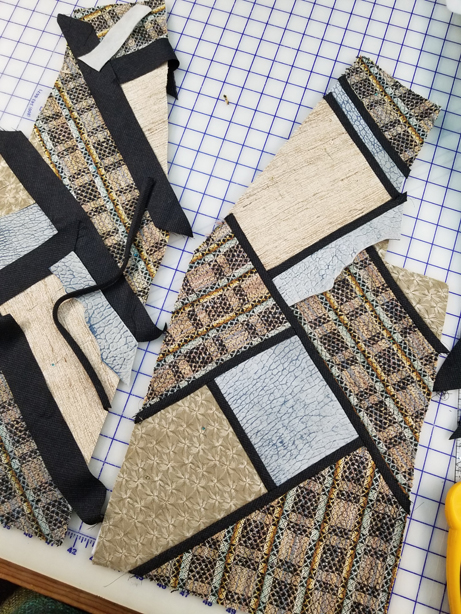 Can I tell you how much fun I'm having?
And this afternoon, I finished up all the pieces, cut the bands and the lining, and I think I have all the photos I need to update the tutorial. Once I do that, I'll actually construct the vest…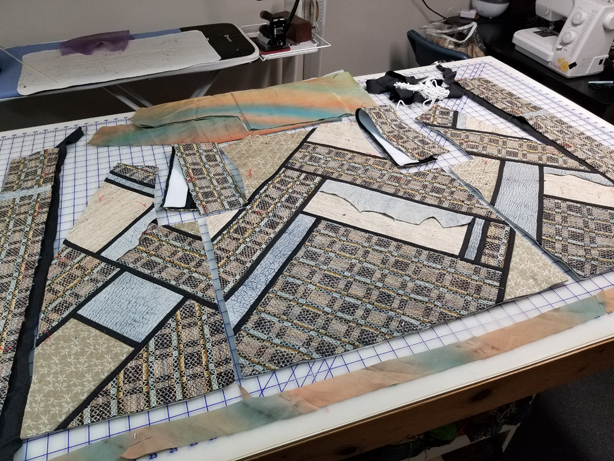 Yes, it took me 26 years to get to this point. There are no words…
Meanwhile, part two of my podcast with the Professional Weaver Society dropped on Sunday. It was hilarious. The three of us went off onto a few tangents, like getting a hobby, that were downright funny. So if reading this post isn't enough Daryl Time, you might want to check out Part 2 of my podcast with Tegan and Eric. This is episode 43. Episode 42, or Part 1 is here.
Stay tuned…