I've been back from my last conference about a week and a half. I leave next week for another venue, this time a five day class up at Peters Valley. This isn't one of my regular offerings, this one I do as a favor to Peters Valley, since they have a great facility, with all the equipment, looms, some yarn, and since I can drive there, I can bring some of my own stash for students to use. The class is Designing and Weaving Handwoven Yardage. I've refined this class a lot since I started teaching this there in the mid 1980's. Since it isn't something I do regularly, and I'm always coming up with new ways to teach things, I have more than the regular prep, so I was grateful for some downtime in between.
I've actually had fun this last week and a half, moving from one project to another, catching up on things, weeding the vegetable garden, you don't want to know, doing some minor household repairs, though I still have to change the fridge water filter. That warning light annoys me every time I open the fridge. I've had the opportunity to do a couple of social things, a luncheon with old friends, a couple theater experiences, all which constitutes a balanced life, which is the thing I strive for most and the thing that alludes me the most.
I've taken care of bookkeeping, filing quarterly sales tax returns, applying to various events, and the regular stuff that businesses are made of.
More importantly I've been able to play. First up was to clear a loom that had yardage on it, because well, I could use the sample, fresh off the loom, and since I'm going to be teaching a yardage class… I was thrilled when the knots came up over the back beam. The cat was watching…
The yardage turned out beautifully, all washed and rolled up. This is mostly rayons and rayon cotton combinations, an odd assortment of things on my shelf I combined in a repeated pattern. It is my most favorite way to work. This was just a combination of plain weave and twill, on eight shafts, one of the things I'll be discussing in the workshop next week. I think I'll call it driftwood…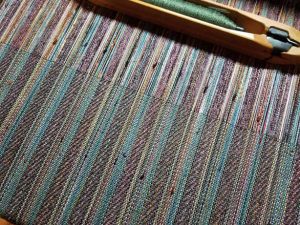 Meanwhile, I've had a number of requests from younger students, who tell me that they only want to make and wear things with hoods. I'm laughing, not a silhouette I ever considered adding to my vast offerings, but when the 5th or 6th person asked, I thought to myself, self, you could easily add a hood to the tunic pattern. And I've also had enough guys in my classes that offering more of a men's shirt sleeve in the tunic, essentially a drop shoulder, could easily be an option, so I thought I'd draft both onto my existing fit model. The current tunic has a set in sleeve, the same one I use in my jacket patterns.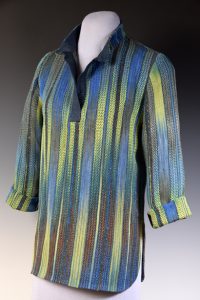 The newer version ends up looking more like a man's tunic. Though I realize the line between gender specific silhouettes is blurring so much it is often indistinguishable, offering two different types of sleeves is not a big deal. As a matter of fact, the original tunic I made had this sleeve.
I spent a few days drafting and testing the new version of the tunic. And of course the cat couldn't have been more helpful.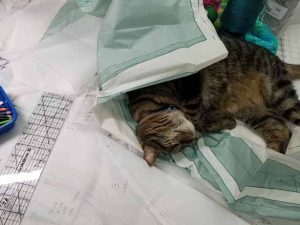 I made up the sample, in a bed sheet, in a fuller size so my daughter could try it on, because she is of the generation that prefers hoods on stuff, I'm not a good judge. She loved it. And she declared that the hood size was perfect. She likes them big so she can cocoon or nest in them… Whatever…
The patterns are drafted, notes taken for how to alter the direction sheet, adding probably another half dozen pages to the handout. I'm still working out a few of the finishing options, I'll probably make a sample to fit me out of real fabric, but the main part of the work is done and I have it drafted in all sizes.
Of course there is still the button down version with inseam buttonholes…
Meanwhile, as I was hanging out at the cutting table, I was also thinking about the sequence of what I'm teaching next week, because I needed to create an extensive handout, and design slides would be important. I thought about some of the demos I'd do and that led me to look at my shelf and start designing the next yardage to go on the loom. You know, since I have a now empty loom and all…
I gathered up things I thought might work in this new yardage, small bits of this and that, handdyed skeins I could demo with. I found a half dozen spools with the remnants of a handpainted rayon from a challenge project I did back in 2007. The spools were dusty but very usable. Time to clear them. I prewound a circular warp to show the students how to line up variegated yarn for an ombré effect.
My daughter came home the other night with a new basket she had made, as the fiber assistant at Peters Valley this summer, she gets to sit in on all the classes and the one this past weekend was a basket making class. I immediately claimed it for my own. Well the cat did first…
Meanwhile, I finally sat down to start weaving on the dishtowel warp I put on last month. Too many empty looms lying around not doing their job, and so I got a head start on the dish towel run for the year. The draft is an alternate colorway from a draft from Webs, the Kaleidoscope towels. Loving this. I'll do a few with a black weft and then change to something else. I usually design my own structures and warps, but once in awhile, it is just a peaceful and gentle choice to buy a draft and weave someone else's work. Sometimes it is lovely not to have to think so much…
Meanwhile I'm steadily working on a 165 slide program for an early music group I belong to, Montclair Early Music. This one involves works of Rembrandt and music from the 17th century. It is a huge project, one I reluctantly agreed to, but now that I'm in the middle of it and most of it is in place, just the timings and the commentary and the captions on the slides to finalize and polish, I remember why I agreed to do it. I'm really good at this sort of thing. I like researching stuff, and have plenty of references in my vast library of art books, and I'm learning a ton. I'm not a huge fan of 17th century Dutch masters, but the geo political situation, fresh off the Spanish Inquisition, is just too interesting. Imagine no more commissions by the church or the aristocracy, where artists had to rely on common people for commissions and revenue. Sort of like things are today… Makes you think…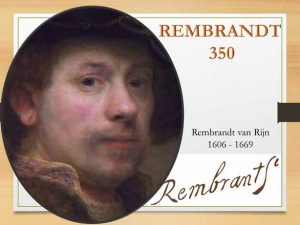 Meanwhile, the latest of my videos on Threads Insider is available, this one on covering and installing shoulder pads. It is weird watching yourself on TV so to speak, but I'm really happy with what they've done, and what I said, and what I showed, and I can't wait until they put up the rest. Threads Insider is a subscription service, if you already get Threads magazine, it is something like $12 additional for the year, but well worth it, the videos are wonderful, short about specific techniques, and there are lots of ideas there which I know have influenced some of my work.
Stay tuned…