The asymmetrical dilemma…
This started a while ago, if you've followed me for awhile, you know that in the winter months, I keep dye pots going and gather a large group of random dyed skeins of various weights and textures, mostly cellulose like rayons and cottons, but occasionally I'll throw some random wool or loop mohair skeins in the crock pot while I'm at it. By November I had amassed quite a collection of random wool and mohair skeins, each not enough to anything with, but together, they represented quite a good amount of yarn.
Back in December of 2014 I wove a series of dishtowels that I loved in cotton/linen, based on a project in the Sept/Oct 2014 issue of Handwoven Magazine, Linda Gettman's Bright Herringbone Twill Towels.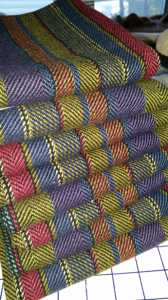 This is basically a color and weave project, and the color placement along with the twill makes for a very cool surface. In the fall of 2017 I made this silk twill tunic, from hand dyed skeins of raw silk, and based the weave structure on that same draft. It has gone through so many iterations, I probably can't say at this point it is Linda's draft, but I really can't claim it is all mine either. The frequency and random arrangement of stripes is all based on what yarn I have in front of me and how much. There is a lot of careful calculation down to the yard of each skein, and careful winding of the warps based on the computer draft.
So last fall, I set up one of my larger looms, not thinking there was any hurry to weave it off, and actually even thought it was a little bright and very random, but would probably make a cool fabric once it was washed.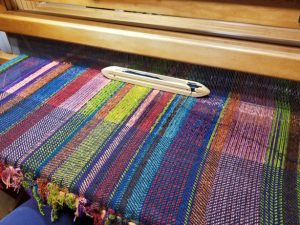 Side bar… By this time last year I knew that I was one of two invited guest artists for the fashion show at the HGA weaver's conference, Convergence taking place this summer in July in Tennessee. So for the last year, I've been in the back of my head thinking of work I have, that is recent (actually none) and that would represent me and the venue for a Convergence Fashion Show. They needed five pieces. This has been haunting me on and off for a year, because I don't want to invest in five "runway" pieces that I have no use for later on, because really, each piece is only good for two years before it becomes too old to exhibit.
Anyway, the fabric on the loom certainly was bright enough, and would show well on the runway, but I really wasn't in a hurry to weave it off.
Then the idea struck me to renovate the garage and build a dye studio and new weaving studio. Yeah, that happened. It was an extraordinary amount of work, and physical energy, but it was ultimately all worth it. However, the two largest looms we own couldn't be moved without dismantling, and they couldn't be dismantled without weaving off the warps on them. One of them had the wool mohair stripe, and the other was a differential sett fabric my daughter was weaving for a lecture in Massachusetts that keeps getting postponed for obvious reasons. So I sat down and wove, and I wove, I think there was something like 8 yards of warp on this baby, almost full width of my 45″ loom. Both looms were cleared, and ultimately moved.
I pulled the fabric from the loom and washed it based on the sample, being really careful because some of the wools fulled more than others and I didn't want a seersucker effect over 8 yards. It was still bright and random… I might have posted it on the blog back in February and didn't get a whole lot of reaction to it. It was bright and random.
But it would make for a great runway piece for Convergence…
Meanwhile, I've been thinking about ways to combine many of my patterns, into new looks, based on feedback from students. I taught in Oregon the beginning of March and got some solid ideas there. Most everyone was working on swing coats and I thought about pulling elements from my tunic, precisely the hood and the in-seam buttonholes down the front and of course pockets, and well, there was that bright and random yardage…
The first dilemma was that because the stripes were so random, and I needed for some symmetry in the left and right half of the garment, there was no way to get the fronts and backs to match at the shoulder. So I went to my old shoulder fix by adding an epaulet of a wool bouclé. Hardly seen but definitely cleaned up the shoulder issue.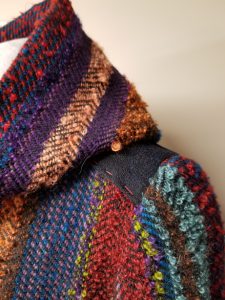 The construction of the in-seam buttonholes is not terribly difficult, but a large strip of fabric is cut off the center front, and then seamed back on, which is what creates the seam with the buttonholes in it. I cut an wide extra amount down the center front when I cut out the yardage, but the way the stripes occur, the ending result was a bit of asymmetry right down the center front, looking to me like I was being too random in a very symmetrical piece, or just messed up.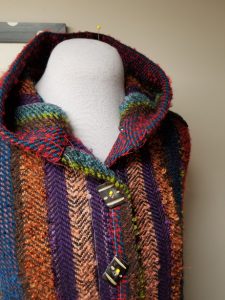 It bugged me. I asked my daughter for her opinion. She waxed philosophical, saying she knew it bothered me more than it bothered her, but she didn't say, "Mom, it's fine." I had enough fabric leftover that I could completely take apart the front and part of the hood, cut a new strip that when seamed would reflect the left half of the garment, and redo the buttonholes. It took a whole day, but I'm so glad I did. Four days of handwork, and lots of Zoom meetings. The cat decided to help.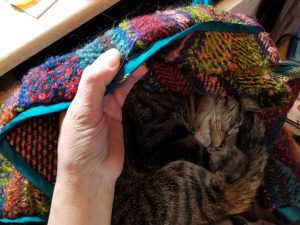 I finally finished the swing coat with hood and in-seam buttonhole placket and I couldn't be happier. The fit is perfect, and I'm thinking of what else I can put the hood on. I started to set up my quickie photo shoot in the mirror, actually got out of pajamas and put some real clothes on. And as I took the first photo, my daughter walked in holding one of the dogs and photo-bombed the picture. It was so hilarious I had to include it.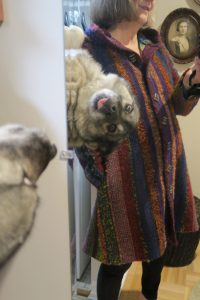 So here is the new neckline, symmetry it is.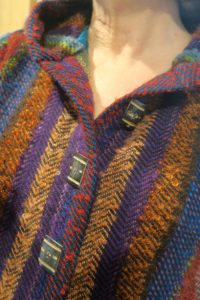 And here are the front and back views, I adore the back, professional photos will come later. And yes, my hair turned silver almost overnight. We aren't under any stress here in NJ.
Meanwhile, by now everyone knows that Convergence of course has been postponed, my conversation with Linda who is in charge of the fashion show indicated that everything would be moved to 2022 and would I still consider being an invited artist. What else was I going to answer but, "Of course", though in reality, that seems like so very far away, and this piece and anything else I create will be a couple years old, which means new work, and well, I'm just not going to think about it right now. I've got patterns to draft, instructions to rewrite yet again (my editor is a task master!) and I've a couple naked looms, actually quite a few that are calling for warps!
Stay safe everyone, stay curious, and stay busy! Stay tuned…