The last of the 2019 retreats is finished, and I'm home, unpacked, and looking forward to the weekend where my local guild will have its annual show and sale. I made lots of little things for the sale this year, enjoying rooting around in the attic for stuff to make stuff with. I sat in the evening making stuff, both bags were sold before I even left the Outer Banks!
Of all the retreats I do in a year, the Outerbanks in NC (OBX) is the one with the most colorful and interesting, and of course that means the most challenging of fabrics. I'm trying to think, I believe everyone in the group of 11 had handwoven fabric. That's unusual, but not for this group! Many of the students in this retreat are supporters of, and students of Kathrin Weber, of Blazing Shuttles fame. They either purchase her warps, or have learned to dye warps themselves through her classes. The fabrics that come out of her warps are gorgeous, but again, with that comes a cutting challenge.
The space we use for this retreat, is a common room in an ocean front condo/resort, The Sea Ranch with a bar across the hall. Though it wasn't open for much of the beginning of the week, except for breakfast, the staff stayed on to make sure we were fed well before they closed up at lunch time. The convenience is wonderful.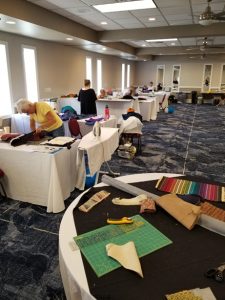 I brought my daughter along on this trip. She brought her magical gifts with her, for spacial relationships and organization and is absolutely the best at figuring out a complicated layout. We have the benefit of a huge carpeted floor to crawl around on, though the carpet can sometimes make you a bit dizzy! That would be my daughter Brianna, with the unicorn horn and rainbow hair, right in the middle of all the action. They even started an Alert list for her, in addition to the one for me, to help with layouts. They all made her feel really welcome.
Every morning when I woke, I'd sit up in bed and look out the balcony window and see the most glorious sunrise. I never tire of this view.
My retreats are getting more challenging in that I have a lot of repeat students (8 of the 11), and each student with few exceptions was making something different. Two of the repeaters actually came in with their own designs that we were able to create from my existing patterns, giving me lots of ideas for future variations.
And this class gets along pretty well. We of course have the thermostat wars, but the seasoned veterans know which side of the room to choose, because one end of the long classroom is 10 degrees warmer than the other. And we did try hard to keep politics out of the discussions. But when they happened, it was really interesting to get the perspective of people who actually know something (like a government employee or two) and aren't just quoting what they see on facebook. Thanks everyone for trying to keep things respectful.
And so the silhouettes are varied, as are the students!
My favorite photo of the whole week is Lisa and Margaret, both making their garments from Blazing Shuttles warps, Lisa a new student of mine, and Margaret one of my beloved seasoned veterans.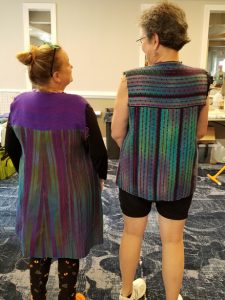 Margaret is so seasoned, she made a second garment, which was the vest above, her first garment was this dress, a very limited narrow warp, which she framed with the leftover fabric from a baby wrap she cut up. The dress pattern is from a download, I've forgotten whose, maybe from fabric-store.com. The vest is one of my patterns.
Here is Margaret and Lisa again, but with Dornan on the left, who made a remarkable vest, with a handwoven Bedford Cord, stuffing each of the "tubes" for a very lofty and fabulous fabric. For some unknown reason, I always miss documenting one of the students, I don't know why, but this is the only shot I got of Dornan's stuffed vest, though I know she had a zipper and collar on and the perimeter trim by the end of the class.
Peggy made a beautiful tencel tunic, with 8/2 tencel from the Yarn Barn. I think the structure was an 8 shaft plaited twill from Strickler. She still had handwork on the hems to finish.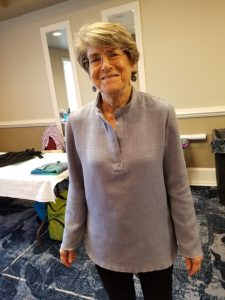 Elizabeth made a collared vest with a zipper, from the leftover fabric from her jacket from last year. A lovely subtle cotton, grey with random lavender stripes. she trimmed it with a plum stretch corduroy. The zipper and collar and perimeter trim were in by the end of class.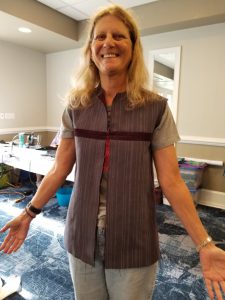 Cyndi and Melissa made garments from their handwoven cloth, Cyndi's was a cotton stripe tunic, and Melissa, one of my new students, made this gorgeous colorful jacket from a Blazing Shuttles warp.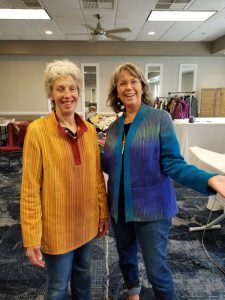 Lisa did finish her swing coat, with the shawl collar, all except the handwork of course, and I will say that Lisa gets the gold star for tenacity, she only had a brief sewing class before this, but stayed late every night, trying so hard, ripping out when things weren't right, and the results are stunning. She is so happy and I'm so very proud.
Thursday was Halloween, and my magical daughter did not disappoint. She had hidden away in our completely packed car, a costume for the occasion, and I just had to smile and say, well of course, when she showed up as a rainbow unicorn.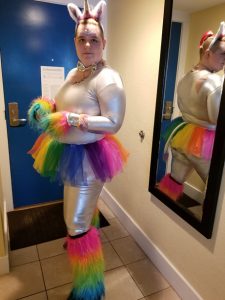 Mary came in with a sketch, wanting a sleeveless vest with a belt, and we were able to make that happen using my base patterns.
Gaila, who has taken a few classes with me, brought in a really really narrow warp, but we converted one of my jacket patterns to a princess seam version and she was able to add a beautiful navy wool to the narrow panels for her sleeveless shawl collared vest. The black cap sleeves are her t-shirt.
And Victoria did not disappoint either. She has a wicked sense of humor, and she makes me laugh regularly. She had to do a Walmart run at one point, and came back with stuff to embellish the all important sheet she used for a test garment. She is generally not a fan of making anything first in something else, because, well then it takes twice as long. But we needed to get the fit right for this swing dress, and after hearing me tell student after student, "It's a sheet!", when they would comment that something was snug or tight, (their handwoven would give much more than a sheet), Victoria decided to commemorate, or rather memorialize the occasion with this…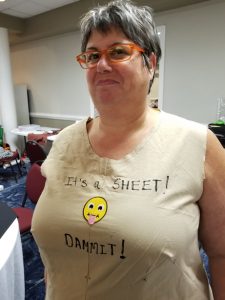 We did get the fit right, and she went on to make this beautiful swing dress from handwoven linen. She even put in her very first zipper ever. She avoided a challenging Blazing Shuttles warp and just wove linen stripes thinking this would be an easy layout. Hahahahah! She didn't expect to be matching stripes… She did an outstanding job.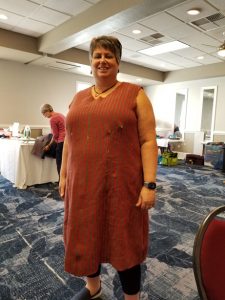 And Cyndi made a second garment, actually the test for a second garment, she made the same dress in a commercial plaid. That was a match job for the record books!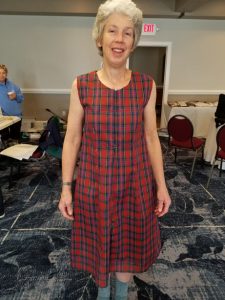 And then there was hard working Beth, who sat in her corner by the door and slowly plowed through her fabric woven with Blazing Shuttles warps, and created an exquisite walking vest. She still had lots of handwork to do, but this will be really fun to wear back in Mississippi! Beth's husband came along for the ride and ended up taking some really lovely photos, the best was of course the final photo of the group, which is below.
One of the nights the restaurant was closed, we got pizza delivered. I'm starting to really look forward to pizza night at these retreats. They gave Island Pizza night at Sievers' some stiff competition!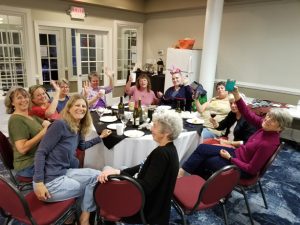 And here is the OBX class of 2019, with my daughter and one of the pillows she made for the guild sale. She took advantage of some down time and made more stuff to sell! (And of course I'm so in love with two of the pillows she made I bought them before they even made it to the sale… Trying to figure out how to keep the critters from eating them…)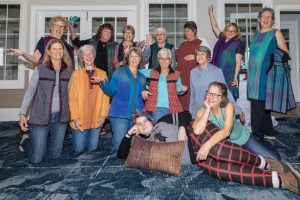 If you are in the area, come join us at the Jockey Hollow Guild Show and Sale, this Friday and Saturday. Click here for more information. I'll be there all weekend plugging in numbers, I'm the group's treasurer…
Stay tuned.