Kind of like going back in time, even if just for a month. Changing zones gives you for a brief time, a chance to rewatch everything bloom again that is finishing up in your own back yard. Only about a 4-5 hour drive north from NJ, Harrisville, NH is the home of Harrisville Designs and the last remaining intact mill town in New England. It looks like a postcard when you approach from the west. They finally have steady and decent WIFI, so that is a huge leap into the 21st century, though my Verizon service is still non existent! The weather was chilly and damp and gloomy, it rained a lot, but that was just fine because we were snug inside sewing away.
I headed up last Sunday a week ago, to teach a five day garment construction intensive. I'm still scheduled to teach my regular week the end of August, but this was a special addition for a group of ladies from Ontario Canada, since I'm refusing to travel there, it is too complicated and risky with my 170 pounds of luggage and supplies, which of course I can't sell there. (Makes it tough if they want extra pattern paper or handouts or interfacing). And it isn't so much the Canadian customs, though I've had issues in the past, but returning back across the border, too many horror stories from friends and too much of a hassle with American customs. So eight brave ladies crossed the border to come to me. And I am grateful. And two Americans joined in, from Maine, so we had quite the northern group, and it was pointed out that Maine was further north than my Canadian friends.
All but two of the students were using handwoven fabric, and the two who didn't will be. Many of the fabrics used hand dyed or painted warps, there is a lot of that happening in my classes, and the results are gorgeous if not challenging to cut out. Esther's fabric took four tables to lay out and find the repeatable areas for her walking vest. The week was full of challenges, the kind that keep me on my toes, but with the extensive variety in my patterns now, and so many gorgeous fabrics, the individual results were so exciting.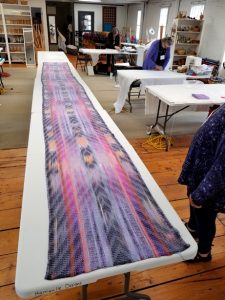 Janis wove her fabric, with a simple but stunning stripe, all wool. She made an extra long swing coat.
Esther of course cut her fabric oh so carefully and is finishing up a long walking vest.
Marion used a commercial woven check that Marjie was all over to figure out the draft. Once Marion was happy with the resulting fit, she then proceeded to cut out the same jacket from her handwoven. I think she cut the handwoven jacket an inch shorter.
Sonia had a beautiful subtle handwoven fabric, with a Zephyr Wool and Silk weft. The fabric was buttery soft and so pretty on her.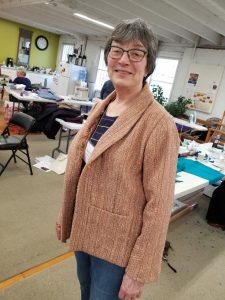 Elizabeth kept us all laughing, she was so much fun in class, and made a gorgeous jacket from her hand dyed and handwoven fabric.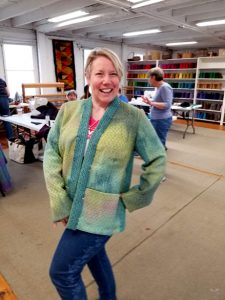 Ann just needed confidence, she already had the necessary skills, to cut and assemble this spectacular hand dyed and hand woven silk fabric.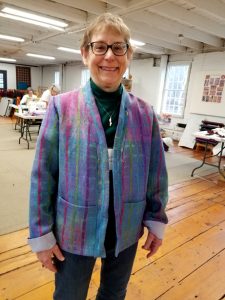 And Marjie, whom most weavers will recognize, did a two for one, of course, with a zippered vest, my newest design from her handwoven fabric, and then a jacket from a length of nuno felt she made in a felting workshop. She used the organic natural edge of the felt as her finishing on the jacket and band edges.
Sharon, who organized the whole thing for the Canadians made a gorgeous jacket from her handwoven fabric.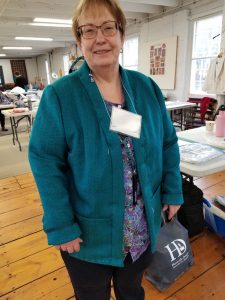 And then my two special ladies who plodded along, and got the bodies finished but not the sleeves, have assured me they will keep working and send pictures. Eleanor's handwoven fabric, which I think was woven a few years ago, is the most gorgeous wool I've ever felt. Once it is finished, it will be wonderful. She trimmed the seams in silk. And Joyce couldn't get her fabric finished in time because, well shoulder surgery can definitely crimp a weaver's plans. But she brought this beautiful Irish tweed, that she and her mom picked up years ago on a trip to Ireland. I love when students bring things from the archives that have wanted to be made into something. The jacket will be beautiful.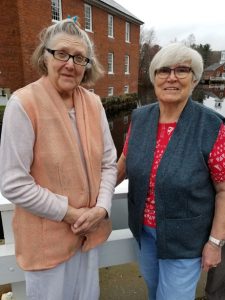 So here is the rest of the group, with jackets almost finished except for hours of handwork and of course they aren't allowed to remove tailor's tacks until I'm safely back in NJ.
And here is the spring class of 2019 Garment construction intensive at Harrisville. If you are interested, I understand there are still a couple spaces left for August. Click here for the link.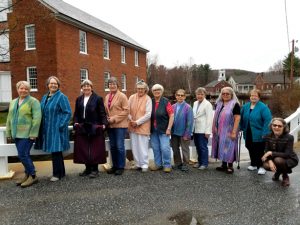 And now, I'm frantically tossing things into a suitcase to head out on a real vacation, 10 days in Morocco, I always feel like it isn't worth it, the effort to go through to get ready for any trip, and the aftermath when I return, (I only had to call three contractor/repairmen when I returned on Friday from Harrisville). I'll come back and only be home about 10 days before I head to Montana. I'm already taking bets on how many things will go wrong while I'm gone. But there are people here to watch out for my home and gardens and ponds and look for orders and carry on in my absence, I need to just walk away for these 10 days and let go. It will be a lovely blog post to write when I return.
Stay tuned…