Actually California has been and gone. I'm back, and no rest for the weary, I hit the ground running. Why do I think when I come home from a week away that there will be a day or two of downtime and regrouping? Hahahahah……..
I love working with this group. This isn't the first time I've given a hands on garment workshop to the Southern California Handweavers Guild, so when I see the class in front of me it is like a small family reunion. It is great to catch up with everyone!
The five day class was held in the San Fernando Valley Arts and Cultural Center. I love teaching here, there is a great amount of space, plenty of light and power, important for what I teach, and there is always an art exhibit on the walls. This time it was a water-colorist Gerald Brommer who I understand is in his 90's. Loved the images from all of his travels around the world, just really inspirational.
My students were really hard at work. Though it was a five day, there were interruptions to the flow, and a guild meeting/lecture the second morning in the same space, so we had to clean everything up after the first day, which is right in the middle of cutting out fabric. That was a nail biter for me and I hoped that no one forgot where they were when they resumed laying out and cutting their fabric, and all worked out much to my huge relief!
Mostly the class made swing coats. They started taking shape.
Nicki weaves these marvelous bugs, widely exhibited and she wanted to feature a strip of handwoven bugs with fringe on the back of a vest.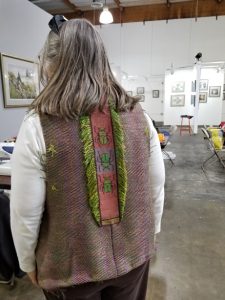 And Warren was just a dream to work with. He brought his own pattern, more of a men's shirt jacket, and used his handwoven fabric. He was so full of questions and asked things that don't normally come up with a group of handweavers in a basic jacket class. It is wonderful to work with youth who are intending to make a career out of making handwoven clothing. He has great instincts.
Some actually got their sleeves on in time for the class photo.
And later, back at the beautiful home I stayed in, in the Bel Air canyon, my hostess Limor immediately set up her machine to finish up her duster, and Limor and her sister in law Beth, who also stayed with us, it was one giant pajama party, posed for a group shot on the staircase! Limor incidentally is one of the best cooks I've ever had the privilege of staying with. Though we ate out a lot, she filled in with some terrific dishes. I tried fruits I've never had like Cherimoya. Like eating pudding out of a fruit skin. I can't remember the name of the other veggie she cooked, but she roasted it along with purple Brussels sprouts and they were fantastic.
And safely back in NJ, I of course hit the ground running. First up in my inbox was a request for an article for Threads, due in a week, because of course, everyone knows I can write these overnight in my sleep! So I whipped up a piece for the article, on bias facings, which I had intended to do anyway. I have a fluid to do list, things move up and down depending on how critical things are that day. This is a swing dress, or jumper, combining my swing coat and the neckline from my bias top. The fabric is a Pendleton Jacquard wool I picked up years ago at an ANWG conference in Pendleton, Oregon. One of the perks was a tour of the mill. It was amazing. Now I just have to write out the text in paragraph form.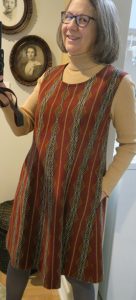 Stay tuned…