Ghosts…
I'm not going to go so far and say my house is haunted.  It has a good energy for a house that is more than a hundred years old, and I'm comfortable with that.
Many of you who've known me for a long time know that my mother in law was one of my staunchest supporters and one of my great fiber mentors.  There is a great story about our relationship that I wrote when she died back in 2006 at 99.  You can read it here if you want the back story.
My mother in law's ashes are in my studio, weird maybe, but comforting for me.  As are all of her bobbin lace pillows and supplies.  All of them.  Many of you know that I do know a lot about bobbin lace, it was one of the things my mother in law taught me back in the 1970's and for many years I kept up with it, only to eventually put the lacemaking aside for other fiber venues and the rest is history.  It always bugged me that my mother in law, who had no daughters, expected me to keep the lacemaking tradition alive, not because she expected me to, but because I failed to really thrive as a lacemaker, I'm really a garment maker and a weaver, and an artist and a writer, and reluctant felter, a spinner and an educator and knitter, and I play Baroque Recorders with a consort, and I garden and well, you get the picture.  Although both of my children have tried bobbin lace, neither has expressed any interest in carrying on the tradition.
Enter my intern from the local community college.  I haven't talked much about her, because well, that wouldn't be prudent, this is a blog about my adventures and I try not to delve too personally into lives that aren't mine to delve into.  I will say it has been a tremendous experience for me, and she is nothing short of fantastic.  I want to adopt her.  That said, over the course of the last 12 weeks, she has helped me around the studio with all sorts of tasks while learning shaft loom weaving, tapestry weaving, inkle weaving, plaiting, kumihimo, spinning, dyeing, and of course felting, and in the course of one of our many conversations about life and textiles, and in a reference to structure and being able to see it, the topic of bobbin lace came up.  I assumed she wouldn't know what bobbin lace was. To my complete surprise, my adorable intern Jen looked at me with the biggest eyes and said, "Oh, bobbin lace, I've always wanted to learn it.  I saw it once at a historic home I visited with my mom and it looked so interesting."  Or something like that.  She had no idea of my history…
I looked up at my mother in law's ashes and said to my self, "No way could you be orchestrating this!"
Jen was eager to learn bobbin lace, so I pulled out the pillow with pattern number one.  The only person I've ever seen "get" or understand the structure of bobbin lace that fast was me.  She is a quick study in everything she has tried, and doesn't need more than a half sentence to understand something, very much like my daughter.  So she quickly zipped through pattern one, and the following week I introduced pattern two.  That one took a couple of tries, there is a tricky part that I remember caused me more than one tear out, but she stayed with it and moved onto pattern three, which in Torchon lace involves spiders.  They are fun to do.  At least I think so.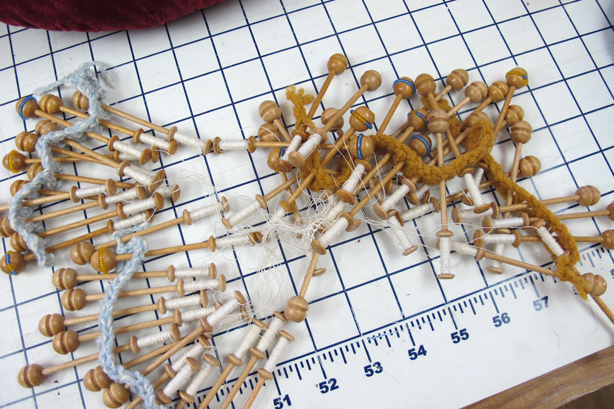 The bobbins that are set up for pattern three were running low on linen thread.  I figured I had to have bobbins somewhere with extra thread on them, so I went on a hunt through my closets and cabinets to see what I could find.  There was a baggy way back in an upper cabinet that had similar bobbins, that I know were my mother in law's, and I pulled them out.  Except that they seem to be attached to a small piece of lace, barely started, and they were with a pricking, the cardboard pattern with holes, that said, "Spider Doily".  I remember working the Spider Doily, and as a matter of fact, it was sitting in a frame on the table in the hall outside the studio.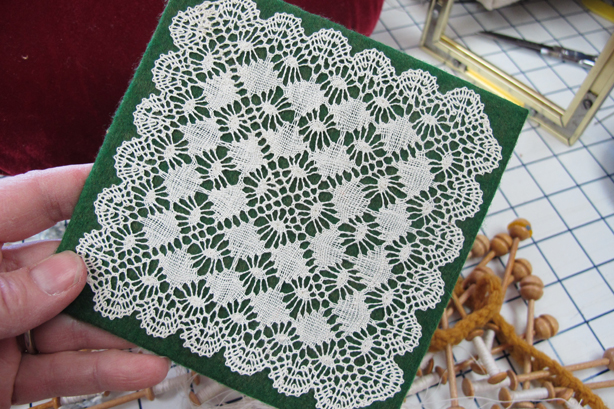 I eventually found what I was looking for and refilled some of the low bobbins on pattern three, and showed Jen the pricking and finished lace for the Spider Doily.  Jen returned the next week with pattern three under her belt, and then I gave her instruction in speedy tapestry weaving and she helped me prep looms for a class I'm teaching this weekend.  We had about an hour left in the day, and I asked her if there was anything in particular she wanted to do with that last hour and she said, "Well, how about that spider doily?".  I look up at my mother in law's ashes…
The only problem was the doily had to be done on a flat cookie pillow.  I remembered having made one years ago, but hadn't seen it in a very long time.  I assumed it was still around but who knew where?  Most probably it would be in the attic, because it was too big to overlook in my studio which I clean regularly.  I told Jen to follow me to the attic to see what we could find.
We climb up to the main area where I keep all of my scraps and surplus fibery things.  I flipped on the far light at the end of the stacked rows, and a voice came into my head, I kid you not, that said, "Look in the second box down on the left."  I have no recollection of putting a lace pillow in a box, but sure enough, there was the pillow, safe, and empty, and waiting for the spider doily.
I looked at that wad of bobbins sort of panicked, I had no idea how long it would take to sort out, but we started in on it, and in less than 15 minutes, we had it mounted and were moving forward on it.  Something wasn't quite right, so I told Jen I'd keep it over the week and see if I could really get it to a point where I could successfully turn it over to her.  It has been about 35 years since  I did mine.  I eventually figured out that in the initial set up, presumably by my mother in law, though she never made these kinds of mistakes, that there was an error, but I've worked around this and the doily is underway.  I don't know if she had set it up for a student and then pulled it from a pillow.  They are clearly her favorite bobbins.  I know because they have little blue and yellow beads around them, she was Swedish and proud of it.  It should be noted that Jen is Swedish too.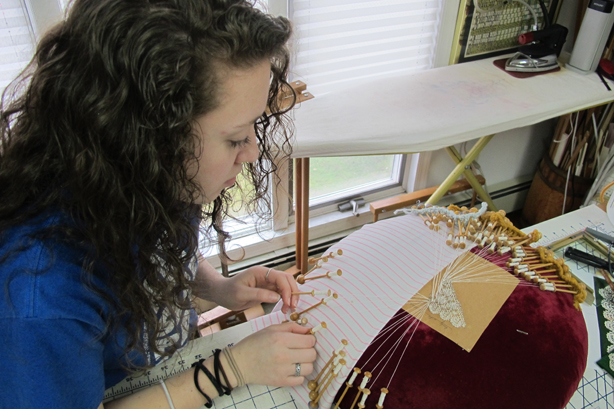 So Jen left today with the cookie pillow and the spider doily.  And my mother in law is smiling.  I just know it.