One thing led to another…
Friday morning my daughter and I were just hanging out and having a little breakfast preparing for a day in the studio, mapping out a plan of action.  With her home for the month from school, I'm taking every available advantage I can.  I still feel like I'm a month behind where I wanted to be in my small winter break between teaching.  As things stand I leave again in four weeks.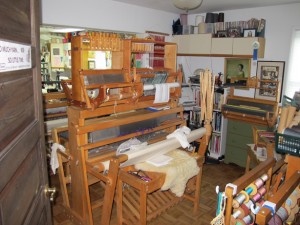 Anyway, I mentioned to Bri that the addition of a couple of table looms has made things pretty tight, and that we keep having to shuffle table looms around to work in different areas.  Right now, the eight shaft Tools of the Trade 25″ table loom sits on top of one of the large floor looms, and when they are in use, it sits on my cutting table.  I mentioned to my daughter that I wish I could find a work space to leave it on where it was actually functional.  It is a bit heavy for me to keep hauling around the studio.  I have three Tools of the Trade table looms, in addition to the four Tools of the Trade floor looms and all seven are actually in some form of use at the moment.
Silly me.  Mentioning a logistics problem to a science student at UMass who admitted the other night that if she wasn't so into animals she would be an engineering student, is like dangling candy over one of my doggies…  Silly me…
I love watching her mind.  I really tried hard to listen to her suggestions, without shooting them down, my bottom line was I still needed to move around the studio efficiently and I didn't want to spend any money here, and I had to be able to easily remove items from the front half of my studio when I had to do a photo shoot.  Otherwise, I kept my mouth shut and let her run.  Wow…
We went from space to space, talked about what worked and what didn't.  I'm a creature of habit, and whether it technically works or not, I sort of just live with things, and put up with stuff, cause that's what I've got and really I've learned over the years, that it isn't all about the space or the equipment you have, it is what you do with your mind and the materials in front of you that shows your creativity.  My son once made an entire army out of twist ties, because he was sitting in the corner in punishment and found a wad of twist ties on the floor.  They were brilliant.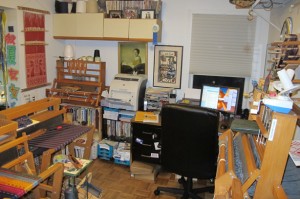 We took one shelving unit from the guest room, there was a surplus there anyway, and somehow, we managed to create a space, total thanks to my daughter, that 1) didn't involve my poor husband in any way, 2) created work stations for all seven looms, and the sewing machine, and the serger table, and 3) created a much better office area away from the main work area leaving my stash wall largely untouched and somehow, when it was all done, the space looks twice as large, brighter and it is unbelievably efficient and fun to work in.  I'm still pinching myself, at how it all worked out, and the only thing missing is some under the cabinet lighting, which we own, but has to be installed, and for that I will wait for my husband who is in the middle of a couple of projects of his own.  We were at Staples last night and for $50, I replaced my desk chair with a large comfy new one and I'm looking at my spacious desk with a view, since I can now see out the window.  I feel so grown up…
So, enjoy the photos, it is crowded yes, but it was before, and this seems to be less crowded if that is possible?  All seven looms have work stations.  Even the table looms.  I can still get around the cutting table, and I can see over all the floor looms instead of having them stacked with large table looms on top.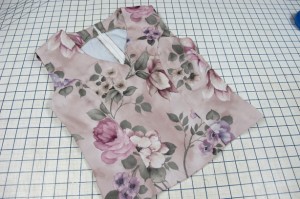 The first vertical photo, last line on the left, shows a small outdoor plant stand I swiped from the deck.  I like using these around the looms, a place to put my tea mug, shuttle, scissors, etc. when I'm working at a loom with no bench storage.  Which is basically six of the seven looms…
So happy new year to me with a happy new space.  Or reworked space.  I finished my top, except for the handwork, and I'm already mulling over the next project to prep fabric for…  We have run a dye bath each morning, I found a ton of skeins I had wound last year, and never got around to dyeing.  I wove another scarf, and the next warp is ready to be wound.  Meanwhile I'm working through the year end paperwork, I still have a number of contracts and updates to do.  My website schedule/resume/etc, all need updating.  I have guild websites to update, and I have a lovely book to read, that I have been asked to write a forward to, so that's up at the top of my list.
To all of my loyal readers and those who have just joined in, may 2013 bring you lots of fiber entertainment, and exciting projects…  Stay tuned…