Them's fightin' words…
I don't do well with no deadline in sight.
I trade projects with no deadlines for ones that have deadlines, I sort of compare my life to a fireman holding a fire extinguisher, watching for brush fires.  It is fast paced and hectic, but I usually manage to extinguish fires rapidly, meeting deadlines with grace and a few missing hairs.
So now we come to my down time.  I've finished teaching on the road until the end of February.  I have online classes booked through January on Weavolution.com, many over the holiday break, but I only have to flip on my computer and pull up the presentation and begin.  You have no idea how appealing online teaching is over spending a day to pack and then a day to travel and doing the reverse on the way home.  The money is decent, but the stress takes its toll.
This is the time I'm suppose to use creatively, to make new work, jump in head first and knock out stuff at the speed of a Project Runway contestant.  Except I don't work like that.  I go on fantastic journeys with my projects, because I don't have concrete plans when I start out, I'm open to changing course, and seeing where the project takes me.  I have projects in mind that involved weaving, garment making both with handwoven and commercial fabrics, felting, and artworks.  It is hard to even know where to begin…
I have a long range to do list, and every time I glanced at it, I sort of got this sick feeling in the pit of my stomach, not because it was long or impossible, but because building a web site for my weaving guild has been at the top of that list for a couple of years now.  I can't in all good conscience dive into the fun stuff and leave the guild hanging for yet another year.  So back at the end of September, I signed up for a class in Dreamweaver web design software at the local high school adult session.  I've used Dreamweaver, I've build three websites using Dreamweaver and I'll be honest, it is a bear of a program.  It is one of those that you can't live long enough to know all of its content, and since web design changes hourly, it wouldn't matter if you could.  Since I don't build websites for a living, I largely forget what to do, it isn't intuitive, and I usually have to start all over again with fourteen manuals and assorted tutorials, starting from scratch.  I figured the adult school class would at least make the design of the guild's site become a deadline instead of "no hurry, whenever"…
The class wasn't helpful, the instructor was old school, been designing sites for years, from the Microsoft Front Page school of web design.  My first sites were using Front Page. That's not what I was there to learn.  I wanted to know more about CSS, and Divs and Spry and all the Dreamweaver tools that make a site current and dynamic.  He really couldn't help me there.  But I managed to pour over even more tutorials, subscribing to Lynda.com, and slowly building what I wanted for my guild.
I am extremely happy to say, the site is finished.  I uploaded all the pages and checked links and various browsers and hopefully all reads well.  I've sent a note to the membership for input, so far only two responses, both positive, but that's OK, rather only a couple people actually take the time to read it over than having an entire membership full of opinions and changes…
Click here to view the site if you are interested.  In addition, the Favorite Links page has all sorts of links for handweavers, you might want to bookmark it for a one stop resource.  The page came from a guild program on just that subject, internet links that members used and thought others should know about…
So with a huge sigh of relief and much ceremony, I crossed that puppy off the list, and now I am free to start working on grand adventures that take me to wonderful places without getting on a plane.
If you were following my blog last spring, I talked about two projects using commercial fabric that I wanted to work on, I did finish one, but the other one has sat in a pile on the floor since February.  I actually thought it was longer than that, I sort of feel better knowing it was only February of this year that the seed started to germinate…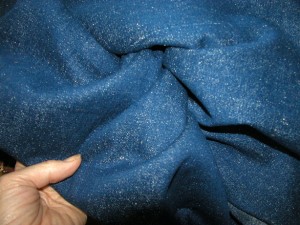 I've been sitting on this silk denim for awhile.  Like years.  Probably a couple decades.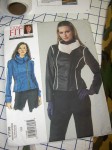 I liked this Vogue pattern 1198, it is a Today's Fit pattern from Sandra Betzina, still available, which is unusual, and one of the options is using shearling sewn in reverse.
Sidebar:  A couple of decades ago, someone gave me boxes of shearling scraps, I don't even remember why, probably, "just get them out of the studio" sort of thing.  So they went into the attic along with a lot of other oddities, where I occasionally root around and come up with something I can use.  You don't want to know what my attic looks like…  That's not even on the list for organization.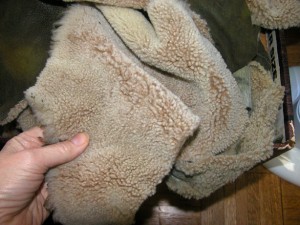 Anyway, one of the colors of shearling scraps was a beautiful beige, with a dark khaki skin.  All of the scraps would have to be carefully pieced together, to work as whole cloth, but I'm game.  Probably a waste of my precious few months, but sort of mindless and that allows time to mull over where I want to go next…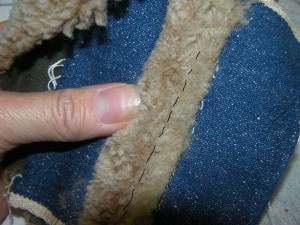 I played around with possible ways to make the seam finish work, and what settings, feet, stitch to use on the machine.
And of course, I copied the pattern, based on the size chart, and tried on the initial draft by pinning the pattern pieces together.  It seemed really snug.  The pattern is semi fitted, and in fact, the finished bust circumference for the size I traced is only 40″ and I am 35″ around.  Should be enough ease for a semi fitted jacket but when I made it up in muslin (I didn't actually use muslin, I used an old camo quilt fabric I bought when my son was into camo in the third grade, we have enough real camo around the house now since he is in the actual military.)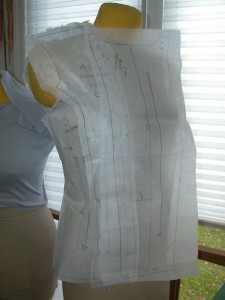 I found the top really snug, especially the armhole and sleeves, and they more than likely wouldn't work with a shearling lining.  The jacket was way too shortwaisted for me, the pocket details were right up under the bust, a silly place for pockets.  And the hem flared out in an unattractive way.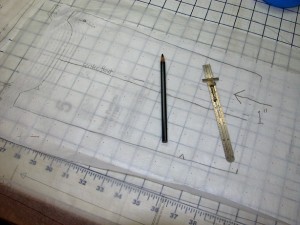 So this morning, on a quiet Sunday, with no one home but me and the dog, and nothing on the calendar, I set about retracing the pattern to a larger size, and altering the back waist length and the flared hem.
Stay tuned…