Our lead story tonight, is the storm of the century, bracing for the onslaught of what the media defined as a record breaking snow fall, already wreaking havoc on the mid Atlantic coast, the NY area prepared for the worst.  Supermarkets were cleared of anything necessary to weather the storm through the Super Bowl on Sunday, and then there was nothing to do but wait.  And wait…  And wait.  At dawn this morning, as the sun began to lighten the sky, there was, what's this?  Not a flake?  Not a single bit of snow from the Storm of the Century?
Even an hour south of us, there was snow.  My mom called in from the Baltimore area, they had 30″ and it was still coming down.  We had nothing but brown grass.  It was almost disappointing.  My sister in rural northern Maryland still can't get out of her street, and life as we know it has stopped from about a half hour south of us, all the way to the Carolina's.  My husband and I kept checking out the window, thinking we were probably dreaming.  Alas.  The strong arctic cold front pushed down from Canada and pushed the whole storm just south of us.  So all we got was a bunch of wind.  C'est la vie…
In other news, my son wrote his third letter today from boot camp, clearly loving that I am writing daily, "Don't stop writing mom"… and telling us of his grand adventures.  They are spending their days shooting in the field, and will soon engage in hand to hand combat.  My son reports that he likes the structure, having his days planned out, and eating three meals a day.  The only thing he really really misses, is Taylor Ham, Egg and Cheese sandwiches.   A staple of all NJ diners.  We buy 8 pound rolls of Taylor Ham.  Some call it Pork Roll, but it is a real NJ delicacy. He use to get up at 2am and make Taylor Ham sandwiches.   Gotta love it.
I wish I could tell you all the wonderful creative things I'm doing in my studio since I last blogged.  Truth is, I haven't done anything creative, all I've done is print, bind, organize spreadsheets, print some more, pack and ship handouts and materials for the workshops for the next couple of weeks.  That and entering shows, writing proposals, and fighting with a bookkeeping program which I hate.  (I really loved Microsoft Money and since they stopped supporting it, and we switched to Quicken, my really flexible personality is having a meltdown).  And it isn't like I have all the time in the world to figure all this out.  I am bleary eyed, and have a sprained wrist from all the binding.  Actually I sprained my wrist last Tuesday trying to do a hand stand in yoga, but it makes for more drama if I say its from the binding machine.  That's probably just aggravating the situation.
So this is the best I can do for photos.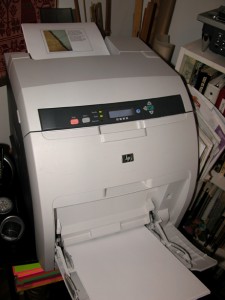 Here is my workhorse of a printer, which I adore, and don't know what I'd do without.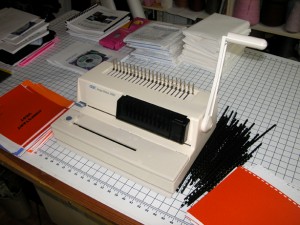 And here is my cutting table, nothing colorful and creative on it, just lists, handouts, binding combs, and monographs.  And pattern paper, and interfacing, and whatever else has to go in the box ahead of the class.  Two boxes have been shipped, one is ready to go, and the next one just needs another dozen packages of interfacing.  The last one will be the nightmare, it is a huge guild and there are four different lecture/workshops.  And lots of participants.  So I have Staples shipping me another 5000 sheets of paper, and I've ordered another $450 worth of ink.  🙂
To all of you who are spending the weekend digging out, my heart goes out to you.  Stay safe, and don't overdo it.