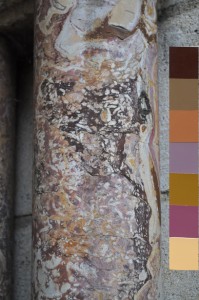 I sometimes have this little issue with timing.  Like starting a project when I know I can't possibly follow through, or when I know I'm going to end up completely distracted.  But that's pretty typical of the way I work, when the mood strikes, whether it is the middle of the night, or three days before Christmas, with a calendar full of seasonal activities, I jump in head first.  Course I procrastinated on the whole warp painting thing so long, I realized that I needed to light a fire under myself if I want to get a couple of warps painted, rinsed, dried, designed, on the loom, and woven before the deadline for the yardage exhibit the end of January.  My loom has been naked for more than a year.  Nothing like waiting until the last month.  Obviously I work well under pressure…
Anyway, If you made it all the way to the bottom of my previous post, I showed the marble column from the Cloisters that inspired my palette for the first series of warps.  I Photoshopped the palette into the photo so you could see.  I'll include it again in this post so you can follow the progression.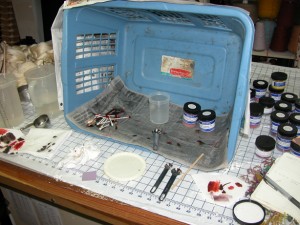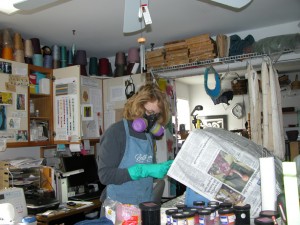 I spent all day yesterday making a complete mess in my studio, albeit a safe mess, (I do wear a filtration mask), playing chemist, trying to match the colors in the Color-aid chips with the dyes I have on hand.  I have quite a few dyes, and when all else fails, you can mix almost everything with Turquoise, Fuchsia, Yellow and Black.  Some of the colors I got on the first try.  I am pretty good at seeing whether I need to shift a color warmer or cooler, but some of the colors just eluded me.  I had to stop last night to throw on more presentable clothing and run down the street to my neighbor's winter solstice gathering around the fire on her patio.  I attended her celebration last year, it was quite wonderful, there is a tradition of burning that which you want to let go of for the new year, and I chose to throw in photos of my kids when they were young.  With my daughter driving now, and my son about to leave for the military, I wanted my kids to use their wings I hope we'd given them, to soar high and move into adult hood with grace,  enthusiasm, and independence.  Meanwhile my son was out snowboarding at an area sledding hill, and came home with $2500. worth of damage to the back of the truck from a mishap in the parking lot, (He claims he wasn't in the car when it happened) and his friend in tow, stopping to change before taking his friend to the hospital with a concussion from a wicked fall off a snowboard jump.  It was an interesting night.  Had I given them their wings too soon?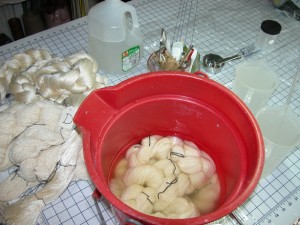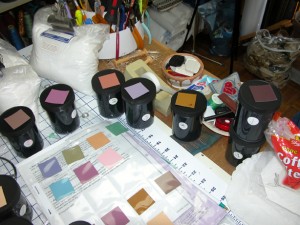 This morning I went back into the studio to finish mixing the last color, and to start soaking the warps, I chose three of the ten yard warps I wound last month, and put them in for pre-soak, one at a time.  I kept careful records as I mixed the dyes, and had the dye cups all lined up.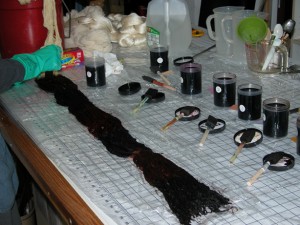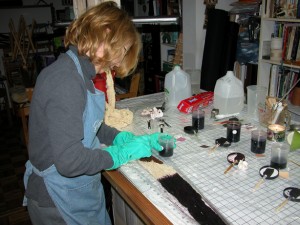 Once the warp was wet with the dye activator, I spread out the first section across the table, over a long piece of plastic wrap.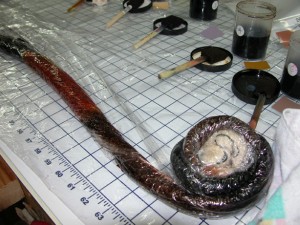 I painted, and painted, and checked my email, read a few blogs, and painted and painted, and wandered down into the kitchen to have a little talk with my son about the truck, and I painted and painted and I set up an account on Facebook (I have no idea what possessed me) and I painted and painted, and painted some more…
As I finished a section, I wrapped it securely in plastic wrap, and shifted it down, coiling it at the end of the table, exposing the next section of warp.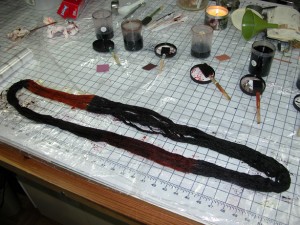 And I kept on painting, I painted 30 yards of warp (that would be three 10 yard warps, each painted with the same colors in a different sequence) and when I finished the three warps, I grabbed what I call weft mops, white skeins I previously wound to mop up excess dye.  I even pulled out a couple of white rayon scarves I had in the cabinet and painted them.
At one point I wandered down to the kitchen, trying to make an attempt to appear to care about dinner.  I found my daughter in the throes of her annual 'Christmas presents for her teachers' extravaganza, she decided with about 12 hours to spare, that she would make 6-8 batches of pulled hard candy for her teachers tomorrow.  Timing.  I know where she gets it from.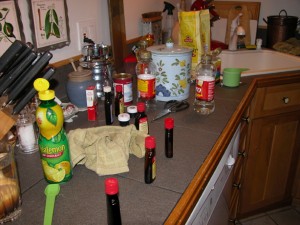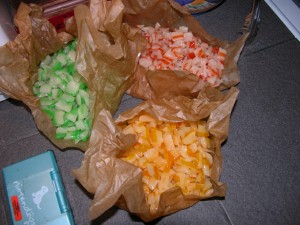 My kitchen was trashed, which didn't surprise me, and there were bundles of delicious flavored home made hard candies, I stole a couple of pieces and went back to my studio.  I called out for someone to order Chinese.  Seemed like the obvious choice.
With all these painted warps, I needed my son to fire up the wood stove, I found the space behind the stove to be the perfect spot to cure the warps, which have to sit in a warm spot (over 70 degrees) for 12-24 hours.  My husband and I have plans for tomorrow afternoon and evening, so I know I won't get back to rinse these warps for a day or two.  I don't think it will hurt them.  Seems to me they can cure for awhile.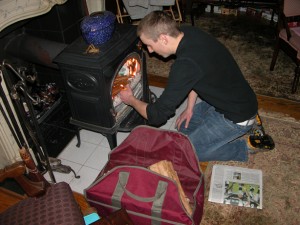 So I'll be spending Christmas Eve bent over the sink, rinsing yards and yards of warp and a bunch of skeins, and a couple of scarves, and that's not a bad thing.  While we are celebrating the holidays, they will be doing their drying thing.  And when Monday morning comes around, I'll start looking at drafts and how to combine these three warps.
So, to all of my faithful readers, enjoy the end of 2009, celebrating in any way that works for you!  We have just passed the winter solstice, the shortest day of the year, and with each new day, there will be a little bit more light, welcoming us all into the new year.  Stay healthy, enjoy life's treasured moments, and spend as much of 2010 as you can creating something from your hands, in whatever form works for you!