A real day off.  I know that sounds odd, but I spend almost everyday, at least a good part of it, in my studio, doing some sort of task, unless I'm on the road.  My only other hobby is playing the baroque recorder, and I do practice almost daily and play with a consort once a week, but that doesn't account for the other 23 or so hours in the day.
Saturday we slept in.  Blissfully.  My daughter got herself off to work, I love that both my kids have driver's licenses, and my son was visiting a friend at a college in Rhode Island.  A taste of empty nest…  🙂
We had to drop bags of clothing off at the high school for their clothing drive, and the weather was looking pretty nasty.  It was sleeting, and starting to look like snow in the forecast, but we knew Peters Valley was having their open house, and we have been supporters of the craft center for years.  My husband I both served time on the board of directors for Peters Valley, nestled in the hills in Sussex County, northwestern NJ, very close to the Delaware River, in beautiful pristine national park land.  I've taught at the Valley, taken classes at the Valley, exhibited at the craft fair at the Valley, and at their wonderful store and gallery.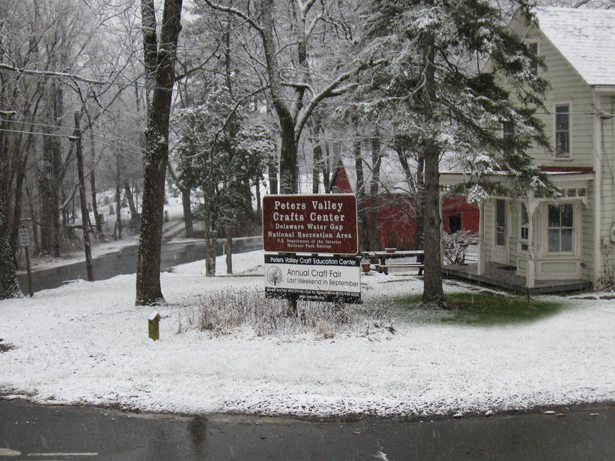 We decided that since it had been close to 70 degrees only a couple of days ago, gotta love NJ weather patterns, the roads were far too warm for the snow to really become dangerous, so we headed west.  I have to say this comes close to one of the most beautiful drives I've ever taken.  The further west we went, the thicker the flakes and the more snow there was sticking to the ground.  We got to Peters Valley, about an hour trip, and the store was all lit and festive, and I made a serious dent in my Christmas list.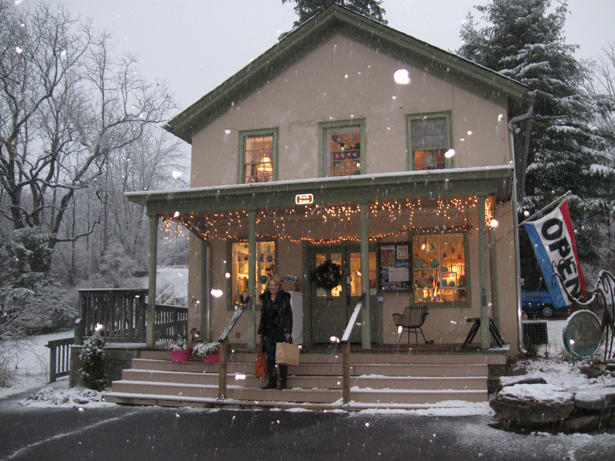 The snow continued to fall, my husband got a terrific shot of one of the historic buildings on the grounds, a structure called Greek.  The flakes were huge and wet and joyful.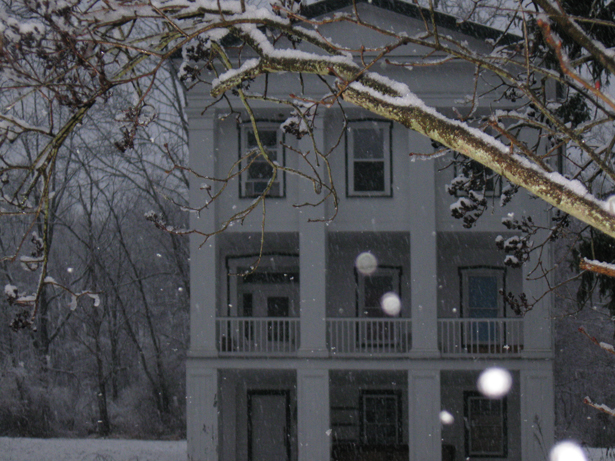 We drove home, it took awhile since traffic was dreadful, but we didn't mind, the trip was magical, the fields in western NJ were like something out of a gothic novel.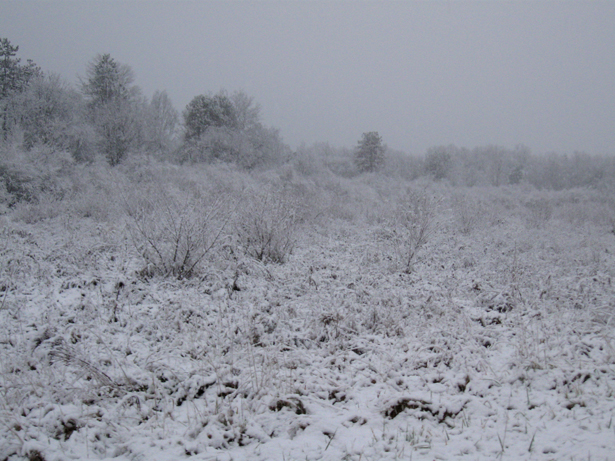 It was such a rare treat, and it always feels good to visit the Valley, especially on the off season.
On Sunday, I relaxed, attended my recorder consort rehearsal, and then we put up the tree.  In years past, the tree decorating event involved a trip to western NJ to cut down a tree, and drag it home, and get it mounted in the base, deal with crawling under it and watering it a couple of times a day, deal with all the dropped needles in everything, deal with the fear of fire, and last year, we caved and bought a lovely fake tree from Lowes.  🙂  Can I tell you how great it was to pull the box from the attic (actually I just watched, my daughter and husband did the grunt work) and my daughter popped the three sections from the box, stuck them in the base, and plugged it in.  Violá!  Instant tree!  🙂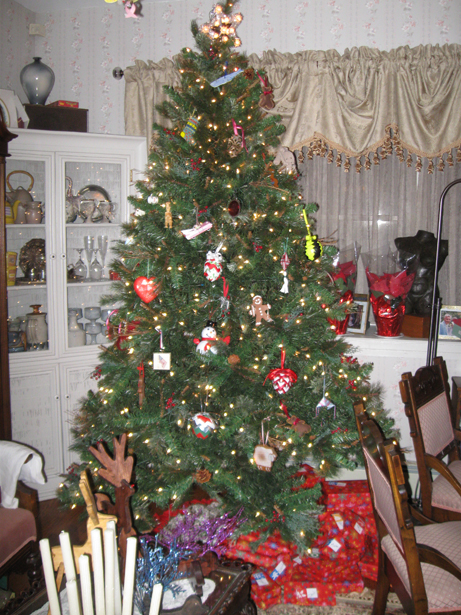 Presents are wrapped, and underneath.  Hopefully the dog won't go exploring…