It's holiday time!  Time to decorate, time for making gifts, the annual Christmas missive (yeah, I actually write one of those…), and all festive thoughts aside, today is  Day Without Art, an international program to mark AIDS Awareness Day.  I logged on this morning, and my Google home page has all the blogs I follow, plus things like the MET artwork of the day, something from the vast archives of the Metropolitan Museum of Art.  Today I logged on and there was nothing but a black rectangle.  There was a note attached, "Today's daily artwork will not appear. Day Without Art began on December 1, 1989, as part of a day of action and mourning in response to the AIDS crisis".  It hasn't escaped me that this is a perfect day to reflect that we still have a lot of work to do in the arts community for AIDS awareness, as we gear up for the spending/decorating/eating frenzy that marks the last month of the year.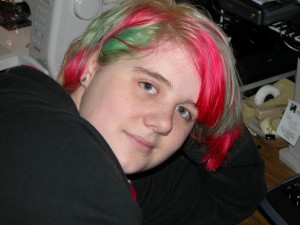 On a brighter note, my daughter got with the holiday spirit immediately, she disappeared into the bathroom and came out decorated for the season!
And I started to play around with something I could make for small gifts for a few friends, I resurrected a technique I've written about in my Leftover's Monograph, and climbed into my attic stash in the sky, and pulled out some circa 1986 scraps, and had a blast.  The idea here is to take 1″ scraps (on grain, no need for bias), and twist them around piping cord, like a barber pole, and coil up the cord, stitching it together, round and round, with a triple step zig-zag.
I'll let the photos do the explaining, now that I found out how to put in a caption!