I woke up, and that's about the extent of my morning efforts.  If I didn't have to get out of bed, and get my daughter off to school, I'd have slept indefinitely…
But since I was up, I decided to look at my day as one of reentry, do only the essentials, which consisted of unpacking, doing my laundry, blogging, and beginning the process of tidying up my house.  And I need to process about 30 images from the guild meeting last Monday to send to the newsletter editor.  Somehow I got to be the designated picture taker for the guild…  I'm not sure how that happened.  But I did talk my son into doing that arduous task, he owes me some money, so I put him to work.
Anyway, I returned from my guild sale, tired and full of observations.  For all of my efforts, I sold roughly $600. worth of stuff, mostly books, of which I will give the guild 20%.  I was hoping I'd sell more, but I didn't have any small inexpensive gift items, and this is the small inexpensive gift item season, and I refuse to make small inexpensive gift items, I'm small inexpensive gift items challenged if you must know…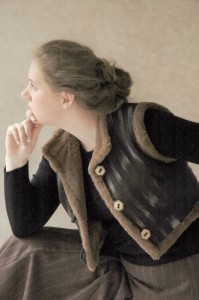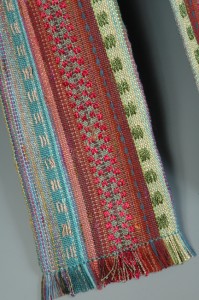 I was hoping for more of a response to some of my clothing, I value the feedback from trying things on different bodies, and I haven't done that with anything other than my jacket pattern in workshops, in many years.  If there were any interested customers, I didn't see them, almost no one sold garments over $95. that I knew about. (One of the guild members did buy one of my vests, which was more than $200. and I was eternally grateful, it was beautiful on her and another one of the guild members bought one of my new scarves for more than $100, and again, I am eternally grateful.)  The final numbers and a wonderful statistical analysis will eventually come from the guild treasurer, but for now, the guild show and sale, seems to be about selling small inexpensive gift items, which, did I mention, I don't do?
I will share that I was sort of surprised at how most of the members priced their work.  Almost everything in the exhibit was either handwoven or handknitted, there were a few baskets, and some inexpensive polar fleece hats and scarves and some jewelry.  I'd say about 90% of the handwoven scarves on exhibit, and there were a lot of them, were priced between $45-55.  I sort of feel like I wouldn't set up my loom for that, especially since the guild takes 20% of that amount.
When I did craft fairs in the 1980's, the discussion then, was about pricing your work.  Craft fairs have an overhead, obviously, and just having a studio, paying for equipment, rent/or mortgage if you own the home, electricity, internet, whatever, all of that goes towards the price of an item.  Sadly many of the guild members are just happy to sell anything, since it isn't their real source of income, and it just allows them to make more stuff.  And that reasoning just undervalues everyone's work.  I actually bought two pairs of hand knit socks.  I paid $30. a pair.  I've made socks, once.  I won't do it again.  I totally respect anyone that can pick up a pair of needles and whip out a sock, and then do it again for the other foot.  A pair of hand knit socks is priceless.  But $30.?  I can't even go out with my husband to the local pizza place for $30. For a dinner.  A set of four handwoven placemats cost $40.  I sold placemats, handwoven, lots of them.  That was one of my first production items.  I sold them for $40. for a set of 4 back in 1980.  I just looked at four woven placemats in Vermont Country Store Catalog for about that much.  This is 30 years later, and we don't live in China.  We are American craftswomen/men and we have a minimum wage here.
So this brings us to the larger discussion, how do you price your work, how do you value your handwork, what kind of prices do others set at guild shows?  Those who have guild sales events, do you sell scarves, handwoven or otherwise for more than $100. a scarf?  Have you tried?
I spent a lot of floor time, talking to customers, about what we do as a guild, what goes into the work we do, the fact that rayon is not a petroleum based yarn, and in some cases, the discussion came around to pricing and I was surprised to hear from more than one customer that a lot of people shop at the guild show and sale because it is well known that you can get really cheap handmade items there.
As program chair for the guild, I'd love to do an evening program, panel discussion on the whole issue of selling your work.  And one of the members told me that it really is all about a fund raiser for the guild, so most should look at this as a guild donation of sorts.  Volume sales are important for the guild to make money for programs.
I use to give seminars on marketing your work, back in the 1980's, and of course pricing was one of the subjects we talked about.  I was, and am still amazed at how many think that if they sell an item for $40. that's what they actually make.  And if it doesn't sell, then it must be too expensive.  I'd love to open this up to anyone reading this blog, to feel free to comment, share, give me some perspective here, and some of the logic behind $30 hand knit socks and $45 handwoven scarves.
Off to move  the next load of laundry to the dryer…