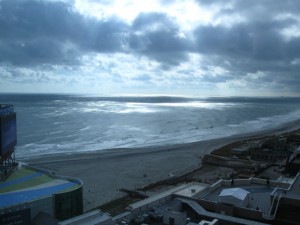 My husband has been on the School Board in our district for more than 10 years.  This is an elected position, and every three years we put up campaign signs and go to the polls to vote my husband back into a volunteer position for another three years.  Because our district only goes up to 8th grade, we send our students to a different district for High School.  My husband is also a member of the board of education for that district as well.
The only perk, of endless hours of meetings and negotiations to try and do the best for both the taxpayer and for the students in our town, is the once a year trip to Atlantic City, for the Annual New Jersey School Boards Association Convention. Usually around the last week in October, I try to keep my calendar clear so I can attend with my husband, though gone are the years where the wine flowed and the food and entertainment were top notch.  With budget cuts and schools struggling to pay for janitors and keep critical programs, attending events like this for many districts is unrealistic.  Many board members end up paying their own way.  The connections and the vendor hall, the workshops, and the discussions, are all part of the education process that makes a well informed board member.  It reminds me a lot of a fiber conference, except there isn't any fiber.  Some of the vendor booths are interesting, but most are over my head or not remotely interesting to me, and I tag along with my husband watching him collect all the give-away trinkets and tote bags, pens, and novelties.
Sidebar:  I grew up vacationing at the Jersey Shore.  I remember Atlantic City, well before the casinos came to town, I remember watching the diving horse at the Steel Pier, the boardwalk, Captain Starn's Restaurant where our family went every year, where I fed the seals, and learned to eat piss clams, not the cherrystones, but the one with the big fat tails.  Real steamers. And I loved reading the street signs as we drove along following the Monopoly Board.  I watched the slow decline of Atlantic City, the decay and the poverty take over, to the point where Atlantic was a depressed poor dangerous city to vacation in.
Enter the era of the casino.  I have to say I have very mixed feelings about this place, and I am uncomfortable for a couple of days before I come down.  I have great memories of a simpler Atlantic City, but that city is gone, replaced by one that is a towering monument to greed, and wealth, and to me, stupidity.  It is fairly impossible to navigate to a hotel room or a hotel lobby without going through disgusting smoke filled noisy clanging casinos, where seniors in wheelchairs, on oxygen pour quarters into slot machines, hoping to win it big.  My husband and I talked in the car ride down this morning, and his perspective was a bit different, there are many seniors who enjoy the bus ride down for $20. and they get $20. worth of quarters to play with and it is a day outing.  I don't understand it.  But there are many that say that about my obsession with weaving and sewing.  There are those that ask why I would weave my own fabric? Seems logical to me… 🙂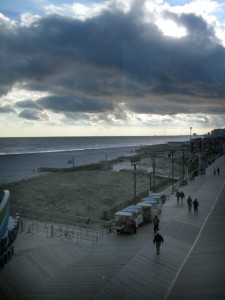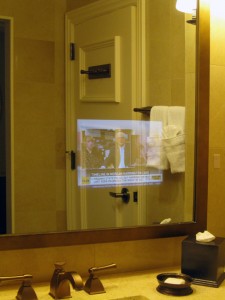 So, we are here in Atlantic City, it poured rain the entire trip down the Garden State Parkway.  After the School Boards Association Luncheon, we checked into our hotel room, and looked at the view of the Atlantic Ocean from the 36th floor of Caesars Palace. The storm was beginning to subside, turbulent clouds giving way to rays of sunshine.  The rooms are gorgeous, of course, and I remember staying in Caesars last year and wondering why there was a remote control Velcro'd to the bathroom wall.  I remember clicking on the remote and a TV screen popped up in the bathroom mirror.  I think I near fainted.  So this year, I was sure to get a photo of the TV screen in the bathroom mirror.  So if you can't get enough TV, not only is it in every restaurant, bank, and airport waiting area, but it can be put in your bathroom mirror as well!
My husband had an afternoon seminar to attend, so what did I do?  🙂  I went shopping!  This is a huge outlet center, but I chose instead to venture out to the old Steel Pier which has been redone into a four story pier that has two floors of high end shopping like Coach, Movado, Michael Kors, Gucci, Ann Taylor, Banana Republic, Juicy Couture, Betsy Johnson, BCBG Max Azria, Kenneth Cole, etc.
The first shop I entered, and I was really wishing I had a girlfriend with me, was Eleganza, where I tried on a Catherine Malandrino coat, for $895.  OMG!  It was gorgeous, lace mounted over wool, huge shawl collar, the under collar a beautiful supple leather.  And it looked like an $895. coat. I wandered through Michael Kors.  I was sort of surprised at how the only colors I was seeing in any of the shops were not colors, but black, gray, and the occasional wheat.  I saw the occasional plum or aubergine color, but mostly there was little color to be found.  And the hobo bag is hot.  I saw more hobo bags than I ever want to see in a lifetime, and none of them actually called out enough to want to come home with me.  I am very happy with my orange leather Vera Wang I paid $30 for on sale at Kohl's.  I did look at one in a beautiful lime green, made of woven strips of leather at Michael Kors, and it was on sale, but the $495 price tag still was out of my reach. Actually, the only color I saw really, was in the hobo bags!  Do you know how much weaving equipment I could get for that $495?  Or another sewing machine?
In the end, I did buy an Indian scarf for $17 on sale at Ann Taylor, and a couple of short sleeve sweaters on sale at Banana Republic.  They were only about $22. each.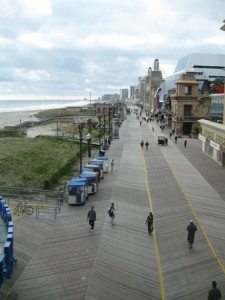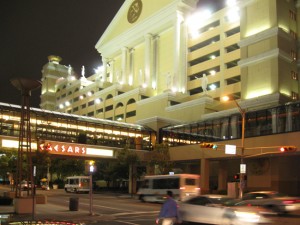 I reconnected with my husband for the evening receptions and parties from many of the vendors our school district does business with.  There are appetizers and food stations, wine and beer, loud music, and lots and lots of people.  I always find it hard to have any kind of meaningful conversations in places like that, so I just sit, sip wine, and observe.  I look at the décor, the clothing, the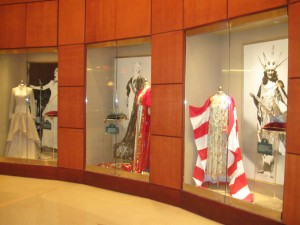 fashions around me, and as we passed from one of the receptions into another I got a quick glimpse of the beautiful evening gown displays from all the former Miss America winners in the Sheraton.  Atlantic City was home to the Miss America pageant for many many years.  So the memories and memorabilia here are strong.
Later on we gathered in the Gypsy Bar in the Borgata, to listen to a wonderful band, watch the beginning of the World Series, or as it is affectionately called here in NJ, the Turnpike series, if you aren't following the World Series, The Phillies and the Yankees are playing each other. And NJ is stuck right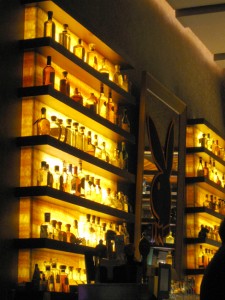 here between the two great cities.  I couldn't hear anything over the band, so I looked at the décor, and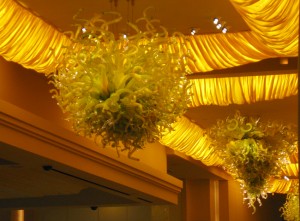 noticed these gorgeous walls of amber liquids in clear bottles, and had to get a shot of it.  On the way out of the Borgata I looked up and realized the lobby and walkways were decorated with Dale Chihuly chandeliers.  One of the biggest one of his chandeliers I've seen is in the V&A in London, but there are many others, like the one in the art museum in Milwaukee. If you ever get a chance to see one up close, they are mesmerizing.  The worm like blown glass tentacles, and flowers that explode from the globe-like shape seem like they are writhing and moving and glowing in the light.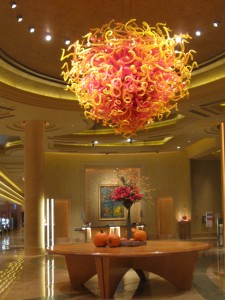 Stay tuned as I explore more of this amazing fascinating city of hidden treasures and extreme wealth.