I really should be doing other things, but I have this tote bag thing stuck in my head, and so I trotted upstairs to shop in my attic, for some scraps…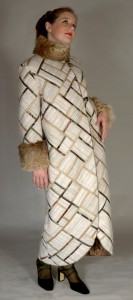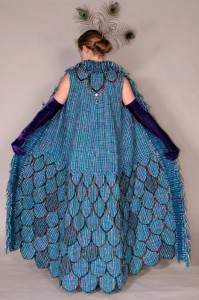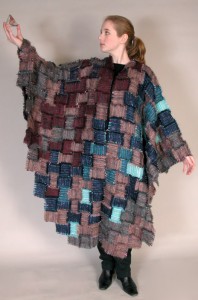 Sidebar:  I did craft fairs for about 10 years, selling my handwoven clothing.  I would weave 30 yards of cloth at a time, and then cut it into garments, and sell the garments to whoever wanted to buy them.  When you cut into yardage, you get two things, 1) better fitting garments, and 2) a lot of scrap…  I was smart, in retrospect, I couldn't bear to throw out all that scrap, so I carefully packed all of it into 18 large banker's boxes, with small swatches of what was in each drawer taped to the front, and put it all in the attic.  Over the years, I've made some amazing garments from that scrap, and since there were a lot of scraps of similar fabrics, or the same fabric  in many cases, I pieced the scraps back together creating a garment that just looked a lot more interesting than the original fabric did when it came off the loom.
Yes, that is my lovely daughter when her hair was it's natural color!  She was only 12 in those photos!
Anyway, I went up to my attic stash, which is different from the main studio stash.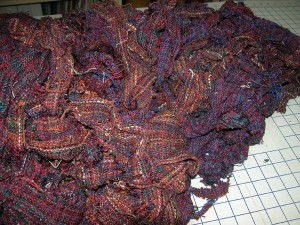 I looked through the boxes quickly, and pulled out this wad of scraps, in the dark maroon, rust, blue families.  I hauled it all downstairs, raveling and depositing threads all across my carpets.
I searched through my studio stash of fabrics, and found some things that I thought coordinated well with one of the scrap colors, a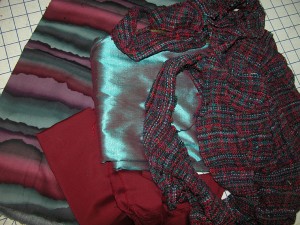 wine and teal combo, one of the fabrics, actually came from the stash of sari's I got from my husband when he flew back from Mumbai, India last January.  There was also a small scrap of a quilt fabric that someone handed me at an ASG meeting a couple months back.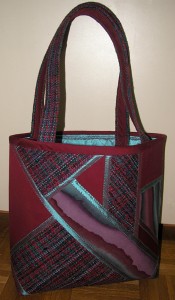 I spent a few hours last night, redesigning an easier tote bag, other than the handles, the body is actually one piece.  The basic construction is pretty brainless, and I think that this could be easily accomplished in a one day workshop.  I love the size and shape of this tote, and using the FlexiFirm thick stiff interfacing makes it hold its shape well.
Now I can return to writing proposals for the American Sewing Guild conference…