Wow, the sun actually came out today.  What a surprise!  Course more rain due in tomorrow, there was even a front page article in the newspaper today about how serious climate/weather pattern changes are here.  Well the plants are loving it!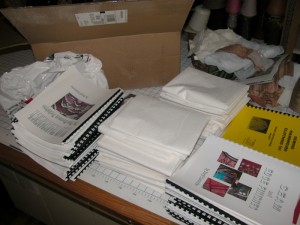 I'm now in wind down mode, tying up loose ends, starting the preparations for my trip next week to the Midwest Weavers Conference in Grinnell, Iowa.  I've never been to Iowa, so this should be a treat.  A week before I leave, I need to ship out the consummable stuff, like the handouts, raw materials, and some monographs to sell.  So yesterday, I spent the entire day printing and binding stacks of monographs, and the handouts, and burnt out my year old new binding machine.  Bummer…
The box is packed, and on its way to Grinnell, and the good news, is it contains about 50 yards of Red Dot Tracer, which I'm happy to say, is finally available, from Pellon, after months of gnashing of teeth and complaining, and moaning, I got 150 yards of it via UPS yesterday, in time to chop it up in two yard packs and ship it with the handouts.  I have been in a quandry since HTCW stopped shipping early last fall, and the product became unavailable.  Pellon bought the plates for the Red Dot Pattern Tracing Material, but they printed it on their Tru-Grid base, though improved from the original Tru-Grid base, this one is more stable than the old one, I still don't like it because it doesn't hold a pencil mark well.  For a number of reasons, this is really important to me.  I have multi-sized patterns I use for my classes, and the lines have to stay true and accurate.  And so do the lines the students trace.  Anyway, the Red Dot has now been printed on a different base, one closer to the original one from HTCW, and I'm hoping it will perform as well.  I'm crossing my fingers.
So, now to the next project, which is a gallery talk I have to give next Wednesday as one of the exhibiting artists at HGA's Small Expressions Exhibit at Grinnell College's Faulconer Gallery.  I wanted to finish one of the pieces on the loom that I started last spring, so I could get a shot of it and include it in my talk, since it is woven in the same technique as the pieces on exhibit there.  (If you click on "Small Expressions" under "Upcoming Events/February 24th" – which was when the show originally opened in Missouri, you will see the pieces they selected for exhibit)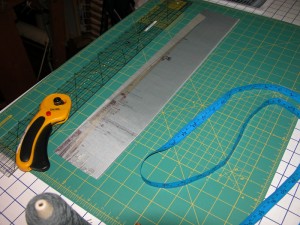 I've blogged about this technique, a Theo Moorman Inlay on a cotton ground, in many previous posts.  Search for "Big Sister" and you'll find many references.  I printed the image on silk, and then cut it into quarter inch strips, and wove them back into the loom, in sequence while weaving a backing fabric at the same time.  One of my blogs has detailed shots of the process.  If I have time I'll search for it.
Anyway, the image here was shot the end of August, 2001, while vacationing a mere 20 miles away with my children.  We took them to the South Street Seaport in Manhattan, and then up to the roof of the World Trade Center.  I titled this photo "Top of the World".  I don't need to tell anyone what happened a mere two weeks later…
It is a chilling photo, the shaky appearance of the towering structure, from the rewoven strips, two innocent children doing what children do when posing for a photo for dad, (notice the rabbit ears my son is sneaking in behind his sister's back),  I am haunted by this photo every time I look at it.  Reweaving it back together row by row, was somehow healing.
My daughter walked in tonight while I was photographing this for the blog, and plopped her latest adventure in
front of me, a large paper box, carefully folded into a square.  She said, "Guess how many boxes are inside of this?".  I took a wild guess at 10, and was sort of surprised when she told me I wasn't even close.  Can you believe there were 20 little paper boxes, all just a fraction smaller than each one they nest into, and she proceeded to unwrap each origami box to unveil the next box, until she had them all lined up on my cutting table.  The smallest one was half the size of my thumbnail.
You have to love hanging around with my daughter.  She disappears into her room, and comes out with the oddest adventures, she should have been studying for her Spanish final tomorrow, but folding paper boxes was much more soothing to her soul, and she was quite proud of her accomplishment.
Ah to be 16 again…  See, that's my problem.  I never blow anything off I'm suppose to be doing for the shear joy of creating.  I've gotten way too responsible in my old age…
Speaking of old age, we had a couple of great theatre adventures, last Friday we saw The Full Monty at the Papermill Playhouse, which was absolutely a terrific piece of theatre, the cast was unbelievable, one scene stealer after another, and if you live anywhere near Northern NJ or NYC, get yourself a ticket now!  The show runs until July 14th I believe.  There is a cameo appearance by stage veteran Elaine Stritch, who according to the papers is 84 years old.  I want to be able to get out there and still perform in my studio and on the road at 84.  That would mean I have another 30 years to go!
And last night, my husband and I escaped to the movie theatre to see "Up".  Another Pixar/Disney hit, one of the most charming stories I've seen in a long time, well, you just have to take my word and go to the movies.  You won't be sorry.  The star of "Up" is a very old man, who is about to be forceably taken to a retirement home, the love of his life is gone, and he gets his house to lift off into the air with a gazillion helium balloons and flies it all the way to Paradise Falls in South America.  I know it sounds like the oddest plot line imaginable, but to see it, and how the story develops, is truely amazing.  It is almost believable.  It has been a long time since I've been to the movies and heard an audience applaud at the end of a film.  The show was packed, and they did applaud.