Wow, make sure you get a large coffee and pull up a chair, you are all in for a real fiber treat.  I did some real damage to my Master Card, but this was sooooo much fun.  I'll try to keep the words to a minimum, and let the pictures speak for themselves (Hah! like that's going to happen…)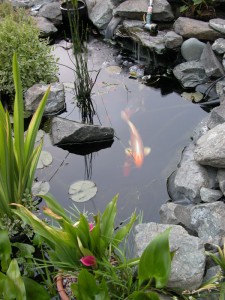 Day 1, Seattle:  I got up early (I'm still on East Coast time) and made my morning tea.  I heard gurgling water and went to investigate.  This is Harlow.  Robyn has names for all her fish.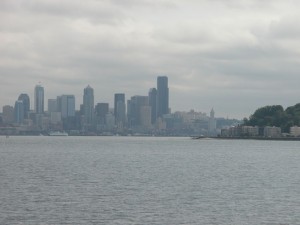 Robyn lives in a small town on the other side of Puget Sound, and it is necessary to take a ferry into Seattle.  This is a lovely skyline, but I will say, I am pretty unimpressed, I live right outside Manhattan, now that's a skyline.  But it was beautiful approaching it on the water, and I enjoyed the lovely long ferry ride where Robyn and I discussed some possible joint creative ventures.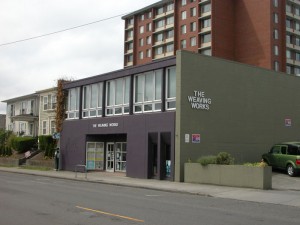 Our first stop on our excellent adventure was Weaving Works, a very popular knitting/weaving store, I've taught there in the past, and Carol Jorstead is an absolute delight.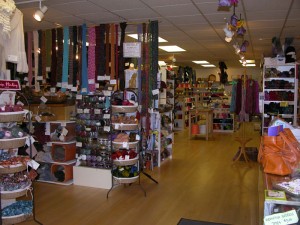 When you first walk in the door, you just stop and inhale deeply.  A feast of color and texture, and you just want to dive right in.  Since we plan a number of fiber stops on our excellent adventure, I noted the books I wanted to have in my collection, for my wish list, and checked out the sale bins.  I picked up four balls of  "tapey things", ribbon yarn, and then spied the buttons.  I'm running low in my stash, so this was a perfect opportunity to refill.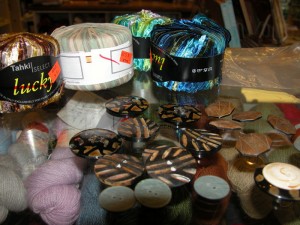 No, I didn't buy all the yarn under the glass counter top, just the buttons and the balls of "tapey things".
We met up with another favorite weaving buddy,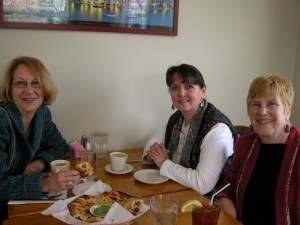 Dorothy Day, who is actually an amazing dyer, with a PhD in Chemistry.  It is amazing how educated weavers/dyers can be.  We had lunch in one of Robyn's favorite haunts, a middle eastern restaurant called Cedars.  We had an appetizer of the house "nan", a middle eastern flatbread.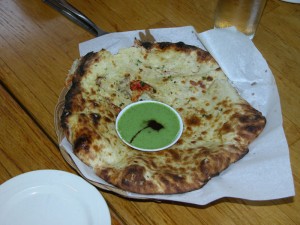 And of course we all had the chai tea latte.
Next stop on the excellent adventure was Nancy's Sewing Basket, also in Seattle.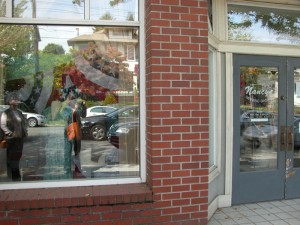 For the second time today, I walked in and inhaled and smelled the fiber!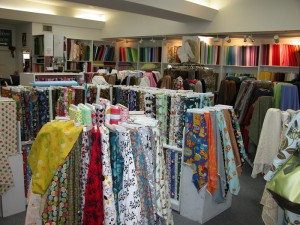 I will admit, I get pretty overwhelmed in places like this,  where to even begin.  Each fabric was prettier than the next, so what do I do?  I jump right into the remnants.  I love remnants, the decision on how much to buy is basically made for you.  They are a bargain, and it narrows down the choices significantly.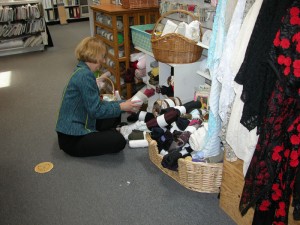 So here I am, sitting in the middle of piles of linens, wools, silks, rayons, cottons.  I picked out some pieces that I thought had great potential for dyeing and for discharging.
Then Robyn took me to the back of the store and the "Ribbon Room"!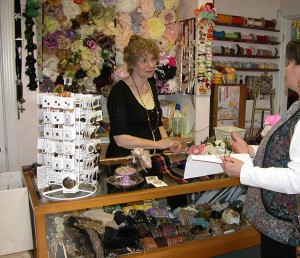 Here is Susan of "The Ribbon Room", a back room in Nancy's Sewing Basket that is just filled to brimming with all sorts of vintage ribbons and flowers and trims.
Feast your eyes!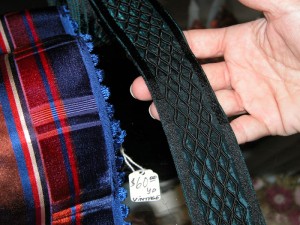 Some Edwardian trims.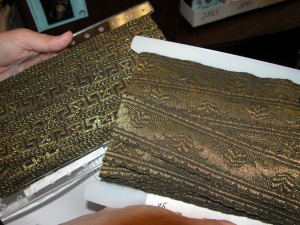 On the right, vintage trims made from fine metals.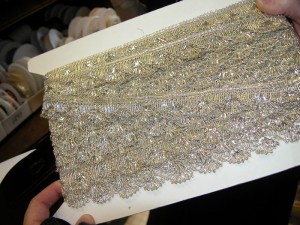 On the left, vintage trim made from Aluminum.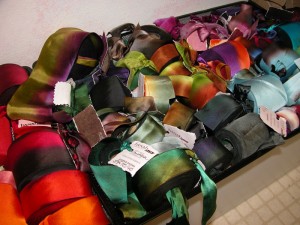 Gorgeous trays of hand dyed silk ribbons.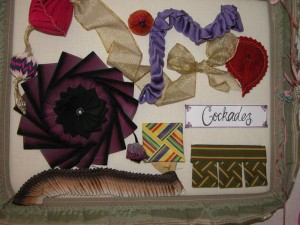 And all around the room were these beautiful framed vignettes of Cockades, folded ribbon accents.  There were classes available as well.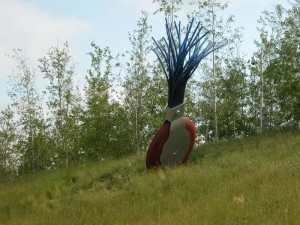 Driving back to the ferry, I was struck by how much random artwork appeared in the oddest places in Seattle.  On the hillside along one of the highways, was this grade school eraser!
We had a lovely trip home on the ferry, and stopped in Bremerton for the First Friday Art Walk, I've been to things like this in other towns around the country, all the gallerys and museums in an area are open late one night a month, with openings, and "potent" refreshments, and Robyn and I hit a couple of interesting galleries, and then found the vintage clothing store, ish.
We found a Marsha Brady dress.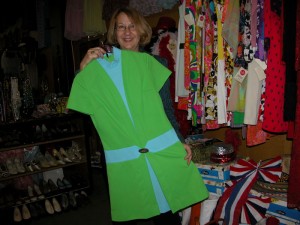 And this lovely combo from the 70's.  I remember wearing something like this in High School.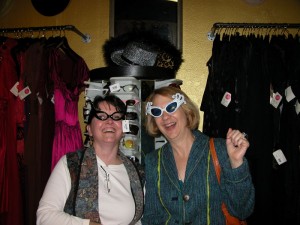 And then we found the rack of shades.
We ended our excellent adventure with delicious sandwiches in the lounge of the Boat Shed, nestled on Puget Sound under the bridge, margaritas, friendship, and lots of fiber purchases, it doesn't get any better than that!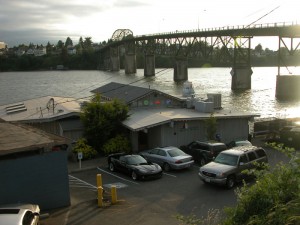 Tomorrow, we head to Portland, Oregon!