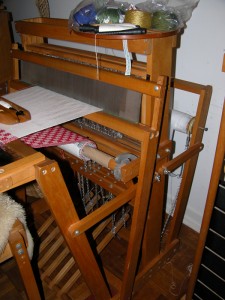 Woo Hoo!  My loom is out of intensive care and back in service!  What a scary event.  If you are just tuning in, read yesterday's blog.  A quick trip to the hardware store got me some new screws, and something called TITEN for screws.  Armed with glue, the new larger screws, and a tube of this tightening stuff that fills gaps, my daughter and I performed surgery on the loom, and now the beam seems to be working better than new.  And I was able to finish the placemat I was working on, without any change in tension.
So, the new score, Brianna 3, mom 3.
If you are really just tuning in, my daughter and I are working on a placemat exchange with our guild.  Each of us has to weave 8 placemats, each mat woven with a color given to us by each of the other participants in the exchange.  When finished, we will each have 8 mats, all in our chosen color, in 8 different overshot patterns.  I chose a celadon green, and Brianna chose, purple.  It was pretty scary to have the warp beam break apart in the middle of one of the mats.  But all is well.  Big exhale.
Must have been something in the planets.  There was a line at the hardware stor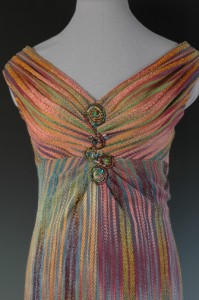 e in town of people with broken toilets, broken sinks, etc.  It was hard to explain my broken warp beam, amongst the toilet flapper issues, but everyone cheerfully listened and helped as best they could.
Big news!  I got an acceptance letter for my dress, Frosted Florals, for the Surface Design Association's Textile Fusion: Interactive Fashion Performance.  The fashion show will be part of the SDA's international textile conference, Off the Grid.  So I'll have my Big Sister piece in the members show, and I'll have a piece on the runway.  One of these days I really should attend the conference as well.