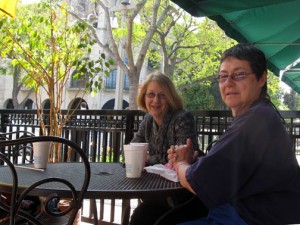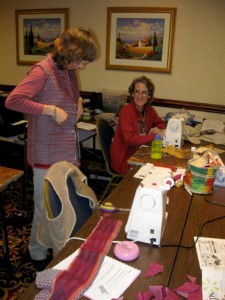 The weather here in Riverside California is beautiful.  Not too hot, and yet we can sit outside and eat lunch, and enjoy the trees full of fresh citrus, and the California air!
Here I am at my new favorite place for lunch, The Upper Crust on Main Street in Riverside, having the best Pastrami sandwich I've ever eaten, and some mean French Onion Soup!  I'm having lunch today with Sandy Gunther who is the coordinator of the conference.  She also owns the Weaver's Cottage and Redfish Dyeworks.
The workshop is going well, the students are so energetic, and creative, and the jackets are really moving along.  They are showing signs of working too hard, but handweavers keep plowing on, and it will all be worth it in the end.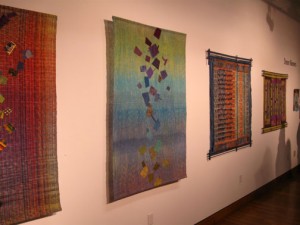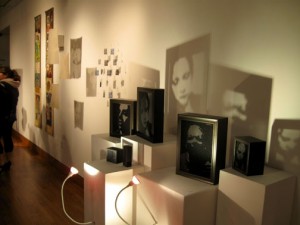 After the workshop, I met up with my California friends, all part of a group called Designing Weavers.  I would so love to belong to this group, but sadly, living on the east coast, it would be hard to make the meetings, which is a requirement.  We jumped in the car, and drove from art opening to art opening, starting with an exhibit at Riverside City college called Dream Weavers, were a number of my friends had work. The first picture shows work from Cameron Taylor Brown and Nancy Gary Ward, and the second photo shows some fantastic work from an artist I didn't know, using a positive/negative hooking technique to allow light to pass through and show images on the wall.  Her name is Ashley Blalock.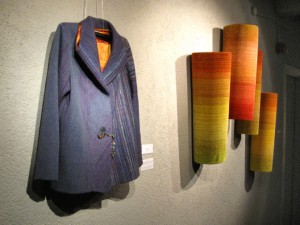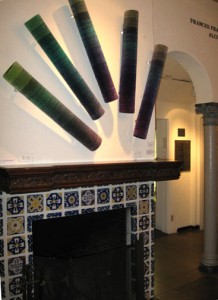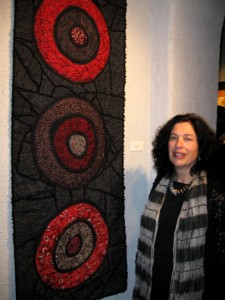 We piled in the car and headed to the Designing Weavers Personal Best Exhibit at the Riverside Art Museum, which is housed in a gorgeous building which I understand was the home of architect Julia Morgan.  The way the work was displayed in and around the architectural features of the home was amazing.  Here are a couple photos showing a jacket by my friend Mary Saxton, and Chenille Wrapped tubes by another friend Deborah Jarchow.  I met Susan Lasch Krevitt who had a wonderful fiber construction, and happily posed for me with it.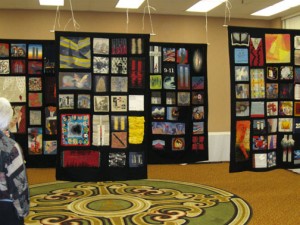 Our final stop was the Riverside Convention Center, where the conference juried exhibit was on display, along with the faculty show, where I had work.  In an adjoining room, I came upon a quite unexpected gut wrenching exhibit of four huge panels, mounted with the tapestries of 100 Tapestry Weavers in a 911 Memorial.  I could have spent hours looking at all the powerful tapestries, and reading the essays written by each artist.  The installation was coordinated by tapestry artist Monique Lehman.  I understand the exhibit will travel to China next.
I'm going to post this before I run out of battery on my laptop, or I lose my signal in the Marriott lobby!