I made it to Missouri, after bad weather, and delays and an almost three hour drive to Columbia from the Kansas City Airport.  I'm staying in a lovely home in a very rural part of Columbia, I'd love to see this area in the summer.
The workshop, a two day vest class for the Columbia Weavers and Spinners is actually being hosted by the University of Missouri Fibers Department.  I met the head of the Fibers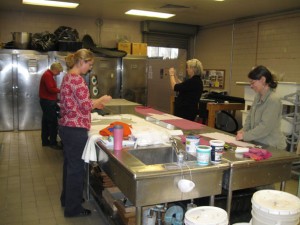 Department Jo Stealy, so helpful and welcoming.  The space is amazing, high stainless steel tables everywhere, an indigo vat fermenting in the women's bathroom, dyeing supplies stacked on shelving everywhere, looms and fibers and wonderful academic energy all around us.
The workshop participants are so delightful, I love midwesterners, hard workers, so kind and careful, and they are all doing amazing vests, there is one who brought her hand made felt, which of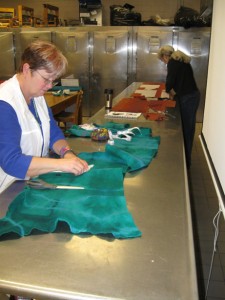 course will make an organic, more free form garment than the woven counterparts.  Tomorrow they jump into sewing, when I left them for the evening, everyone was cut out and ready to go.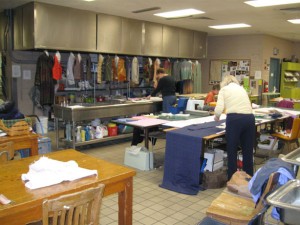 We were able to hang my show and tell garments from one of the upper cabinets, so there is a row of my work at the back of the room, it is great to see everything hanging like that instead of jammed onto a garment rack.
My son called me tonight on my cell phone, I was so surprised to hear from him, what a treat, he gets so few calls from Boot Camp.  I'll be able to hug him five days from now when I fly to South Carolina for his graduation.
I'm watching the severe weather alerts for back home, popping up on my screen.  Flooding looks bad, and wind gusts of up to 72 MPH.  Scary.  It is just cold and rainy here, but we are safe inside in a fiber studio doing what we love best.  Made me long for my days back at Montclair State…