The days are just getting away from me, and my to-do list is starting to get a bit out of control.  And I feel like I am moving through Jello, going through the motions but not accomplishing much.  There are lots of things on the calendar taking me away from a good solid day's worth of work, plus I am procrastinating big time, starting the new presentation on Website Success.  Once I'm into it, I know I'll get lost in it, and not come up for air for about six weeks, so I'm hesitant to jump in.
Meanwhile, I have an article to write for Shuttle, Spindle and Dyepot, and a book review as well.  I have to finish the remaining two placemats for the exchange, I have to write up and get out the contracts for my guild, and get the information to the newsletter editor, and I have to review 5 scholarship applications for the Music Parents Scholarship for this year.  Those are probably due first.
And, big news, I have to finalize my contracts for Convergence 2010.  Yep, I finally have contracts in hand.  It took longer than usual because there was a lot of back and forth as to what I would actually teach for them.  This is an unusual situation, and kind of complicated, and partly what triggered my bout of whining a couple weeks back, about being a 'has been'…
Convergence is an international conference for not only handweaving, but many other disciplines in the fiber arts, and one that can keep you visible and open other opportunities.  I have taught at every Convergence since 2000 in Cincinnati.  Therein lies the problem.  First off, I am known in handweaving circles for my garment construction classes for handweavers, I have those classes down to a well oiled machine, there are only so many ways to teach garment construction, and I'd like to think I have streamlined the process to work for conference and guild situations of mixed skill levels and all body types.  I'm good at what I do.  But trying to reinvent oneself each time for Convergence, where cutting edge and up and coming teachers and topics get first priority, is pretty darn impossible.  I try to come up with new workshops and seminars yearly, but it isn't enough.  So, I am grateful to the HGA for giving me a full plate at the next Convergence, but I know that after 10 years, there are others out there that are developing newer and more cutting edge kinds of workshops, and I've been told by many that mostly I am thought of as the 'Go To Girl for Sewing'.  Even my 'Photographing your Work" seminar, though extremely well received when I give it, many have opted to hire a 'professional photographer'  instead to do the seminar.  Most don't know my original degree was in textiles and photography.  But I digress….
So, I've spent a lot of time this week thinking about where I'm going with all this, I'm not "washed up" so much as having to look down the line to what's next for me and where can I take my skill set and stay personally challenged and still make a living.  No answers are coming, but I'm more comfortable with the idea of just seeing where life takes me for the moment….
So, I am teaching at Convergence in Albuquerque, see the full list of what I'm teaching on my website Schedule.
So, with all this stuff on my plate, what did I actually do today?  Not any of the above…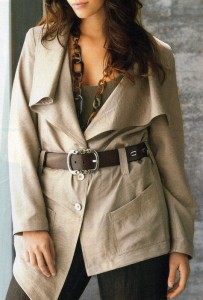 I started a new project!  Unless you have a fantastic memory, have been reading this blog since back in December, and have actually been keeping track of the six projects I outlined back then, you don't remember  Sandstone Layers or  Project Two!  The yardage for this was woven back in 2007, and it is one of my favorites.  I'd like to make a jacket out of it, but I am longing for a different kind of jacket look than my last couple, and I found a great jacket in the January 2008 issue of Burda World of Fashion.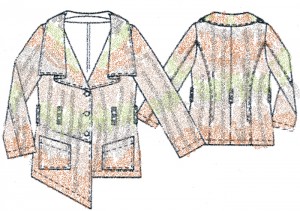 It is sort of slouchy, and has a big belt, and a great big flowing collar.  Some of the engineering still has to be worked out, but I spent all afternoon yesterday and this morning tracing the pattern, and then fitting it onto the dressform.  It took much longer than normal, because there were so many pattern pieces and because the jacket was actually designed for plus sizing and I had to regrade the smallest size in the pattern down another three sizes.
I tried it on the form, and liked what I got, except for a couple  of areas,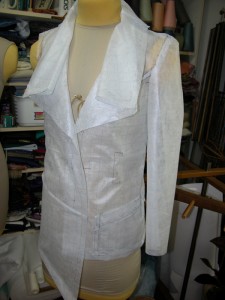 one being the asymmetrical hem.  I thought the angle and pitch of the right side was too much.  So I pinned up what I thought was more appropriate.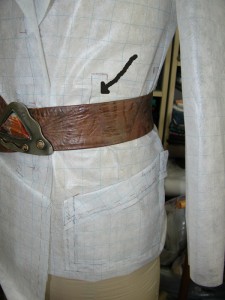 Once I added the belt to the jacket pattern, it was pretty clear I would have the same problem as the last Burda jacket I made, the waist was too high for me.  I am really long waisted.  So I knew I would need to chop all the body pieces above the waist and lower the whole waistline, carrying the belt loops with it.
Of course as I puttered with the pattern, I got sidetracked here and there, wondering what sort of buttons I had in my stash that would work with this.  I have bins of buttons, some in order, but most not…
Recently a friend who was cleaning out her deceased aunt's house, gave me a cookie tin of buttons, lots of Bakelite, and some pretty interesting shell buttons, sadly with a coating of powdery mildew, and I rooted through there and found some I thought worthy of cleaning and set out with a tooth brush and some Softscrub.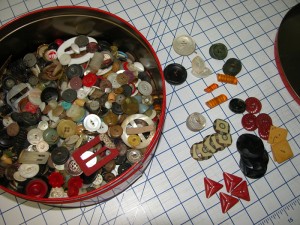 After a couple hours of trying to find three buttons that I liked with the fabric that were the right size, I took a couple of the whitish abalone buttons and turned them over, and voila!  The perfect color buttons were hiding on the back!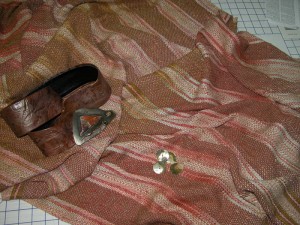 The flash is making them look a little too white, but they are beautiful and creamy pink/green on the back, and perfect for the fabric.  And my favorite belt works as well.  So, now for the layout…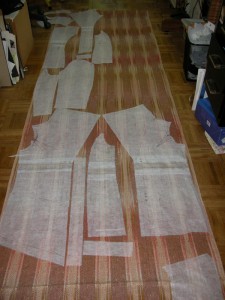 This is going to be another one of those layouts that when I'm finished cutting, I'll just have dust left.  I love when this all works out.  I won't line this jacket, but will figure out what if anything I'll interface with since I want the collar pieces to drape well.  Stay tuned…