I remember when I was in grammer school, the first standardized tests were introduced, and we had to color in those little circles with the number two pencil.  Couldn't be an HB, had to be a number two.  Following directions is the bain of my existence.  I am a creative soul, and want to do it my way.
So of course, I'm in a field where I am constantly writing proposals, filling out applications, entering exhibitions, and everyone wants the information in a different format.  Use to be I could pretty much anticipate what the general desired information would be, write it up in PDF format, and attach it to the application, but now many of the shows, and conferences are requesting electronic transmissions through something called  Juried Art Service.  The first time I set up my profile there it took me two days.  Now that I have it, I still have to keep editing, and filling out all the little fields and boxes which don't always match with what I'm trying to say.  Makes me really long for those little circles and my trusty number two pencil.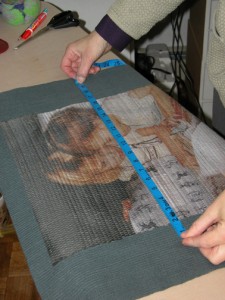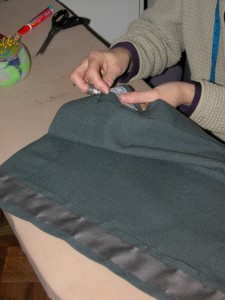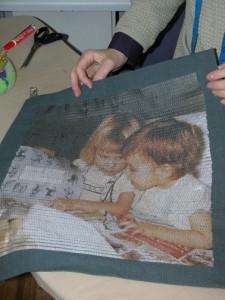 So the good news is I finished the Big Sister piece.  Once I cut it off the loom, I had to hem it into a perfect 18″ square, steaming, pressing and blocking the image so it would full up a bit, and the spaces would close up.  There are very specific directions for this exhibit, the Members Show, "Surface Matters" at the Surface Design Conference in Kansas City in May.  The prospectus is very detailed, so I carefully read, re-read, and think I have it all in order.  There has to be a 1 1/2 inch rod pocket sewn on the back, a half inch from the top and side edges, and a label with my name and the name of the piece safety pinned in the back.  I chose to hand sew it on.  Hope that was OK.  Now I have to go to Juried Art Services online and update my profile with the image of the piece, fill out the application online, pay the entry fee, and then print the application and include it with the shipped piece, which has to go out tomorrow.
I took my daughter to volleyball tonight, and sat for an hour and a half finishing up the handwork on the piece, which worked out great, and then I raced home, threw dinner together, tacos are a wonderful quick dinner, and then we hit the stores in search of stuff for props.  My daughter is in the ensemble for the HS Musical, "A Funny Thing Happened on the way to the Forum".  Sadly I'll miss the entire show because of the California conference, but it has been fun watching my daughter, who with a roll of duct tape, can make anything, take on making all the props, including the bust of Domina, an ancient scroll and a giant rose bush.  Tonight we had to come up with Roman coins in a bag, washers from Home Depot took care of that.  And I had a little draw string bag I kept my glue sticks in,
so off she ran with that.  Next was large feather plumes she could make into a giant fan, the kind the slaves used to fan the royalty.  That was a little more problematic and a lot more costly.  Armed with the Michael's 40% coupons, we picked up some white plumes, and a bamboo pole, put a white plastic hanger into the top of the pole after she cut off the hanger loop with a hack saw, and wired the plumes to the hanger in a fan shape.  She just has to finish wrapping the base of the feathers with duct tape to secure them.  I have to make a run to Party City tomorrow for Gladiator Sandals.
Off to finish cleaning my bathrooms, I accomplished a lot today, and I'm really looking forward to a good night's sleep….