The much anticipated end of the year guild meeting of the Jockey Hollow Weavers was last night.  On top of the guild challenge, there was the paperwork, and of course the PotLuck, where I made a couple of quiches since A-M had to bring a main dish.
A 5:30, Bri and I loaded everything into the car, and off we went.  The meeting was great, so much happening in our guild, the group has grown so much, lots of new weavers, or weaver wannabees, just wandering in from the knitting/spinning world, a natural progression.  And what a meeting to attend…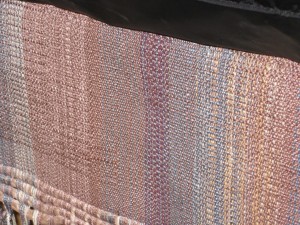 The bulk of the meeting was of course, exchanging our projects, there were eight total who participated, sadly one of the participants was missing in action.  Sad for the person who spent a year making her project, and sad for the recipient of the project from the missing in action participant, because she went home with nothing.  Not even a hint. In my case, the project for me from my yarn wasn't finished, but Jerri did come with samples, and photos, and the assurance that the yardage was half way finished, and she works five minutes from my house so delivery should be prompt, and she offered a consolation prize, I now have a new dishtowel to add to my collection of two.  🙂
So here is the beginnings of the fabric Jerri is weaving for me.  The fabric samples she showed were washed and there is a lovely drape, but the fabric is stable and I am seeing this summer dress from a Michael Kors Vogue pattern I just bought…
I handed over my fabric to Sherrie, I think she liked it, she told me she thought the fabric w
as very couture, and oddly enough, liked the reverse side better, (she wasn't alone in that) and I didn't even get a picture of the back side!  Go figure…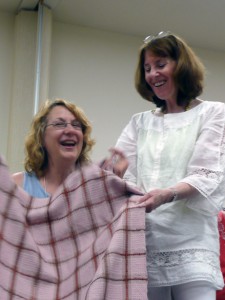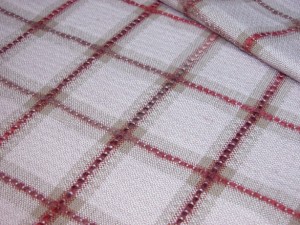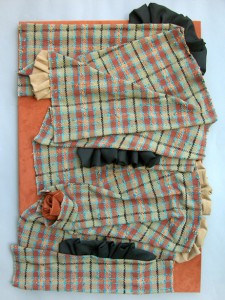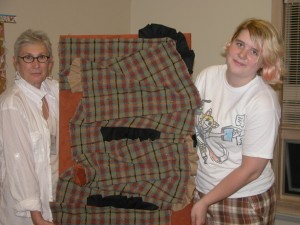 I think Brianna had the most fun.  Bri presented her masterpiece, which someone in the guild affectionately called "Runner with Napkins" to Judith, and Judith seemed absolutely thrilled.  I am so glad.
I did get a photo before we headed out to the meeting, so Bri would have it for her journal.  Bri bought a 24″ x 36″ stretched canvas, and she covered it with rust colored Ultrasuede from my stash.  The black folded "napkins" are from Irish linen, and there are a couple of additional folded Ultrasuede things as well.  The entire piece is mounted with black beads and strategic stitching, so in essence, with a couple of clips, the entire yardage can come off of the canvas intact.  It was fun to watch Bri wander through the creative process, and how she effortlessly found her way to this point and it is great to watch a 17 year old be truly proud of something they accomplished.
Jenny received Bri's bag of yarn back in the fall, Brianna, being 16 at the time, picked mostly pinks and purples.  I can assure you, those aren't Jenny's favorite colors.  Bri just squealed in delight  when Jenny presented her with this yardage…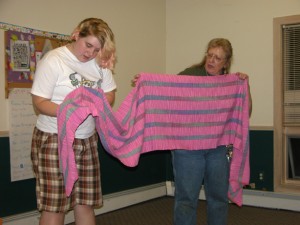 Now she has all summer to figure out what to make from it…
All in all, there were some amazing projects from this challenge, many in the guild wished afterwards that they too had participated.  It takes guts to put yourself out there and try to create something from someone else's yarn,  what if after all that work, they don't actually like it?  Honestly, after all seven participants showed their  end results, there wasn't a piece in there I wouldn't own.  I was thrilled at the level of workmanship, creativity and technical stretching that everyone put into the group assignment.
So we have the summer to wait for next year's assignment, I promise I won't wait until the last minute to work on this next challenge…  I hear it has something to do with complementary colors and dishtowels…  I may have to break my claim to have never woven a dishtowel…