I've been getting emails and messages all day about my blog, a message pops up, Fatal Error: Out of Memory and then this string of information that has so far been useless to us since it changes all the time.  We've been having this problem for a couple of months now, and though the problem clears up pretty quickly, just try again a few minutes later, it is pretty annoying, and it has made my techie quite frustrated.  We had the server up the memory, but that didn't fix the problem.  Know we are still working on the problem, and my techie went in today and changed some of the settings, based on something I found on the internet, so we will see if it is still occurring.  If it does happen, let me know theweaver@weaversew.com, so I know the extent of the problem.  And if there are any bloggers out there with WordPress who have seen this before, and know of a solution, feel free to post a comment, if you are able and don't get another Fatal Error message…
There are days when I feel like I am out of memory.  Like today.  Re-entry is always a challenge, and it is hard to even know where to begin.  It is impossible to focus, there are so many things calling to me, and my brain feels like it has a fatal error and is definitely out of memory. And I'm also suffering from jetlag… I find that spending a bit of time trying to organize some key rooms in my house helps calm my brain.  I can think in an organized space.  When there is chaos everywhere, I am so scattered I am usually cranky and worthless.  Sadly I live with my family, and all of them have the opposite kind of brain.  They thrive in chaos, and no matter how big the pile, they always know where everything is and somehow that chaos makes them focus better.
I spent the morning cleaning the kitchen.  That felt good.  I did a 20 minute yoga workout, there are podcasts and videocasts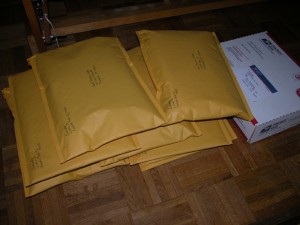 online with yoga workouts, and it is great in a pinch, to get you back on track.  Try www.yogajournal.com.  I came back from California with a stack of orders, I spent most of the afternoon printing and cutting orders, and packing them, they are all ready to ship tomorrow, and all the paperwork and banking is done from the conference.  NJ Sales Quarterly Sales tax forms have been filed, thank goodness I can do it online, takes longer to add up the numbers than it does to file the forms.  And I tackled the mail.  This was a pretty lucrative stack, besides my pay check from the museum where I teach sewing every week, there were two acceptances for exhibits and contracts for the MAFA conference next summer.  I had two pieces accepted to the Northern Colorado Weavers Guild Fiber Celebration 2010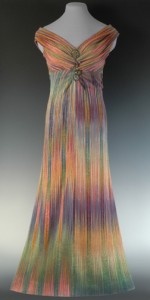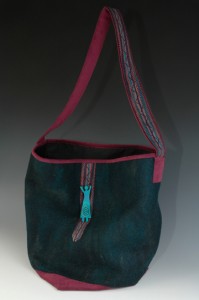 exhibit.  That would be my Frosted Florals dress and my felted Celebration Bag.  In addition, my yardage was accepted to the yardage exhibit for Convergence.  Alas I was not accepted for Small Expressions, but I made arrangements to use the piece that didn't get in for the faculty exhibit at Convergence.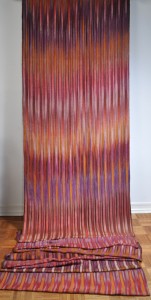 I did four loads of laundry, while my printer was humming along, that kind of multitasking I can do.  And I did manage to spend about an hour at the grocery store.  So I can actually make breakfast tomorrow.
But through the day, I really longed to be able to just dive into my stash and start to create something, so I actually took a break, dug out a couple of drop spindles, and started to play around with the  dyed silk/merino roving I bought at the conference. 
I found that the little drop spindle I got in a guild workshop worked best, and it would be more portable.  I also recently acquired a copy of Abby Franquemont's book, Respect the Spindle.  I had to buy the book just for the title.  It is a beautiful, colorful book, that covers anything and everything you would ever want to know about the drop spindle, there were things I didn't know, when I read through it, and I'm glad I picked it up.  The spindles are beautiful, and I started spinning on my little top weighted whorl, and the yarn is exceptional.
So today was pretty productive, frustrating because so many people haven't been able to read my lengthy blog from yesterday.  If you get the Fatal Error notice, just wait a few minutes and try again.  We are working on it.  And I got the message twice while trying to write this blog, so I know whatever we tweaked today, didn't work.  Stay tuned, unless you get a Fatal Error…  (I'm so glad I'm a fiber person.  Fiber artists never get Fatal Error messages.  If it isn't working, just take the scissors to it and turn it into something else…)  🙂