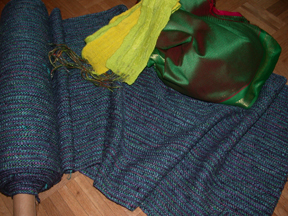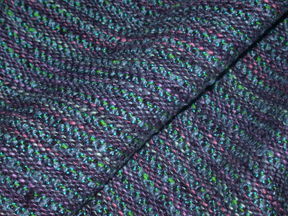 Project 5 is a bolt of fabric I had sitting on the loom for a long time.  It wasn't really exciting me, after all the dyed warps I'd been doing over the previous year, it was sort of ordinary, yet the subtle coloring when you looked closely at the fabric was exquisite.  The fabric will work well for a more classic coat, mid weight, and I can bulk it up with an interlining.
This fabric, called Arctic Sky, was based on a forecast from Handwoven Magazine I did for the Jan/Feb 2007 issue of Handwoven Magazine.  I loved the rich blues into plums, spiced up with the new lime green, or rather new at the time, lime green has become the new neutral.  It is a fantastic color for a handweaver to use intermittently within a fabric.
I originally set this warp up on my 8 shaft, not because it needed to be, but when I have sticky wool warps, I find that by spreading them over eight shafts instead of four, I get less skipped sticky warp issues.
I have about 6 yards of 21″ wide fabric, not a huge amount, but enough I think for a trench type coat, and I have a beautiful silk Sari from my husband's gift stash, in a rich green, that might work with the fabric.  I'm big on using what I already have.  And I have this odd little sash/narrow scarf that I felted with a friend, in that fabulous lime green color.  I can see using the natural edge of the felt as a narrow accent down the edge of a band or belt.  It is a strong color, so just an accent would be appropriate.  Almost like a piping.   I could really use a good spring trench coat.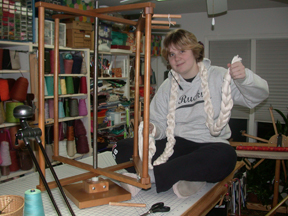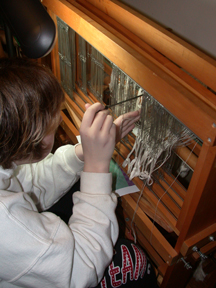 Meanwhile, Brianna is making slow steady progress on the placemat exchange warp.  She had the chain wound by early evening last night, and started on sleying the reed.  She finished putting the warp chain into the reed before she went to bed last night, and when she got home from work today, she started threading the overshot pattern. She just called over to say she was half finished.  The fact that she seems to really enjoy warping the loom just makes my heart sing!  Yippee!