This has been a couple of weeks of tying up loose ends. Always a good thing at the end of the year, but finishing up projects, and crossing things off the list makes me feel, in this crazy world, like I saw something through to completion and that's a good feeling.
Last post I showed a 1/4″ inkle band I wove, from Sulky 12wt cotton, for a guild project during the December meeting. One of the members showed how to make the famous Anni Albers necklace, a weaver from the Bauhaus, who believed that simple everyday items would make lovely jewelry and embellishments. Kits are available, and I posted that link in the last blog post, but I chose to get my own washers and weave my 84″ ribbon.
So during the December meeting I wove this lovely necklace, which is not heavy at all, trust me, I have a lot of 80's craft fair jewelry and some of that is pretty weighty. I wore it proudly the next day to an event, and love the simplicity and subtlety of it.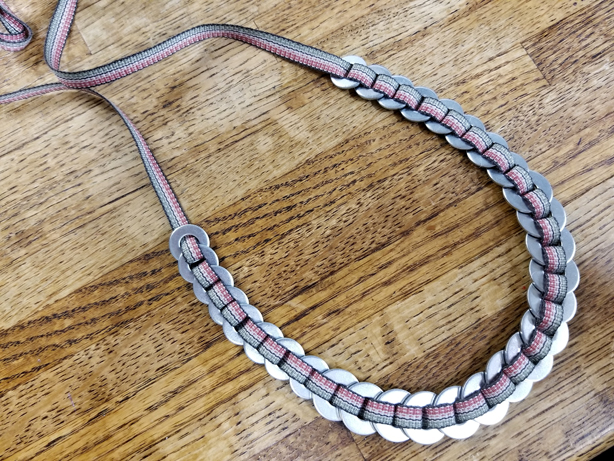 A couple of guild meetings ago, we had a Zoom hands on workshop with Deborah Jarchow, on clasped weft, using Rigid Heddle looms, which I don't have, so I warped up my small 4 shaft floor loom and carried on. I blogged about that here. A few days ago, wanting the loom cleared, and wanting to tie up loose ends, I finished it off. It is a lovely sampler, though not one I would gift or sell, but it works as a warm winter scarf for me. I'm not a fan of clasped weft with more than two wefts. Maybe with different yarn weights and yarn types…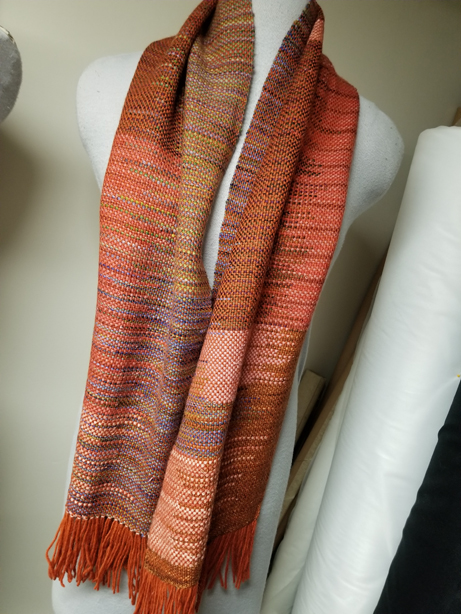 For many years, in January, which always turns out busier than it should be, I've held a beginning weaving class for my guild, to attract new weavers, and give curious participants a taste of the weaving rabbit hole! We suspended the class in the couple of years of Covid, but the class has returned, and is already filled with a waiting list, but I needed 15 Structos (or little 10″ Leclerc Sample looms) to be able to give each participant a loom and a warp for the day. My daughter will assist, and though it is a pain to haul 15 looms, and all the accompanying paraphernalia, it is a gift to my guild, and we all do whatever we can to promote weaving.
I wrote in a blog post a couple months ago about purchasing a half dozen Structos and Leclerc sample looms from a school in southern California, along with all sorts of parts. The looms were reassembled, and put on the shelf, but they really needed tender loving care, new aprons, 15 dent reeds, (not all of them had the correct size reed), and heddles. Those are the wire things in the shafts that make the threads move the way you want them. I wrote an extensive blog post about Heddle Etiquette, and how the direction of the heddles is important as the eyes are canted in a specific direction. This makes threading so much more efficient.
Here is a pile I took off one of the Leclerc looms. No order whatsoever…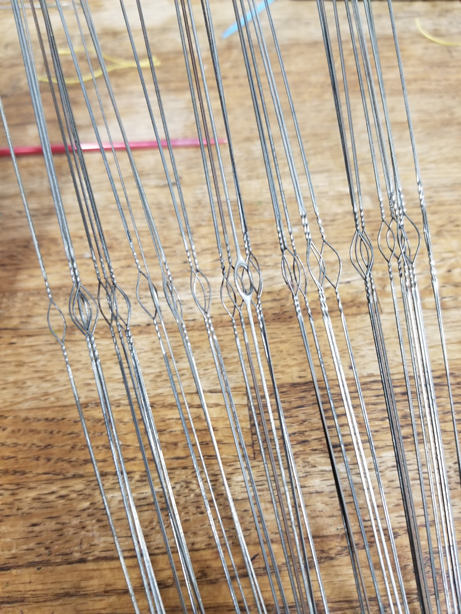 The shafts pop out from the Leclerc loom easily, but reordering the heddles, so they cant in the same direction takes patience and time. And I had to add additional heddles, which fortunately I had extra of, the heddles for a Leclerc loom are different than heddles for my Tools of the Trade looms, which are different than the heddles for a Structo, and even more different than my Macomber.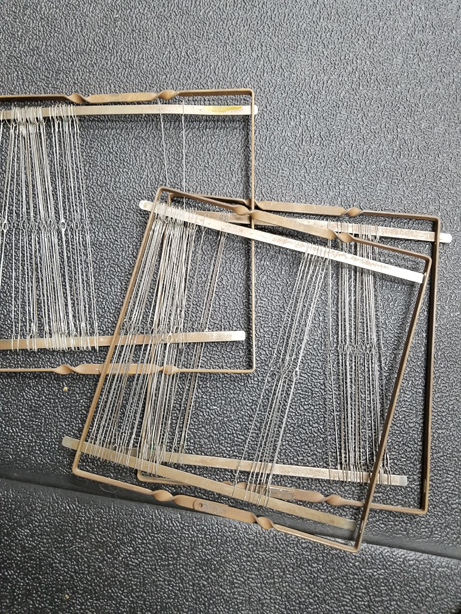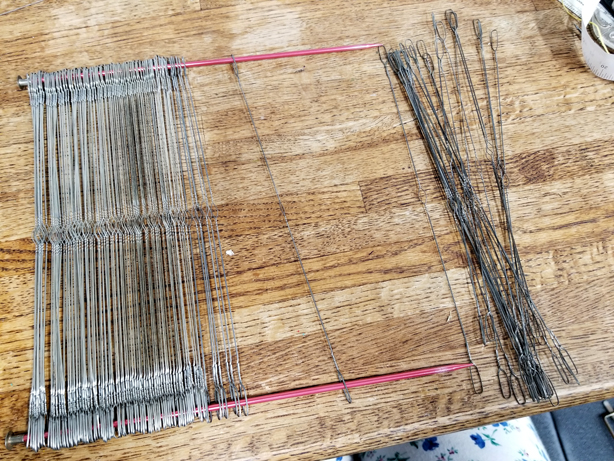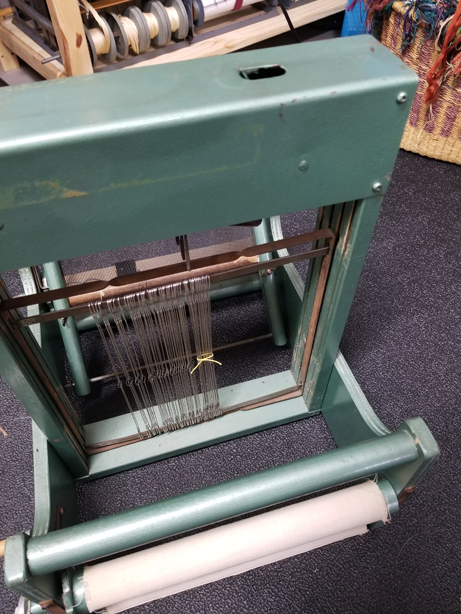 The looms seemed so happy when they were restored, and usable for a beginner class, and though each of my looms (49 now I think) are mostly named after Star Trek characters, I added an additional label that shows it is set up for the Learn To Weave class. (LTW) So grabbing them from the 30 Structos I have will make sense come January.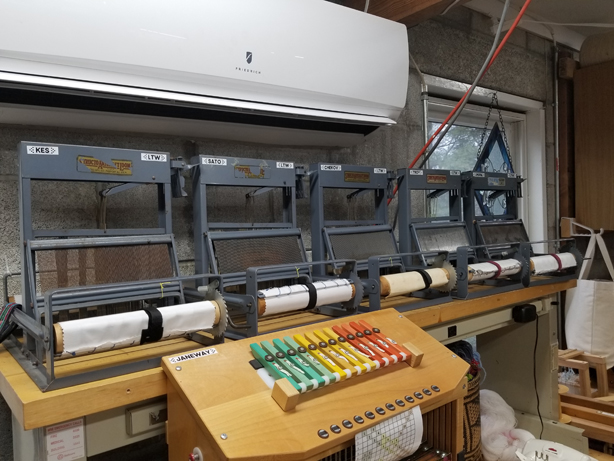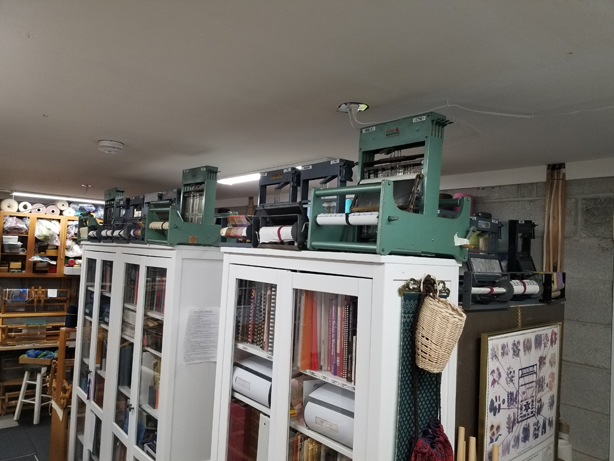 There is something satisfying about restoring a loom, and getting a warp on it. Looms don't like to hang about idle, and I have a lot of idle looms at the moment. I cleared a lot of them this past year, broken shoulder and all, and they are all calling me to put something on them, which I will in the new year. I promised them.
And my favorite loom, which I've had since the late 70's, is a 25″ Tools of the Trade, 8 shaft, with a double warp beam. It has seen a lot of warps over the years, and continues to do the job for me, whatever I ask of it. Sometimes with reluctance, but if I had to just keep one loom, this one is my trusted friend. I will say it was highly incensed when I brought in a stray Macomber, also 25″ and 8 shafts with a double warp beam, seriously in need of refurbishment, (I wrote about that in a blog as well), but they sit next to each other and have become studio mates. I had promised the Tools of the Trade loom that once I got the Macomber restored, I had plans for a very complex warp, that would test its soul, and it rose to the occasion.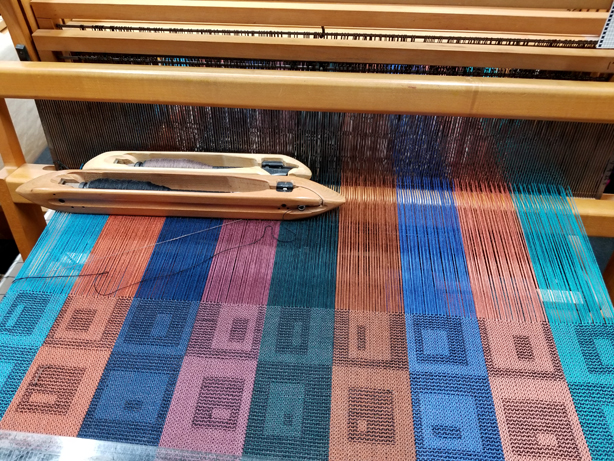 That warp was the drunken squares towels I put on quite awhile ago, at least more than a year, maybe fall of 2021? (I'll have to check my blog…) I periodically would sit down and weave more drunken squares, but there was 8 yards of 10/2 warp on it, and it was slow going. My 33 year old son, who loves my towels, wanted one, and with the broken shoulder, it wasn't happening last year for his birthday in February, but I was determined to weave this baby off, and clear this loom, and my little Tools of the Trade and I spent a lot of hours in the last couple weeks just plodding along.
There was joy and celebration when the knots came over the end of the back beam.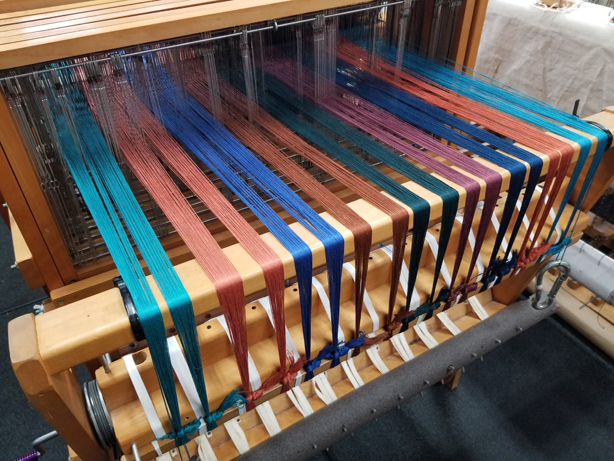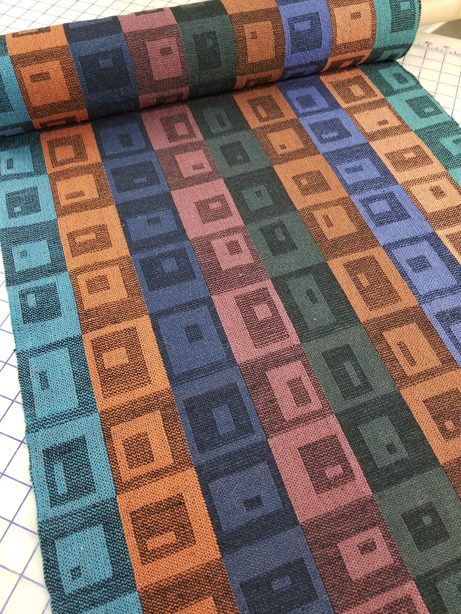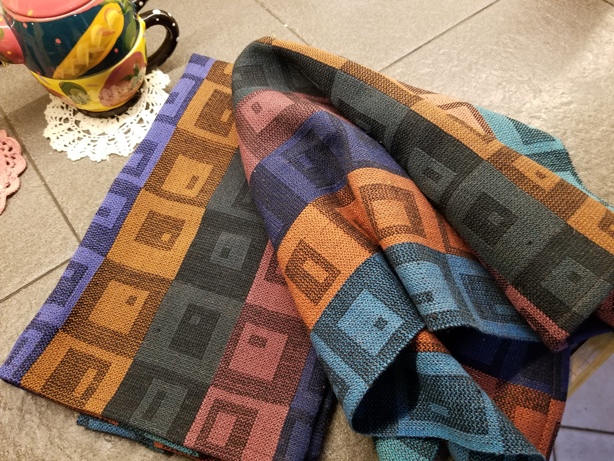 And though after initial sampling, and washing and drying, the 8 yard warp yielded 7 generous towels, I only have 7, so regularly recipients of my towels probably won't get one, and I also have the ones I did earlier in the year for my article in Heddlecraft magazine, so I have a decent amount towels in general for gifting.
My loom looks at me quizzically every time I walk by… They all do…
I hope for the upcoming holiday celebrations that all of you dear readers find joy in the mundane, good karma in the restoration of something that needed help, and the satisfaction of creating something from your hands from whatever is around you. It is the simplicity of life that keeps us centered and moving in a forward direction.
Stay tuned…