This has probably been the longest I've gone without blogging. It isn't dear readers because I'm lounging somewhere warm by the poolside. Even when I had a pool, I never did that. The last blog post, right after Thanksgiving, left me breathless writing it. Hahahahah! That was nothing…
I'm going to blow through the highlights, because you'd be reading this until next week.
My son came home. You cannot know what this means. Especially now.
The holiday season is full of chances to be with friends, and I had a real girlfriend sleepover with two of my favorites. All musicians, we played around with recorders, the harp, guitars, the melodica, and an adorable Charlie Brown piano, that was in pretty good tune. I banged out cords while Misa played the harp and Deb played the melodica.
We did the Christmas thing. At my sister's house in Maryland. I have such a small family. My two sisters, my two children, their two cousins (that's it) and my mom and her husband who are still alive at 88. I cherish every moment to be with them. Life is short and there may not be another chance. We packed up and boarded the animals, and went to Maryland for a few days. It was chaos and I wouldn't have wanted it any differently. My son got to visit with the small family he has. My mom cried. We decorated Gingerbread Houses. And we ate like the apocalypse was coming… My lovely wonderful sister, hostess with the mostess made a complete Thanksgiving meal for my son, who of course missed Thanksgiving, on Christmas Eve. Then made Christmas brunch for 16 people the next day. Cooking with my sister is just one of those comfort things I'll never get enough of.
The Sunday after Christmas my new dining room table and custom made sideboard were delivered. I'm so in love with this furniture. Made by IP Designs. They had a booth at the Peters Valley Craft Fair back in September.
I went to bed at 9:30pm New Year's Eve. Getting too old to party!
Drove to NY State New Year's Day to pick up another loom. A friend/scout let me know about a Tools of the Trade loom on Craig's List. It was a very fair price, and one I can add to the collection. I think this makes loom number 37, and 13 of them are Tools of the Trade. There is a point to this crazy collection of looms. One day I'll let you know what it is. The owner of the loom told me how she bought this used, and then had an opportunity to buy a Louet, but it needed a lot of parts, which she got, and got it working. She didn't see why she needed a second loom so decided to sell this one. There are no words as I drove home loom number 37…
I finished up the yardage on the 45″ loom.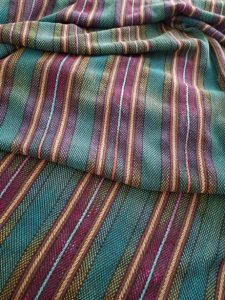 I managed to thread and beam the new loop mohair and wool warp from all my hand dyed yarns. Crockpot dyeing with Cushing dyes.
I started to weave. Washed a sample. I'm going to love this…
I wrote my presentation on my trip to Morocco for the Frances Irwin Guild. Presentation is next Monday.
I wrote my presentation on Doup Leno for the Jockey Hollow Weavers Guild, I'm the February speaker. And I found an old top and skirt in the attic from doup leno rayon fabric I wove back in the early 80's. I made this bias top. Too bad it is winter… I wore it for show and tell last night at the guild meeting and froze my butt off…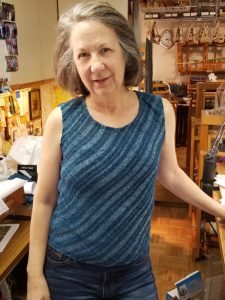 I assessed my handwoven yardage collection. I have to produce another four garments for the fashion show this summer at Convergence. I'm not attending Convergence, I'm just not doing conferences anymore, but as an invited artist for the fashion show, I still have to produce new runway worthy pieces… Getting lots of ideas…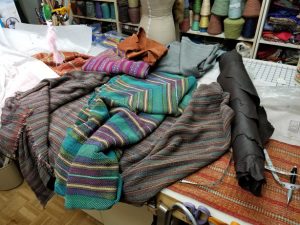 I drafted facings for my swing dress pattern, this was a top priority. I made a sample, from some commercial fabric, and created the first draft of the swing dress directions, with about a dozen new illustrations. Lots of proofing… The updated directions will be available on my website as a free download hopefully within the week. If you "bought" the directions, you should be able to just click on the original link and get the updated version once I post it.. Just give me a week-ish…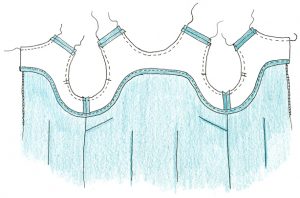 The dogs are behaving in the most outstanding way. Belly bands are a thing and they have made my life with animals bearable. I talked about belly bands in my last blog post, and they continue to amaze me, how they catch a dog in the act who is marking his territory, I just toss them in the washer, and put on a new one. Here they are asleep in the window like they are best of friends…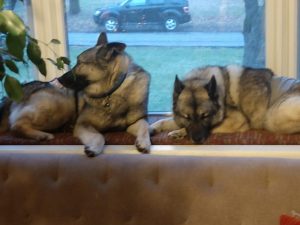 And this… This is the thing that is making my life the most chaotic. Anyone who has ever built a studio, moved to a new location, done any kind of packing and unpacking can completely relate. So my daughter moved home. She works for me. That in itself is challenging enough. She has a wicked case of ADHD… Squirrel…….
Anyway, with 37 looms in our possession, it has become very clear that we need to do some major refocus of the layout of the house and its function, and the garage made the most sense. Who needs to park two cars and have a bunch of junk when you can put 37 looms and a dye sink in there… At least it will be convenient when I have to haul 16 looms for a class I'm teaching, just open the garage doors instead of dragging them all down from the second floor… It isn't just renovating the garage. The few gardening tools I'm keeping are moving to the greenhouse. I mostly have people for that anyway. The woodworking equipment will move to the back shed where the garden tools use to live. I'll have electric re-run in the spring so we can have a mini woodshop. The garage will become the weaving studio, complete with dye sink. I won't have to do anymore dyeing in the guest bathroom. I've taken car loads of crap out of the garage already and haven't appeared to have made a dent.
The old studio will become Brianna's bedroom, and the basement, which she now occupies will become the sewing space. And all of this has to be finished before I leave the beginning of March for three months of marathon travel. All the Convergence pieces need to be completed, and I'm just a complete nut case… And I agreed to volunteer one day a week at the Shakespeare Theater of NJ in their Costume Shop. It is my one day of no chaos, I just sit and sew. I do what I'm told. It is my one day of sanity…
Happy New Year…
Stay tuned…