It is a new year, and there isn't enough popcorn and Dramamine to keep me sane, (Popcorn for the political entertainment, both national and local, NJ is always one for the front page, and Dramamine for the severe ups and downs of the stock market, I'm a bit nauseous with the whole thing). So what's a stressed out 60 something year old to do? Fiber of course. And not the edible kind. I am grateful every day for the ability to get up in the morning, tend to the animals and breakfast, read the paper and then bury myself in stuff related to the execution of interlacing soft colorful chaotic elements into some kind of controlled thing of beauty. That's what I'm telling myself anyway…
My holiday celebration was lovely. With my husband gone, my children and I have had to find new ways of celebrating family events, and we drove to Maryland to visit my mom, who is still alive at 87, and my sisters. They are my rock and I can't imagine life without them. My New Year's Eve/Day was spent quiet, and alone and I couldn't have been happier. I was in bed by 10pm. This was a good thing… Though I will say there was lots of nostalgia of past New Year's Eve's, spent with a group of friends, remembering days when my husband was alive and how life was in our earlier years.
I really never make resolutions, though this year I've seriously rethought that concept. And you will laugh, because though I like my life in general, in spite of the complete chaos I tend to find myself in, especially with two dogs and a cat and two 20 something children living at home, there are lots of things I'm missing out on because well, there are too many cool things to do in life and not enough hours. Take the movies for instance. The day after Christmas, I drove home from Maryland, unpacked and decided that I really wanted to see Mary Poppins, and I wasn't going to wait around to find someone to go with me, because I'm perfectly capable of seeing it myself. I took my little self to the movie theater, which I haven't done in years, bought my $7.99 senior discount ticket, that had an assigned seat, who knew, and entered the theater and OMG, they have heated recliners for optimum viewing and that was just the best two hours I've spent in a long time. I grew up with Mary Poppins. Between that and the Sound of Music, I knew all the words and the dialogue in between, and sitting there in my heated barcalounger recliner watching the silhouette of Mary Poppins descending from the clouds holding on to a tattered kite, I burst into tears. I'm not kidding. The music isn't memorable, but the story is sweet, and needed in this day and age, and the nostalgia and dancing and Lin Manuel Miranda, and Emily Blunt are just perfect for their roles. But the costumes. There is a plaid short handwoven jacket on Jane, you remember Jane Banks, all grown up now, a social activist, that I wanted to scream out, stop the film, I want to get a close up of that jacket.
I found this image on Popsugar.com. I'm sure it is copyrighted, but hopefully they will forgive me…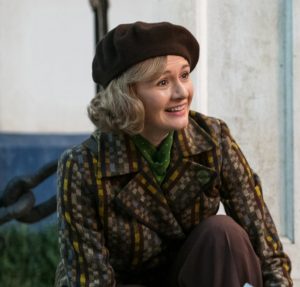 Anyway, the point here is I never go to the movies, nor do I watch television. Really. Except for Project Runway, which has gone through all sorts of turmoil after 16 seasons, I have never seen Game of Thrones, only watched two episodes of the Crown, only saw the first season of Outlander, though I've read all the books twice, only saw one charming episode of the Durrel's in Corfu, haven't seen Marvelous Mrs. Maisel, you get the picture. So I vowed, to actually occasionally watch something on Television, or Netflix or Amazon Prime, on my little tablet, tucked in bed because well, people do that. And like it. I will say in my defense, that most respectable fiber enthusiasts knit or spin while they are watching, but I need to read the closed captioning to understand what the actors are saying, especially with British dramas, so I can't multi task. I've now watched 5 episodes of Marvelous Mrs. Maisel, and just the costumes alone are totally worth it. When she showed up in court to answer to lewd behavior charges dressed in Jacques Fath, I nearly slobbered on the screen. Oh and thanks to a dear friend, I found out that there is another Project Runway All Stars, which started Wednesday, on Lifetime, probably the last since the franchise is moving back to Bravo network, hosted by Karlie Kloss and Christian Siriano as the mentor. Heidi and Tim are starting their own fashion show on Amazon Prime…
The drama at chez Daryl never ends. January 3rd was a pretty hard day for me, because I took my daughter to the airport at 2:30am to catch a flight to Miami for a Star Trek cruise to the Caribbean, which is all fine, but the ensuing dram of arriving in Miami without her bags, was just a bit much, and at 9:30pm I drove my son to the armory where he will do his 10 days of winter artillery training and then deploy for another year to the middle east. He is a Sergeant now, responsible for a number of troops, so much different than the first time he deployed, where he was just a Private and people watched out for him. These are tough unstable times and of course I'm afraid. Meanwhile, he has lived in my basement since he was 15 years old, and now, turning 29, it is time to move on. So the frantic packing and cleaning out of his home for his entire life, you don't even want to know, began just before Christmas, and when he returns a year from now, all of his stuff will be in storage, my daughter will take her turn as a bottom basement dweller, and hopefully move some of her many looms and equipment out of my studio so I can work in there again. That's the plan anyway. So with both of them gone, I hired a crew, spent an exhausting day packing up what my son didn't get to, and we will move everything of my son's to a storage unit tomorrow morning (it was pouring rain today, of course) and my painter is already starting to prep the walls and floor. Hopefully when Brianna comes home next weekend, she can start the process of moving herself, her incredible amount of belongings and her cat to the basement. There isn't enough alcohol to get me through this… I wish for my son a safe return home, for him and his unit, and I will do my best to keep his Jeep safe and running, and his belongings safe and stored, and the rest is completely out of my hands.
So the shining light in all of this is the fact that I'm knee deep in a very intense article, which keeps me centered on what defines me, which is definitely not all this swirling chaos. I'm writing an article on a weaving structure I played around with many many years ago, at the start of my career. The structure is called Doup Leno and I'm writing the article for Heddlecraft Magazine. If you are a handweaver you should be a subscriber. It is a fantastic publication, no advertising, available as a PDF download only, and it does not contain any projects. There are other publications for that. Instead, Heddlecraft will explore a structure in depth, and it will be one of those publications that one refers back to time and time again, the images of the samples are clear, the drafts are all given in WIF files to dump into whatever weaving software you use, and for the $19.99 a year, it should be in everyone's tablet or desktop.
So, I'm writing an article on Doup Leno. What is that you may ask? You'll have to subscribe to the issue to see how to do it. Maybe the March issue, maybe May, I'm not sure where I am in the line up, but I learned this technique really really early on in my career, taught to me by a fabulously technical weaver named Lois Chernin, supported by the only place I've ever found it in print, a 1980 Shuttle Craft Guild publication, Monograph Thirty-Two, called Doup Leno by Hella Skowronski and Sylvia Tacker.
I started weaving "professionally" in 1979. I started my career weaving for another designer, which taught me speed, efficiency at the loom and that with enough hard work, I could earn a modest living. I eased into craft fairs, starting with my first booth which held everything I'd ever woven in my life, to show my versatility, and then began the arduous process of narrowing down my focus, which eventually became handwoven clothing. Armed with this unusual technique of doup leno, which for the curious is a loom controlled system of producing a leno effect, where two or more threads do a half twist and are held in that position by a weft thread, I started out with the obvious, spaced warps held in place by twisted threads.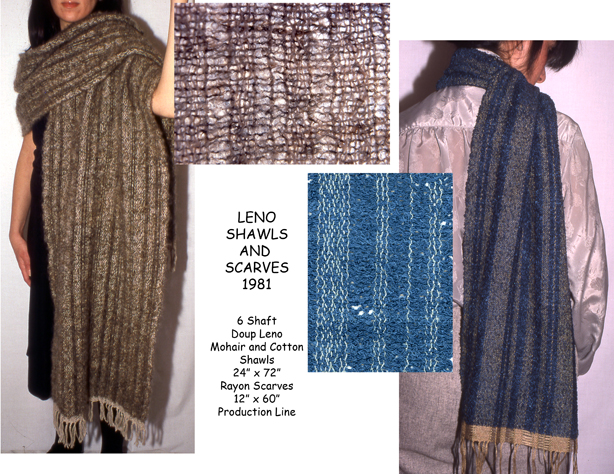 I had been asked to create a series of window curtains in a very lacy "leno" style, mixed white warps, for my employers, and after producing the four panels, much to my horrid dismay, I almost quit weaving, I realized one panel was an inch too short. So on my own dime, I rewove the commission, delivered the four panels of the correct length, and had four left for me, which of course did not fit my windows. I offered them as shawls, in my early craft booth days, but someone who I'll forever be grateful for, changed my life forever when they said, "cut a hole in the neck and sew up the sides and people can wear them."
And so the rest is history, my first "body" of work was a group of tunics, variations on a theme.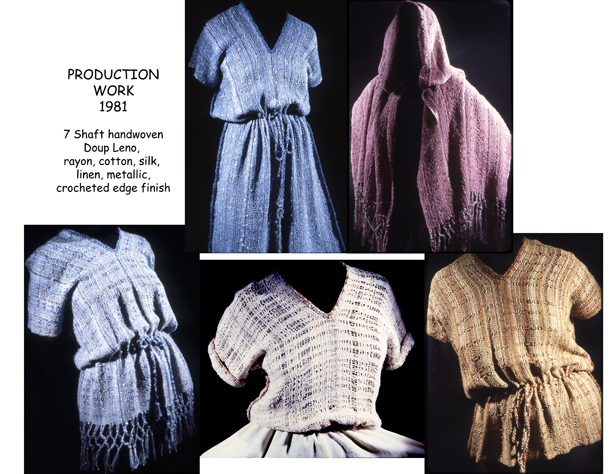 I did well with these very rectangular garments, but the need to cut and fit, and not produce "one size fits most" garments won out, I am too much of a tailor to put rectangles on people. So the leno fabrics eventually became stripes of leno contrast in yardage, and then eventually, when I realized that most customers didn't care about the leno, they wanted fit and color at a price point they could afford, I phased that out as well.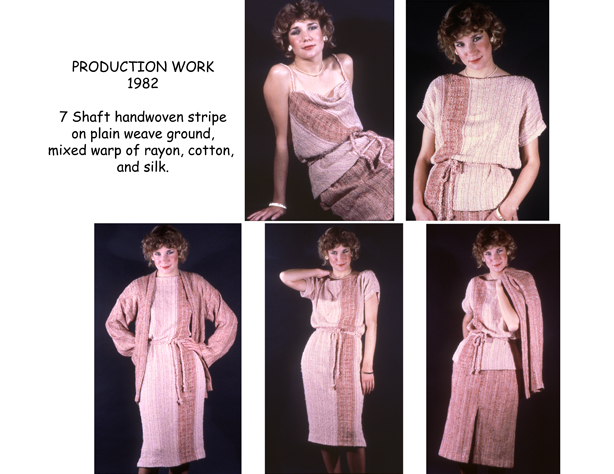 And so Robyn Spady, editor of Heddlecraft asked me to revisit this technique, it is pretty cool, one step of a treadle and the threads twist back and forth, allowing for pretty rapid weaving, and so in the middle of all this swirling drama, and a son who will soon be on his way to the middle east, and a daughter who will soon be moving to the basement once the painter is finished, I'm setting up looms, and sampling and assembling hundreds of technical photos, because this structure is pretty technical, and that my dear readers is what is keeping me sane at the moment. That and wine and popcorn and dramamine…
Stay tuned…