I've never worked so hard nor been so prepared for anything in my life. I'm still a little mind blown at how I pulled this off. When Threads Magazine, whom I write for pretty regularly asked me last summer if I could do a Podcast followed by two days of video shoots for their Threads Insider series, I jumped at the chance, and then looked at the dates they gave me. One of the weeks I was already committed and the other was squeezed in between my trip to Arkansas and the retreat in the Outer Banks of NC. Like really squeezed in. Like a 48 hour turn around from when I returned Wednesday evening from CT and will be leaving in a couple hours for NC. Sigh… Such is the life of someone who doesn't allow grass to grow under their feet.
That said, I had to prepare Step-outs and Scripts for 9 different technique shoots, though really, only 7 because two of the techniques I'd recently written about and I was able to reuse all of those samples. Step-outs are the step by step samples that show the process, and rather than actually demo most things on a sewing machine in a video shoot, it is easier to film and explain in a seamless string, when you just grab the next sample and show the step completed. There were something like 30 samples alone for the bound buttonhole series.
This wasn't something I could start last summer, as we only finalized the list of what to shoot a couple of months ago, and of course by then, I was permanently on the road. The scripts weren't difficult, I just had to show steps and tell the camera crew where they would be shooting, and we were able to rehearse each sequence so we were all on the same page.
In addition, I needed a manicure. I never get manicures. I'm too hard on them. But it was requested, neutral or clear polish. So last Saturday I went to a nail salon recommended by the hairdresser who cut my hair in town. Yeah, I had that done too. The manicure is still holding a week later. Best $10 I ever spent, you get a neck rub and hand massage as well.
Side bar. I'm sure dear readers that you didn't notice that my wedding ring is gone. It was one of those private struggles that widows go through, what to do about the wedding ring when your husband is deceased. It would have been a no brainer, sometimes wear it and sometimes not, but truth is, I couldn't get it off. I had it removed and resized 16 years ago when I went for surgery and cancer treatment and it hasn't been off my finger since then. It wouldn't come off. It was on my list to go to the jeweler and have it cut off. But it was far down on the list.
As the manicurist was greasing up my hand, I asked if we could try to remove it. She didn't understand at first, since she didn't speak English, but we eventually communicated that I really wanted it off. So with a lot of greasy oil and some heavy duty pulling to where I thought at one point I broke my knuckle, we got it off. I tipped her heavily. It is now safely hidden away with my husband's, his had been cut off when he started his cancer treatment back in 2015. It seemed like the private end of a 40 year relationship. There is a ridge of course, because the ring was too tight, but I doubt it showed on camera, at least no one said anything. They were too worried about the cat hair all over everything, since the cat decided that sleeping in the suitcase while I was packing was great fun. Remove cat, insert next garment, cat jumps back in, repeat.
Next stop was Walgreens and the Makeup counter, or aisles. The lovely sales clerk helped me pick out blush. I bought two. And I needed to replace my mascara, so I went looking for the same one I used in HS. Mabelline should never change the packaging, that Pink and Green tube is easy to spot, it is the only mascara I've ever liked because it washes off easily. I don't wear it in situations where I might cry.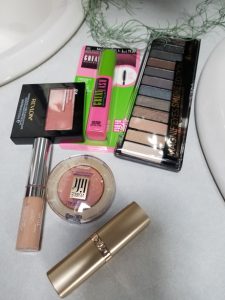 And so, armed with a box of makeup, and pretty nails on my hand, I headed off to a hotel in Danbury, CT and curled up watching Masterpiece Theater on PBS, while I worked on my knitting project, a Merino/Silk from Berroco and a Drops vest.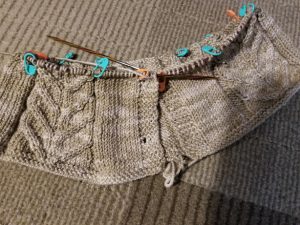 Monday morning I gathered at the Taunton Press Headquarters in Newtown CT and we recorded (and filmed) a podcast. It won't air until probably sometime in February, there are a few in the queue before me, but I actually started listening to them and they are quite good. Check out the current 9 that have aired here. They are free to listen to, and it was fun sewing last night, just listening to people talk about sewing.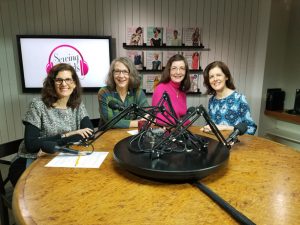 Tuesday and Wednesday were exhausting. The crew was fabulous to work with, there were two cameras, one on me in a wide shot, and a close-up camera shooting my lovely hands and all the samples I had carefully stacked and orchestrated. My late husband use to complain bitterly about how anal and over organized I was all throughout our lives, but those traits are what made what I did Tuesday and Wednesday possible. I was prepared. And it was fun. It was fun to talk to a camera, tell it what I thought was important and the best part, when I messed up a word, I just took a deep breath and repeated the sentence correctly, and through the power of editing, all will be made right in the end.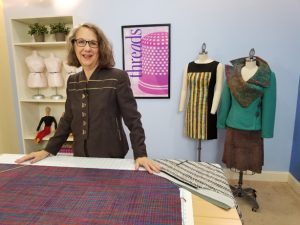 And so dear readers, you will eventually get to watch me do some of the garment construction techniques if you subscribe to Threads Insider. I believe the subscription is $19.99 a year, which really is nothing, and you get unlimited viewing of all of their substantial collection of videos on specific techniques from big names in the industry. And now I'll be one of them. Makes me roll my eyes and laugh. They are usually short, great tips and explanations, and I can't wait to see mine up in the list. They will most likely start coming in also in February when the podcast airs. Meanwhile, if you subscribe now, you can watch all kinds of great inspiration. I've already got a few techniques I want to try to incorporate in my class patterns.
And now, I need to shower, finish packing my clothes for the week, take the dogs to the kennel in the pouring rain, and maybe if there is time, get another manicure. I'm thinking I like this celebrity thing…
Stay tuned, next stop, the Outer Banks in North Carolina…