The fall series of classes is happening, and I have little time between to regroup, it all sounds great in theory when I book venues to teach, I'm just sure I'll be able to do it, and then the time comes and I want to fire my booking agent. Which is me of course. And in reality, it all works out, really it does.
One of the great gifts of my career is being able to return year after year to the same venue. I've lost track of how many times I've been to Harrisville in the fall to teach, maybe 9 times? I just returned from yet again, another wonderful five day class, though some opted to stay for six, and of the fourteen students who took this journey with me, I think only six were first time students. Two or three of the students have been with me almost from the beginning. I've watched their skills grow, we have become good friends, and I look forward to my week like a family reunion of sorts.
I love the Harrisville setting, a gorgeous old mill town in rural NH, about five hours north of me. It is always fall like and lovely, green and idyllic. Except for this year of course where I doubt there wasn't a single place in the world that wasn't experiencing record weather of some kind. They had just had record rainfall, and many of the roads had washed out, and this past week it was in the 90's, nearing 100 one day. So unusual for NH, no one has airconditioning. We did have a window unit or two in the classroom, and it helped, but there will always be the airconditioning wars, some like it super cold, some like it moderate, and some absolutely hate airconditioning. Put a group of 15 women together and no one can agree on temperature!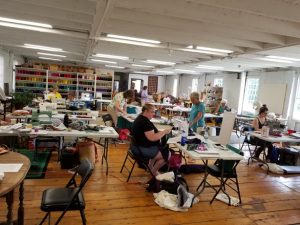 A week at Harrisville usually comes with a mid week tour of the spinning mill. I've been there a couple of times, so I opted to stay behind to help those who were behind, but when the class who attended the tour returned, we all went down to Mill No. 6 where they have the loom building shop. Harrisville looms have been around since the 70's, maybe longer, and they are one of the few looms made like an Ikea kitchen, the loom comes in a couple boxes and has to be put together carefully but once you've done it, you know that loom intimately, and they have been competent light weight very portable folding looms that have served many many weavers well. I've never seen the loom building area, and this was a lot of fun. There is a finishing section for the yarn, where it is washed, dried and skeined.
They have set ups to box their kits for kid looms, which come pre assembled with warps.
And part of the area where they build and assemble stock, with a beautiful Bird's Eye Maple custom built loom from the early days of Harrisville that recently came home to live.
There were some lovely photos of the area in spite of the heat, and the sunsets and moon shots were beautiful. Even with my Samsung Galaxy camera!
And my students. I love them all, even though they had me running like crazy, I earn my money, but in the end, they all did a great job. Of course there is always one that for some reason escapes photos, and leaves early to go off to a trip to Europe, so doesn't even appear in the class photo, so Jan, I'm so sorry I never got a single photo of your tunic. There were so many pins in the piece as she flew out the door the last day, she couldn't try it on, but I was sure I had a least one photo.
My regulars Carole and Jane, both opted to make my new vest. Carole's was created from an old raglan sleeve handwoven mohair jacket she no longer liked or wanted so she cut it up and made the vest. Both are handwoven.
And Amy, who weaves finer than I'll ever attempt, wove this beautiful 60/2 silk shirt.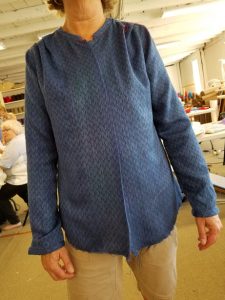 Of course rarely does anyone completely finish their piece before the end of class, there is always that rush to get it to the point where just the handwork needs to be finished, and sometimes I don't get last shots of the pieces. So I'm always grateful when former students stop in to show off what they made in a previous class. Beate and Judy came in to show off their jackets from a previous year, maybe 2016? I still see what suspiciously looks like pins still in Judy's jacket!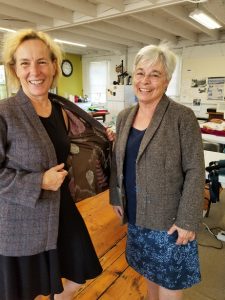 And Jan, though I didn't get a photo of your tunic, I did get a shot of the vest you made last year, which you thankfully brought completed so everyone could ohhhh and ahhhhh! Handwoven sakiori technique of using thin strips of fabric.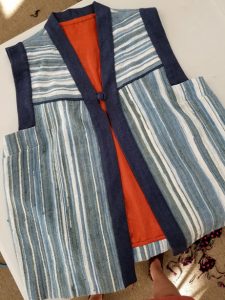 MJ and Pat were returning students, and MJ who is a quilter, made the fabric for a variation of the new vest, she put sleeves on the jacket. Pat wove a lovely cotton fabric for a shirt. She copied the shirt from a ready to wear piece she wore to class the first day.
My French sisters Sylvy and Judit were new students and an instant delight. They came in from Quebec City, and they made a couple of beautiful garments which in the chaos at the end, I failed to get final photos. But Sylvy made a gorgeous white wool vest with a fun lining, it has a beautiful shawl collar and armhole bands, and she is an embroiderer and plans to embroider beautiful designs on the vest. Judit used a cotton table cloth that she wove, apparently her loom is 104″ wide, or something like that, she said it takes two people to pass the shuttle back and forth. She was able to get this lovely swing coat, and it does have a neck band and sleeves.
Lynn was also a new student, and brought in a simple subtle plaid commercial fabric, and gets the gold star for never having her name on the Daryl Alert list. She sat quietly and just followed the directions. Made me smile.
Liz took my class a couple of years ago, she is a saori weaver, so makes lovely serendipitous fabric, and she didn't disappoint! She brought two different fabrics to combine into this commercial jacket pattern, I think it is a McCall's. She was down to the lining when she left Friday afternoon.
This is Anne's fourth class with me, and this time she brought a commercial tweed from Joann's and made my swing coat. She had sleeves on by late Saturday afternoon, but again, I apparently failed to get a final photo. She was so thrilled to have made a bound buttonhole. There were lots of squeals from that corner of the room.
Emily was a new student but had mad wicked skills already, having studied handwork in Sweden, she left with a finished jacket, cut out a tunic, and drafted a pattern for a top, edited from my jacket pattern. I only got a photo of the jacket, all though were handwoven.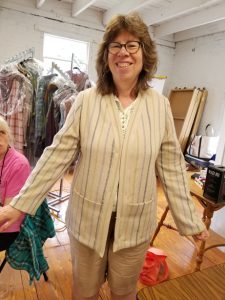 And then there were my two new students Tegan and Christine. Tegan reminded me so much of me when I was that age. Just out of her 20's and already an accomplished production weaver, I was well into my craft fair years when I was that age, and her fresh youthful enthusiasm made everyone in the room want to be her mom. We all had lots of business advice to share, and her talent is exceptional. She shared with me that she switched into weaving from an arts background after reading an article I wrote for Threads Magazine a number of years ago, on Sewing with Handwovens. We never know who we reach from the simplest of gestures. The shear joy when she showed me the piping she put on the band of her swing coat, a gorgeous 16 shaft wool block twill pattern, was infectious. And her adorable sense of style came shining through when she said, I think I want to close it with a tie. So I told her how to make one and off she went.
Christine like Tegan had very minimal clothing experience. Christine is a pretty competent weaver, and did bring some handwoven cloth, but opted to do her first jacket out of a spectacular wool gabardine she purchased from Mood. Christine was sharp and focused, and was such a good sport. We spent some time in the beginning making her a custom fit pattern and no one is more pleased than me at how it all turned out in the end. There was a lot of hand holding, but Christine smiled through the whole thing, even when she found out there would be a lot of handwork which she admitted wasn't her favorite thing, and I think she was really happy with the coat and all the possibilities she has with fit now that she knows what questions to ask.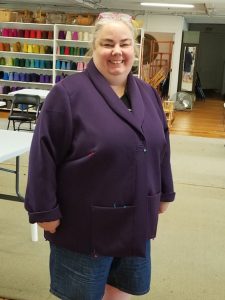 My beautiful class of 2018, minus Jan.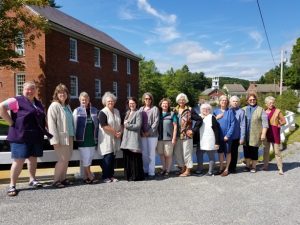 I'm leaving again Sunday for JC Campbell in southwestern NC. I'll only have about a 48 hour turn around before I head to Sievers but I'll do my best to report in! Stay tuned…