Life altering experiences…
When a student leaves my class, and hugs me and says, they had a life altering experience, I know I've done my job and all of the sweat and prep and worry has been worth it. When more than one student says it, I think there has been some cosmic intervention that is way greater than me.
For those of you who know me and follow me professional, you know that I'm mostly a teacher of garment construction. It is what I do best, I've perfected the art of teaching garment construction over the past 30 years, and I'd like to think I'm pretty good at it. My students return year after year, and that makes me happy. Some of them have become my best friends. Though I'm a handweaver, I'm really a garment maker first, and I just happen to use handwoven cloth. I almost never teach weaving, there are so many weaving teachers out there, and I'm happy to let them take the load.
That said, Peters Valley School of Craft, happens to be in my back yard. I live an hour from this life altering kind of place, located in northwestern NJ, tucked into property that is part of the National Park Service Delaware Recreation Area. That would be Delaware river, not state. The Delaware River divides NJ and PA (and ends in Delaware the state) for those of you who aren't familiar with the geography of the northeast. I've been involved with this place since I first went there on a field trip in college, not long after they became a thing, in the mid 70's. Peters Valley is rapidly approaching their 50th year. It is a place where I find my creative spirit renewed, no matter if I attend a fund raiser, an opening, have work in a group show, or attend a presentation. No matter if I teach a class, take a class, or just sit and be. The place is old, most of the properties are listed on the historic registry and since they are owned by the National Park Service, they are in constant need of repair (because the Park Service is the low man on the funding totem pole). It is sort of like a time warp being there, when cell phones were not a thing, and life was simple in the rural rugged parts of NJ (yeah we have them still) and you could walk away from life for a week or two and breath air that is clean, and see wildlife, and trees and water, and feel renewed.
I've sat on the board of directors of Peters Valley, and so has my late husband. I'm committed to this place, and will do everything I can to keep it viable. If you have never had a craft school experience, no matter what you study, what your skill set is, workshops at a major craft school can be life altering. There are five craft schools in the consortium of CraftSchools.us, Arrowmont, Haystack, Penland, Pilchuck, and of course Peters Valley. And there are plenty others not in this wonder consortium, like John C Campbell, where I'll be next month, Harrisville, where I'll be at the end of the month, Sievers School of Fiber Arts, where I'll be at the end of September, and smaller private venues and knitting/weaving shops, like Red Scottie Yarns in the Ozarks in Arksansas, where I'll be in October. I know folks who are committed to at least one craft school experience a year, it sure beats sitting on a beach getting burned, or sitting in the rain, like this past week! A week at Peters Valley is less than half the cost of a week at the Jersey Shore! And it doesn't matter if it rains.
Like I said above, I don't as a rule teach beginning weaving, I actually don't usually teach weaving at all, since there is only so much of me to go around and my strengths are in garment construction. When Peters Valley asks me to teach a class, I always try to fit it into my schedule. This year, they asked me to teach two beginning weaving classes, a 2 day and a 5 day. They have a very well equipped studio, with eleven 8-12 shaft Macomber looms. These little work horses, which are actually not so little, are refugees from the 1970's and probably earlier, from a local University, and they do their job. Until something breaks. I've become something of an expert Macomber tweaker. I can tweak brakes, and sheds, and beater positions, and sticking shafts, and I know these looms pretty well. I wasn't prepared to deal with this.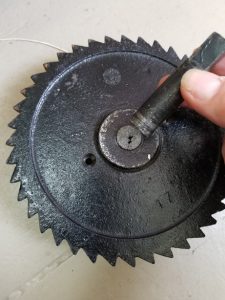 This is a cast iron part for one of the front beams. It sheared off. Do you know how fast your brain has to work to figure out ways to keep a student working when a major Uh-oh happens? Fortunately, since all of the looms are the same make, and many of them are equipped with second warp beams, I was able to, with the help of my intrepid and amazing assistant Jamie, and the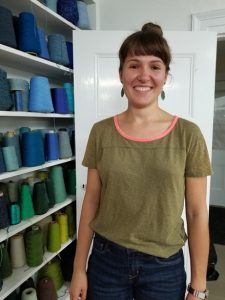 head of operations at the Valley, Campbell, who can fix anything, we managed to retrofit one of the second beam gears onto the loom in trouble and the student was back up and running the next morning. I understand from many responses on social media that this was a poor casting and a faulty part, and we will be in touch with Macomber for a replacement. Stress failure in a cast iron part is pretty unusual.
We had 10 students for this class. All but one loom got a good workover. I had taught a two day class back in June, so I knew that 9 of the 11 were working well. The class held here the week before moved heddles and shafts around and made for some really stressful moments in the beginning of my class because they hadn't been moved properly (Note to all handweavers… Heddles should all cant or face in the same direction. You can't just pull a bunch off, and willy nilly put them back on a different shaft in any old direction. Really…)
My students ranged from my age and beyond, to early 20 something art students, and I adored the range and interaction of the generations. Places like Peters Valley are great for offering scholarships to art students, who can't afford a week like this, but desperately need these skills and opportunities to round out their art educations, especially in fibers since very few universities have fiber programs anymore.
The studio itself is in a historic house called Hilltop. It sits on a hill and is magnificent in its paint peeling decay. I painted this building last year in my watercolor class.
There are three rooms of looms, and they were all humming!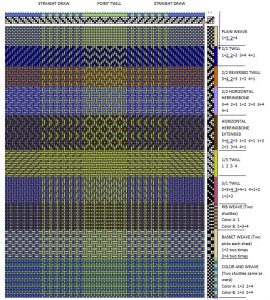 The goal here was to learn to weave. I developed a draft for a pattern and color gamp, that teaches students to explore color interaction and pattern, using both straight draw and point twill threadings. They got to pick two colors of 5/2 cotton before the class began, so they worked with what made them happy. Once they wove the sampler, they could pick a couple structures or combination of structures and weave two additional dish towels. Here are some of the fabrics. They were colorful and glorious.
My students were wonderful. Patient, curious, focused, especially the young ones, head phones on, some listening to white noise, some listening to music, some listening to pod casts and at least one student was listening to lectures for her architecture degree.
And the fabrics. They were gorgeous. They wove through about 3 yards of fabric, from winding the warps, sleying, threading and dressing the loom. Not everyone liked the "fiddly bits" as one student called the warping process, and it was 90+ degrees with only one airconditioner to service this entire studio, but they kept going.
Two of my students finished the whole project one or two days ahead, and they dove in and wove a whole second project.
Their faces were just priceless when they showed off their fabrics.
And the exit photos. I had five in the first group of finishers, and then Rickie in the middle who had to leave before the last group had their photos. These fabrics will be cut into 3 dishtowels, and they will remember this experience every time they do the most mindless of household tasks. As it should be.
And now I have only a couple of weeks to prep for Harrisville, which is a garment construction class. NO pressure!
Stay tuned…