Those of you who know my history know that after college/art school, I started my career working for a textile design/handweaver duo, and I got pretty efficient at weaving, I could in my prime knock out 30 yards of cloth in about 8 hours including warping. Those years are long gone, and I never want to go back there. But the education I got, and the ability to knock out cloth when I need to has never left me.
I started doing craft fairs in 1979. My early craft fair entries were mostly everything I'd woven that didn't include clothing, and as all things in my life, my sewing skills prevailed and I eventually started selling handwoven garments. I was pretty good at it. I had a stable of patterns I developed and used, and would change the color ways every January, and I made a decent respectable living for about 10 years when two things happened, burn out, and I got pregnant. In my mid 30's. The rest is history.
So the point here is that the 70's and 80's are back. In fashion I mean. I look through the latest Vogue/Burda/whomever patterns, the latest Vogue magazine, and I'd swear I made/owned/wore that garment back in the day. These are two of my production coats from 1987. This is basically the Daryl Jacket, I use in workshops today, tweaked a lot for my customer in size variations, but still the same jacket, with the shawl collar, and in a long version. We called them dusters, or in this case, they were both coats, interlined for warmth, from brushed mohair.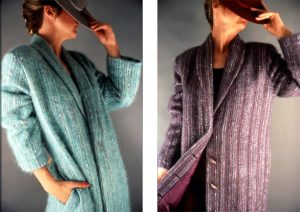 Fast forward to today. I still use that jacket pattern for teaching, and have added a shawl collar to the options, versions with lots of darts for a closer more tailored fit, and it occurred to me that I need to show a long duster/coat option, because well, it worked back in the 80's and why not today? This version has a side pocket instead of the patch pocket from my regular jacket, like the ones from 1987. And this version, is from a draft I developed, that uses multiple hand painted warps, and supplemental warp ends, and I think I'm going to have fun wearing it at Convergence. It is called Autumn Patchwork and the draft is available here.
While I was making it, I thought about what I was going to wear underneath. Sidebar… I'm really spoiled, don't cry for me. I'm pretty consistent in my sizing, so much so that for the most part, other than my bout with cancer, chemo drugs, and instant menopause when I was 46, and packed on 25 pounds, I've stayed a consistent adult weight, so I expect that what exists in my closet I might put away for awhile, but when it comes back around again in style, I'm going to still fit in it. That 25 pounds never completely went away, but some of it did, and so I complacently thought that what was in my wardrobe would be available for me to wear as a complement to whatever I wanted to show it with. Hahahahahah… (You know where I'm going with this…)
I don't know whether it is the luxurious lifestyle I lead, all the travel, the good meals, the new food box I get every week (thank you Leslie Fesperman from the Yadkin Valley Fiber Art Center in NC for turning me on to the Purple Carrot) but my weight has crept up ever so slightly and when I went to put on this lovely little paprika silk dress I made from a longer gown I wore to my 35th high school reunion, it never occurred to me it wouldn't fit. Ouch…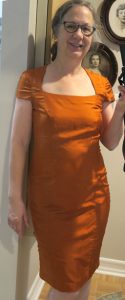 Since the dress was underlined, I was able to let out the sides just enough to get it on me, and if I don't take the coat off during the fashion show at Convergence, it will work fine. Only my beloved readers will know… I don't have time to make something else, because well I've been working on this dress below…
Many of you dear readers will remember this dress. It used the Frosted Florals palette from Handwoven Magazine, January/February 2007. The dress was completed in 2009. It was featured in Threads Magazine in the Reader's Closet column, it was the cover of a Fiber Focus, a Canadian publication back in 2010, and an American Sewing Guild publication in 2011, and a Threads Reader's Closet back in 2009. It was also the subject of an end notes column in Handwoven Magazine March/April 2011. It has done it's job for me and for that I will always be grateful. (Frosted Florals draft is available here.)
I loved this dress. But in my line of work, anything older than two years, if I can't use it in a garment construction class as one of my current patterns, and I can't exhibit it anymore because it is older than two years, and it has been published, it is worthless to me and just takes up space in my closet. And gowns are a bit problematic, as they are a bit formal for my lifestyle, I mostly sit around in my pajamas all day. When I do get dressed, it is for workshops where mostly I wear knit tops and I'm crawling around the floor with students working on layouts for their own fabric. Can you imagine me trying to do that in this gown?
Everytime I bring up this gown in a lecture, I've mentioned that it will be the next thing I cut up. Yes, that's correct. It is in fact just cloth. It did it's job as a gown, got me lots of recognition and accolades, and now it just takes up space in my closet. The great thing about what I do is that I'm not afraid to take scissors to something, because in reality, it is just cloth. It is in my head, back to the designation of raw material.
I'm going to be heading to Reno shortly for Convergence. I need some cool things to wear that I actually fit into. There are a couple dresses, one I still love, but it is made from the leftovers from the design challenge I did for the Tampa Bay Convergence in 2008. The Splash fabric draft is available here. The dress fits me like a glove, but I can at least get into it.
I looked at the Frosted Florals gown, and showed it to my office assistant/friend Cynthia, and she was horrified when I said, I was going to cut it up. I tried it on, and oops, the bottom part was just a little snug for comfort, and I said, what the heck and chopped it right off and made this absolutely adorable top, which I can wear all kinds of places, besides Convergence, dates, weddings, the theater, and I am pairing it with a wool knit skirt I bought in the $5 bin at a consignment shop I visited when I was on Whidbey Island last April. The color is a plum brown and it works perfectly with this top. I did have to take off the waistband of the skirt and increase the waist by about four inches… 🙂

And so that left the lower panels of the dress. I thought a lot about what to do with them, and I wanted to play around with a bias top. I love the way bias fits, and wanted to see if I could use one of my patterns to make this work as a top. My collared vest pattern was perfect, just an alteration in the neckline, raising the armholes a bit, cutting the front on the fold, cutting the pattern on the bias instead of the straight of grain, and cutting one size smaller ended up being perfect. Check this out… (again the draft for Frosted Florals is here)

I have enough fabric I think to make a tunic out of the leftover from the Autumn Patchwork coat. I'm thinking that it is only Tuesday night, and I have another week before I leave for Convergence…
Stay tuned…