Naked looms, new carpet and some cool stuff in the store…
This has been one of my most favorite weeks. The planets aligned and things worked for once, and for this week, all is right in my world, which is a little hard to accept because the rest of the world seems to be going to hell in that proverbial handbasket. I suppose it is wrong to live in my cave, my fiber world, but they know me here, and I feel it is the one place where I can make a difference, empower people to make beautiful stuff from their hands, and I try desperately to keep a balance, otherwise, I'd go completely off my rocker with things I have no control over, except on election day… 🙂
That said, everything has been or will be shortly, shipped to Reno ahead of Convergence. That leaves me with a little time on my hands, and I suddenly thought, silly me, wouldn't it be great to have something new to wear to the Convergence Fashion Show. You know, being the judge and all, and having to get up on stage to give out the awards, it would look pretty sad for me to be in something that's 10 years old. 🙁
I looked at my one remaining loom that had a warp on it. I looked at the calendar. I looked at the loom, and I decided, well, no guts no glory… The only problem would be if I finished it, I'd be in the hated position of having naked looms. All of them. There would not be a single loom I could sit down and weave on, they would all be clear… 🙁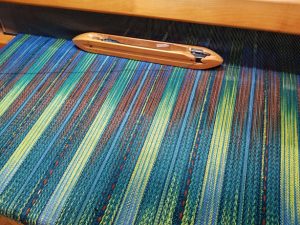 I started to weave. It was slow and cumbersome at first, this was a particularly cranky warp, from the get go, I don't know why, and of course about two yards in, the brake failed, which seems to happen on these looms about 25 years into their lifespan. The main spring got so loose that the brake cable no longer held. I did emergency surgery since there was still 6 yards to go, and I can think about rebuilding the brake later. The brake held, and I continued to weave. 🙂 Oh, and the caribiners hanging off the back of the supplemental warps help keep them tensioned evenly.
On Friday, my friend told me about a fantastic rug store in Morristown, J&S Flooring. Been there forever. I've been here forever and never heard of it. Wow, was I missing the boat. Her sisterhood was holding a fund raiser, pick out a 6×9, make a donation and the rug is free. A great idea. So down we went, they had a back room of the large retail store full of broadloom remnants and area rugs. And they had real wool. Real wool broadloom. The only kind of rug I'll ever have in my house, for many reasons. I needed new carpet for my stairs and hallways, and the wool broadloom that was there was more than 35 years old. Yeah. Wool. I found two very cool remnants I thought would work… 🙂
On Saturday, Red Stone Glen, a relatively new and highly successful fiber center, with wonderful classes, where I'd like to teach once in awhile, was having an open house. Demo's, tours, exhibits, sales of equipment and yarns and supplies, what's not to love? My friend Cynthia and I drove three hours Saturday morning to a town somewhere south of Harrisburg PA, and found this. 🙂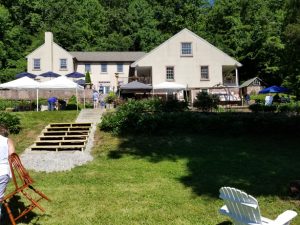 I was so busy networking and watching some pretty cool demos and looking at some pretty cool stuff that I didn't take another photo. But the roster of fiber classes is pretty fantastic, check them out. Then we drove three hours back… 🙁
On Sunday, I planned to do nothing. Not even weave. It was the second anniversary of my husband's death. My kids came home, and we sat, in the garden, or rather in the house because it was 95 freakin' degrees, but I put up on facebook, with rather late notice, that we would be hanging out and anyone was welcome to stop by and pay their respects to Kevin's legacy. I was thrilled when Kevin's old friend Ed showed up. He loved the gardens. It was especially difficult because Sunday was Father's Day. I know it was hard on my kids. After lunch, a series of my friends showed up, all coincidentally, and all of them are recorder players. So we pulled out recorders, stands, music, and we played on the deck under the gazebo, six of us, for a couple of hours, Mozart, Bach, and it was just the best afternoon. I think my husband was smiling and saying, this is your gig now. Be happy. 🙂
Monday morning they came out and measured for the carpet. I got a call later in the afternoon with the breakdown of costs and that they had a cancellation on Wednesday morning for the installers, was it too soon to come by? :-0
Tuesday morning I wove like the wind. I got into a rhythm. By lunch time the knots were appearing over the back beam. I couldn't believe it. After lunch the fabric came off the loom, into the wash, and onto the line in the back. 🙂 8 yards by 36″ wide…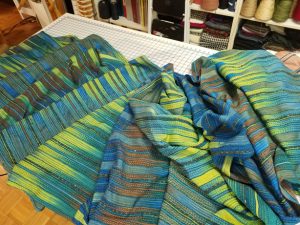 This morning, the rug installers came, along with my landscape crew, and my office assistant and friend Cynthia. I had a house full of people who made my life and house a better place. The problem was, because they were tearing up 35 year old carpeting, which had tack strips, which would have to be replaced, the dogs had to be kept out of the way, and it was 95 degrees and I couldn't keep them outside. So Cynthia and I and the two dogs stayed locked in my bedroom/office for 8 hours. The dogs could go outside through the balcony, but not through the house. Cynthia and I decided to tackle a major task in upgrades to the eStore. 🙂
Sidebar… I posted the Autumn Patchwork fabric in progress on my facebook page. That's the fabric I just finished that I talked about at the top of this blog. I had people ask if the draft was available and of course the obvious question, whose warps were they because, hand painted warps are the hot new thing and everyone has been buying them from Kathrin Weber of Blazing Shuttles. Except these were mine. And so was the draft. I've been dyeing warps since 2005. I was planning to just post the draft and then I said, duh, this is my livelihood. Why am I not putting project notes and drafts up on my website store like every other designer in the world. Duh… :-0
So I started looking through my design journal, which is a couple hundred digital pages. I can't post/sell drafts for projects that aren't my own design, obviously, but I was shocked at how many were my own design and how many of them would be spectacular in hand painted warps. Especially since you can buy them already painted.:-)
Cynthia and I spent 8 hours, locked away in my bedroom office, with the dogs munching on bones, and added 17 downloads, most are $2.99, for fabrics/drafts and design notes of my most interesting original pieces. I do use a lot of mill ends, and I do dye a lot of my own yarn, but wherever there is a handpainted warp, I give the dye formulas as well, along with sett, draft, and whatever information I think important. Most of the drafts are 8 shaft, combination structures, like plain weave, twill and supplemental warps, all in the same fabric.
So for what its worth (actually $2.99), you can purchase the design pages from my journal, with drafts and notes and some dye formulas, and have some pretty awesome fabric like the one I wove above. Click here to get to the store… 🙂
And so, after hiding for 8 hours, I came out of my bedroom and found this… 🙂
I also had one of the remnants cut into area rugs for my bedroom hall/closet/dressing room area. I asked the guy when he called on Monday how long it would take to get the area rugs bound. He said they would be ready when they came to install the stairs wall to wall. When they showed up today, I asked if they had bound the area rugs and they said, "We do it here on site". :-0
So here are the area rugs, and here is the carpet guy doing it "on site". I have never seen anything as cool as this. A little industrial machine on wheels, that just zooms around the rug while it was laying on my front deck. This just made my whole week, to think that such a thing as this exists. 🙂 🙂 🙂
So for today, I love my life… 🙂
Stay tuned…