6 down, 4 to go…
I do this to myself, embark on a Herculean task that no sane person would even try, and then put a deadline on it. I've no one to blame but myself.
First off, I waited until the last minute, the day before the deadline for an exhibit, to photograph the garment for said exhibit entry, and of course had all sorts of technical issues, including a failing card reader in the computer, note this is less than a year old. I eat card readers for lunch. The expensive lovely one I had purchased before my husband died, got fried last year when my computer went haywire and I had a new system installed. Sigh… The new expensive one is due in tomorrow, and then I'll have to call my tech guy in to install it. It is always something. There are days when I feel like nothing will ever go smoothly again. But that's a silly poor me thought, because truth be told, just about everything in my life goes smoothly, I have a lot to be grateful for, and the end result of all the shenanigans on Wednesday, was this…
And this…
The vest wasn't actually for entering the show, but I never formally photographed either piece, and that step is really important. Both pieces represent new silhouettes I offer in my garment construction classes, especially the five day retreats. The swing coat is a deluxe variation of the Daryl Jacket, lots of darts, a shawl collar, and a longer swing version with side pockets. And piping, and bound buttonholes, and a lining, and this is a lot of work. But gorgeous. I've had great response to it.
Because someone will probably ask, I hand painted the warps myself, and wove the fabric, it is mostly rayon. The weave structure is original, a combination of plain weave and twill on 8 shafts.
The collared vest came out of an article I did last year for Threads Magazine, issue 193, Oct/Nov 2017, on using the lining as seam finish under one of their columns called Sewing Saves. I taught the technique for years, but hadn't really done a newer more updated piece with it. I used the leftovers from this coat, turned crosswise to make more of an ombré, and I loved the effect. The vest is lined with black corduroy, and the black lines across the yoke and side and shoulder seams are the lining coming through to the front. I've had the vest at the last few classes and students really really wanted the pattern. It is a variation on the Daryl Jacket, but with the collar change, and no band, the fit and configuration were enough of a difference to need a complete redraft off my regular Daryl Jacket pattern. And then there was explaining how to do it.
So, spending all of January building the samples and the jacket for a summer Threads Magazine article on making bound buttonholes, followed by the trip to Cuba, we are now getting dangerously close to spring and the start of my travels, I've accomplished nothing of what I originally thought I'd do this winter in the studio. Getting this vest pattern into production was really a priority. I want to offer it for students to trace in my two day fit workshop at Convergence in Reno in July, but I hate to go to Convergence with something untested. And so Cincinnati, you get to try it out. I'm heading there March 1, like in a week, and I'm desperately trying to finish grading all sizes, making all ten sizes into samples that students can try on to determine size, and then writing the extensive handout with all the illustrations, that has proven to be quite a challenge. There are some tricky techniques to construct this thing, and to make it more difficult, a couple of options or views.
Anyway, I'm getting close. All of my garment samples use old bedsheets, because the fabric is very stable and will stay true to the original pattern size, and because they are fairly lightweight and will pack down nicely with the other 50 some samples I have from the vest with armbands, walking vest, swing coat, tunic, and three variations of the Daryl Jacket.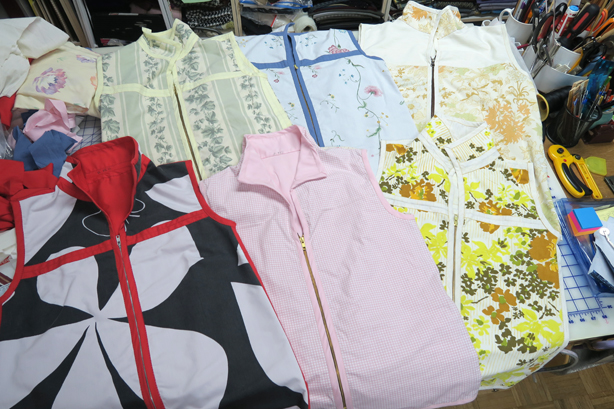 I just finished vest #6 tonight. I have four more to complete. But I have to order more zippers from WAWAK. I went to Joann's today, and not only was the selection terrible, but one zipper was $6, and WAWAK has them in 26 colors for about $1.15 each. Fortunately they ship quick.
I spent three uninterrupted days this weekend hand drawing the little illustrations, bringing the handout to about 19 pages. I wanted to be able to follow it, proofing while I completed the remaining vests, and have already found many errors, some silly, and some critical. I surprise myself sometimes…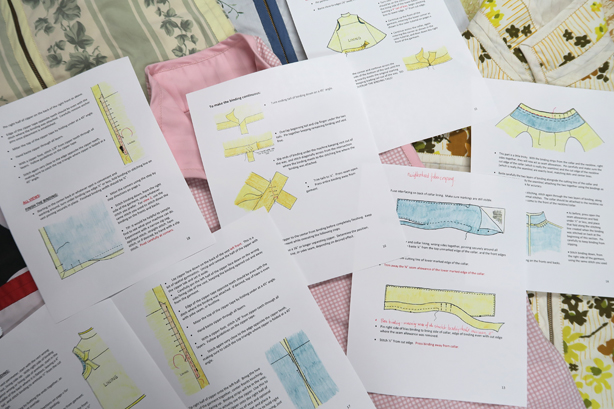 So I check things off my to do list, and more things to do quickly fill up the paper. I keep thinking, if only I can get through this event, or this project, or this article, life will ease up. So far I've been miserably wrong about that…
Meanwhile my trusty office assistant and I have created digital downloads of many of my monographs and they seem to be selling well. It is lovely to get an order and not have to stop what I'm doing, print and ship. I've already saved a ton of ink. I'm now thinking about offering the extensive handouts for each of my pattern silhouettes as digital downloads for free. For each pattern you trace in a workshop, you need the bound book of directions. That's a lot to print and ship ahead to a workshop on speculation, and if I decide to tweak a sentence or two, the extra books are then obsolete and throwaways. Having digital versions means that the download is always the most current version. This is what I think about while I'm sewing endless collared vests…
Stay tuned…