The road less traveled…
We sat around a dining table over mojitos, a couple of my tour mates and I, one of the last evenings of our trip to Cuba. I asked how my fellow tour mates planned to respond when the casual friend or acquaintance wanted to know how the trip to Cuba went. All of us agreed that you can't just say, "Oh it was really fun, or it was a lovely vacation, or it was warm and sunny and beautiful". None of those adjectives even begin to tell the story that is Cuba today.
I will say that if I had to summarize my experience, it would be life altering. I learned so much, appreciated so much, felt the Cuban pride all around, met the most resourceful and resilient peoples I think, in the world. In spite of overwhelming poverty, crumbling infrastructure, lack of supplies, credit, minimal access to the internet, they hold their heads up with pride. There is no violence, little crime, free health care, women's services, maternity care, maternity leave, free education, and equal rights and equal pay for women, and they survive. They have survived for 450 years having some country or other occupy them, they have survived numerous invasions and slavery, yet they have held on to their arts, music and culture in whatever form that takes, and they do what they have to as a community to thrive.
There is little crime in Cuba, no guns. Though to be fair it is pretty easy to police that on an island. But people don't need guns. Drugs are not prevalent because no one can afford them. The Cubans are educated, well dressed, work hard at whatever they do, and make do. It was a privilege to spend a week on their island.
You cannot begin to understand Cuba without a background in the socio-political history from the time Columbus landed (FYI, it wasn't in the actual United States) and wiped out the indigenous population and the following Spanish invasion. Then the British invaded, and back to the Spanish in exchange for Florida. A series of rebellions ended Spanish rule and then followed US military occupation. The slave trade in Cuba was huge, necessary for the production of sugar, and slavery ended about 20 years after it was outlawed in the US in the late 1800's.
Cuba gained its independence in 1902, but with that came political corruption and crime and gambling and control by the mafia. In any case, that was how it was explained to me. Cuba is mostly defined now by the 1959 revolution when the people took back their country and drove out the gambling, the wealthy, the crime and started to live as a socialist country under communist rule. With the collapse of the Soviet block in 1992, the Cuban's entered something called the "Special Period". They are sort of adrift, especially since the US embargo, which has been in place since the revolution in '59, has prevented them from benefiting from the global market we all take for granted. Yet the people we talked to, listened to in lectures, professors, leaders in the community, urban planners, artists, writers and architects, all told the same story. They put one foot in front of the other and make do and celebrate what they have and what they can do with it. Tomorrow is completely unknown.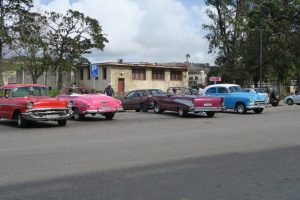 The printing school of graphic arts boasts a press from the 1700's. Everywhere you look are cars from the 1950's in showroom condition. You know they don't have access to parts, they figure out how to make them from whatever they can find.
The buildings are all made of concrete, plaster and brick because that can be made on the island. There is little wood, small tropical trees don't produce what would be necessary to build a house, maybe just the front door. My understanding is that there are 3.1 building collapses a day in the country. Yet there is an amazing respect for the standing infrastructure, no graffiti, no trash, no money to repair, restore or replace, yet they make do with pride.
Streets are made of cobblestones, actually rocks used as ballast in the 17-1800's from sugar deliveries to New England. Ships needed ballast to return safely to Cuba. Rocks from Massachusetts. They have lasted for a couple hundred years. They will live on. The Cuban cab drivers bicycle their passengers over the rocky cobblestones with grit and training and raw determination.
On every corner, in every restaurant there are musicians. There is a musical pulse to this country. Everywhere you look there is art and sculpture. Some of it is good art and some of it is not great art, but it doesn't matter. Everyone is encouraged to contribute somehow, to be creative, classes are set up in community art centers for kids to come after school, classes in dance, music, theater, pottery, painting drawing and printmaking.
It is not lost on me the irony of some of the fans of the Eagles Football team that just won the Super Bowl Sunday night were looting and burning their city in celebration of their team's win. Why do people do that? I was struck by the incredulity of the wealth of the Europeans that had established palaces and estates in Havana prior to the revolution, that imported the best of everything, Sèvres Porcelain, Aubusson Rugs, Baccarat Crystal, Czech glass, Chippendale furniture, and when they fled in 1959 during the revolution, the citizens didn't loot and destroy or sell off a bloody fortune in antiquities, they kept the buildings locked and when the wealthy didn't return, they converted the buildings into museums. Like the Museo Nacional de Artes Decorativas . The next time I'm at the MET in the European rooms, I will shake my head at the rival collection of antiquities I saw in the museums of Cuba. Life has been frozen in time on this beautiful island, and most of the buildings date back to the late 1800's. Except the cars. You have to love the cars.
Nothing is wasted here. Some of the way junk is reused just makes you smile. It is a painters paradise, to bring out an easel and paint would have been a dream come true, but when in and out of a tour bus for a week, there is little time for such a luxury. So I will settle for some beautiful photos that I'm hoping I'll be able to paint one day.
Cuban Educational Tours (CET) organized the trip for Peters Valley. The tours and lectures were designed for the group that came, we were mostly crafts people, artists, or people that supported artists like spouses. It was bittersweet for me at times, this being my first solo trip without my husband, because I found myself thinking, Kevin would have loved this, he would have taken a gazillion photos of this, he would have had so much fun doing this. But he wasn't there and I was and I was surrounded by the most interesting and creative and thoughtful and educated people. Conversations on the bus alone were worth the trip.
We saw dance performances of traditional African movements, celebrating the traditions of the slaves, and a performance of Don Quixote with the Cuban National Ballet. OMG! The talent, the training, the commitment, the professionalism blew me out of my seat. We saw a percussion/dance troupe, using chairs as their instrument, the sound was clear and rhythmic and beautiful.
We listened to Troubadours, and Cuban musicians, and we danced (fortunately I have no pictures of that) and we loved and yes, we bought the CD's. Carefully wrapped in paper and stapled. There were rarely CD cases.
We ate amazing meals, lots of rice and beans but fish, chicken, pulled pork and beef. There was lobster pizza and of course free flowing rum, and the island drink Mojitos. That green is muddled mint. About every 15 minutes we were handed another bottle of Ciego Montero, "the No 1 en Cuba" bottled water and were told that in reality, it is the only bottled water available in Cuba.
We visited a pottery studio, a print making studio, heard lectures from Nationally respected artists, and got an art lesson from one of the professors in the University. Even having to have his words translated, he made more sense in 10 minutes than the four years of my fine arts degree. To have an idea come to fruition, you need the time, resources and repertoire or skillset and there is a constant flow of adjustment that moves back and forth from these concepts that result in the final work. You can't design an idea for 16 shafts when you only have 8, unless you have the skillset or repertoire and time to do pick up. We visited an arts academy, created from an abandoned pre revolution golf resort, and we visited a trade school that trains youths in restoration skills in plaster, concrete, brickwork, plumbing and electricity and ironwork. There is a lot of need for these skills in Cuba, as you can imagine.
Our accommodations were really lovely. We stayed four nights in the Meliã Cohiba hotel in Havana, and two nights in Casa Particulares or private homes in Trinidad, a beautiful crumbling city on the southern coast of Cuba. There really isn't a hotel infrastructure that can support of lot of tourism, but resourceful Cubans have opened their homes to let outsiders come and stay with them.
Bathrooms were an adventure. I've talked to many friends who have traveled to Latin American countries and nations that don't have the toilet infrastructure system we do here in the States. I found myself really appreciating a basic toilet seat. We had them in the hotels, and maybe a couple of the restaurants, but mostly, no. Sometimes no running water, the toilet lady, who collected a coin to give you a couple sheets of toilet paper (which you weren't allowed to throw in the toilet) would have to manually flush the toilet with a bucket of water. I don't know how she managed that, and I didn't want to know. You learned to carry tissues and wipes with you (which you couldn't throw in the toilet) and hand sanitizer. And in spite of judicious use of sanitizer, we all managed to pass around a wicked stomach virus with the results I'll leave to your imagination. I was one of the lucky ones in that when it hit me, I was safely in the hotel in the middle of the night where I had a toilet seat and toilet paper I could flush. Gratitude.
There is so much we take for granted here in the States. We have known no other way of life. I am truly touched by the generosity and resilience of the Cuban people, the way they talk about each other with pride. They way they listen to every word coming out of the US because the US controls so much of their destiny. They have five TV stations, one is from Venezuela, the others State owned.
Oddly enough, one of my favorite tours was to the Christopher Columbus cemetery. The guide was hilarious, spoke perfect English and the stories of the dead were just the best. And again, the wealth prior to the revolution. There was an exact replica of the Pietà. Yeah, that one. Life size and perfect. Because they could.
And we visited a tiled city started by artist Fuster, and enthusiastically embraced by the whole community.
I understand Peters Valley is sponsoring another tour to Cuba in November. Go. It should be required for every US citizen. Go before the embargo is lifted and Cuba becomes America's playground. You won't regret it.