The Outer Banks…
I have a confession to make. I looked at all these photos, and there are a lot of them and realized two things. One, that I took none of the photos and that's why there are so many of them and the venue was documented so well. And that I think this is becoming my favorite place to teach. The spacious carpeted classroom with great light. The bar/restaurant across the hall. Waking up to this every morning with a beach front room.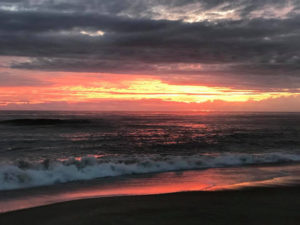 And the class. I adored this class. They all have amazing talent, wonderful fabrics and tried some new and very brave things. Most of the students were repeaters, and I always love when they embrace the newcomers, it all feels like family. And amazingly enough, all of the garments were from my patterns. I'm offering quite a lot of choices now as you'll see below.
We all worked hard.
Leigh took all the photos and got many of me hard at work helping where needed. It would appear my favorite place to help was crawling around on the floor.
We took frequent breaks. The restaurant across the hall would deliver food. The food was excellent.
Garments began to take shape.
We even got a walk on the beach one morning. Apparently a number of the students did this regularly, but I only joined in once.
Most of the garments were from Handwoven fabric, many of the warps hand dyed, some from Blazing Shuttles. Sharon, my lovely wonderful Sharon however, who is the most out of the box thinker I've ever worked with, came in with bags of large pillows from Home Goods, because her looms are packed away while they build a new home. Who thinks, while standing in Home Goods, that throw pillows for the couch would make a great duster? Sharon spent the first day ripping all the covers off the pillows, taking apart seams, and contemplating how they would go together. The results were nothing short of incredible.
Margaret was so inspired by Helen's vest from last year's class, which she brought back to show us when she came for the inkle class that followed, that she vowed to weave fabric while at John C Campbell this year, to make a similar dramatic walking vest. She nailed it as well.
And there were the handwoven fabrics with painted warps. Placement is critical here, and the results are gorgeous.
There were the weavers, who wove gorgeous competent cloth and made equally gorgeous pieces.
The class final photos were really fun, not everyone could be in each photo, so we took two. The woman on the left behind me in the beach photo is Linda Ihle, who organized this retreat, she didn't take the class this year, but checked in daily and made sure everything ran efficiently.
I am so looking forward to next year's class. Dates are set. October 29th – November 2nd, 2018, in Kill Devil Hills, NC at the Sea Ranch Resort. If you are interested in joining next year's class, contact Linda. LindaIhle(AT)aol(DOT)com.