In Thanksgiving…
I can see the light at the end of the proverbial tunnel, I have actually gotten to sleep in, not set my alarm, be gentle and in the moment, at least for a couple of mornings. This is very positive, I can assure you.
My son and I grocery shopped Tuesday afternoon. The place was a zoo but we navigated it well and got everything we needed.
I vacuumed a little Wednesday night. I keep the house picked up, sheets were already clean for company. So there wasn't much to clean, only the dog hair on the sofas, the Roomba took care of most of the lower level floors earlier in the day. My housekeeper will come Monday. 🙂
Thursday morning, waiting for company to arrive, I had my breakfast and worked on a puzzle. I did nothing in the kitchen except clean up my dishes from breakfast. First my daughter rolled in, she brought her new five month old kitten, which promptly growled at my very curious dogs. The kitten stayed locked in the guest room and did quite nicely over the next couple days. She set to work, with me as her sous chef, making a lovely sweet potato gratin, from a recipe she found in Real Simple a couple of November issues ago. We love this recipe. Next she started on a new family tradition, celebrating her Scandinavian roots. St. Lucia buns. Other than the obscure ingredients like Quark Cheese and castor sugar and saffron threads, which my ShopRite actually carried, and a hilarious conversion process of metric into imperial, because well, my daughter is the physics/chemistry person on the house and she would just glare at me as I tried to convert grams of butter into Tablespoons, we had a great time. They were unbelievably delicious.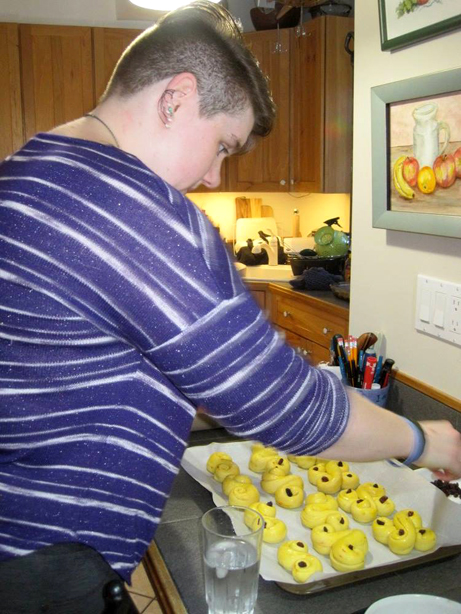 While all that was cooking, my son wandered up from the basement, he closed the Target store the night before and got home well after midnight, and he set to work chopping onions and garlic, lots and lots of garlic. He made two steaks in the cast iron skillet, with roasted corn, onions and garlic topping, while I worked on the green beans in butter and garlic. Did I mention we went through a lot of garlic? He also stuffed a chicken with onions and more garlic and stuck that in the oven.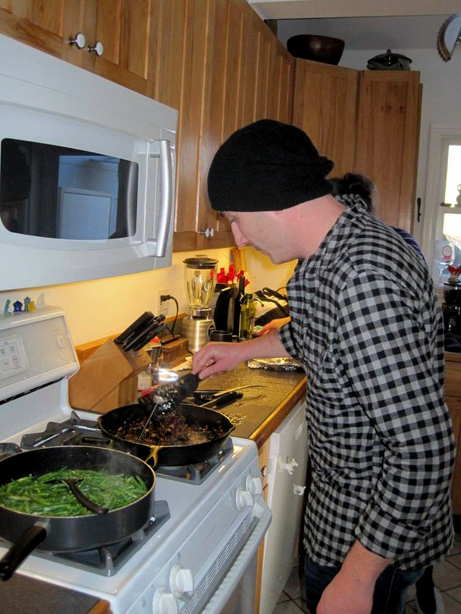 My sister arrived with her husband and her two children from Maryland, along with the 90 pound black lab. We had a house full of animals. The dogs, my two and hers, had never met and they all got along famously. The kitten stayed hidden away. All of the photos her were taken by my sister. She did a great job capturing the spirit of the day. Thanks Marta!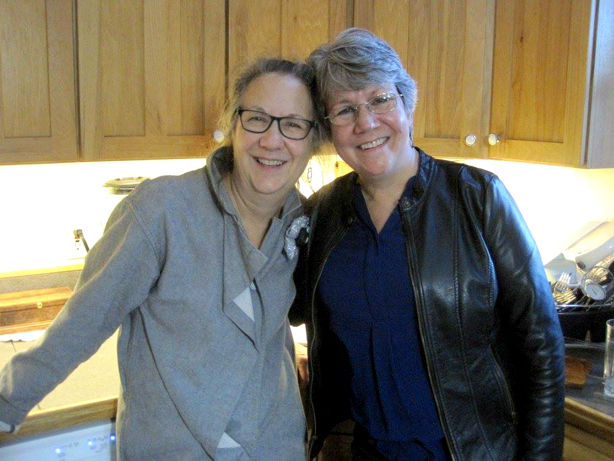 We put her son to work barbecuing the shrimp because my niece doesn't eat red meat or chicken.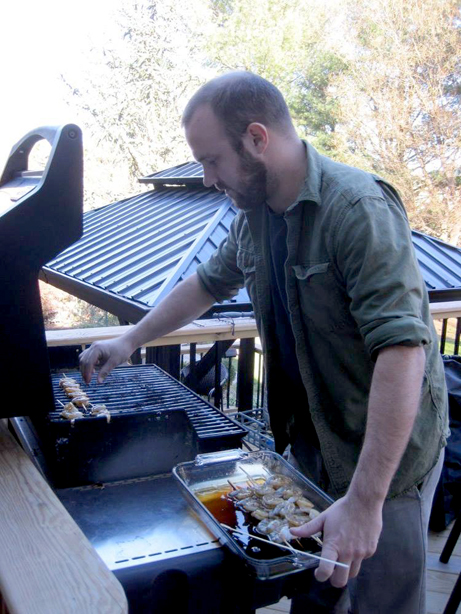 We took some family photos while the light was still good. The water feature in the yard was installed last spring, during the warmer months water cascades from the top, it is beautiful. It has been drained and closed down for the winter, but a handful of my late husband's ashes are under the slab it rests on, and it felt appropriate to take a picture beside it.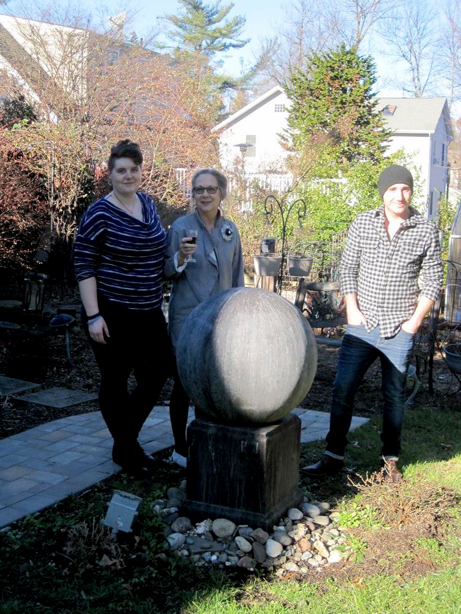 About a half hour before dinner, my assistant Cynthia stopped by with a bottle of wine. We immediately coerced her into staying for dinner, with the excuse that eight at the table was more balanced than seven. Cynthia and I spend a lot of time together, since she is my office and studio assistant, and I wanted her to be a part of my family dinner. That's my daughter Brianna on the left, followed by my niece, me, Cynthia and my sister. And there in the background on the sofa is my princess Saphira. The women of Utne Court.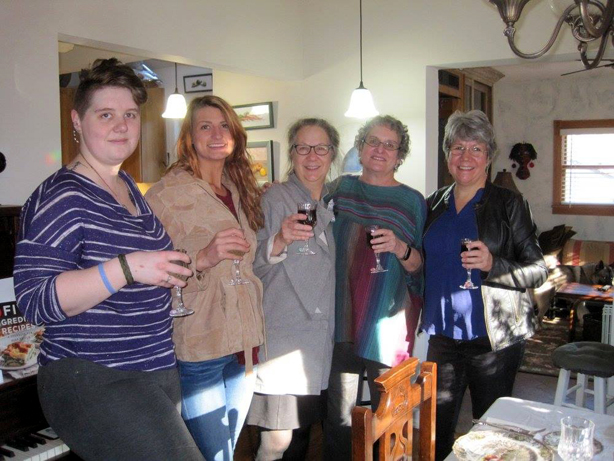 And so Thanksgiving was a lovely gentle holiday, no stress, the kids did most of the meal planning and the cooking. Cynthia and I cleaned up the kitchen afterwards, we work well together. Everything was done, few leftovers to put away and dishes/kitchen cleaned by 3:30 when my son had to leave for retail hell, Target opened at 6pm and he had to open the store by 4. He was a good sport.
My sister, her husband and son, and I took the two larger dogs, Ranger and Jazzy on a walk to the end of the street, to pick up the Morris Canal towpath, a lovely mile long walk along the old canal bed. It is about 500 steps from my house. We walked until it got too dark to safely see, passing the most beautiful red fox sitting in the middle of the path. He graciously moved out of our way. Side note… I forgot and left the doggie treats in the pocket of my down coat, and tonight I came into the kitchen and found my trusty down coat ripped from the hook, the pocket torn apart, the treat bag demolished and heartbroken I went upstairs online and actually made a black Friday purchase, I ordered a replacement down coat from LL Bean, with my black Friday 20% off. Score!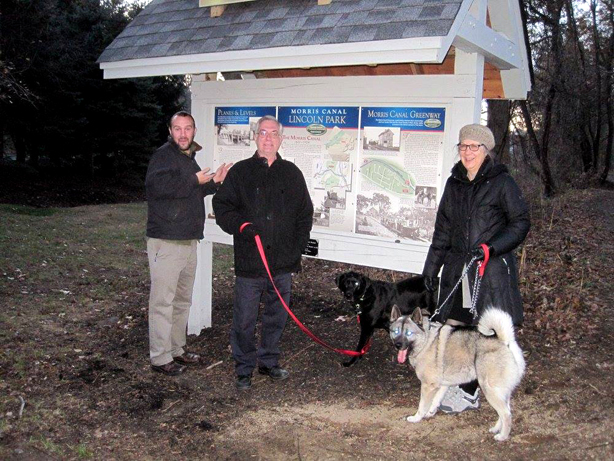 The day was beautiful, the meal lovely, the family and friends joyous and in great spirits, and I could not have asked for a better day. As we set new traditions, we remember the old, and give thanks that though life has diverged along paths I never thought I'd walk along, I'm never alone and I look at the simple things life gives and I'm very very grateful.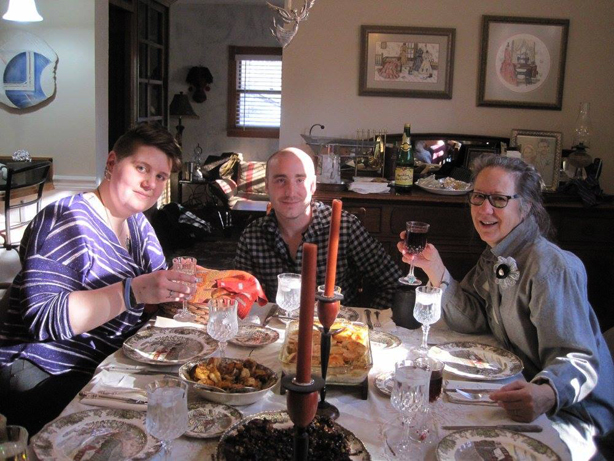 And I finally got to start weaving my holiday towel run, 5/2 perle, because it was what was on my shelf, from a draft in Sept/Oct 2017 Handwoven Magazine. 8 shafts in case you were wondering… I actually had my assistant Cynthia set up this loom. She has never woven before, so this was probably not the best thing for her to learn on, but she did it with determination, a smile the whole way, and very very slowly. I went along behind her correcting mistakes, and there were mistakes, but by the time we beamed the 11 yards, it was perfect and the towels are weaving like butter.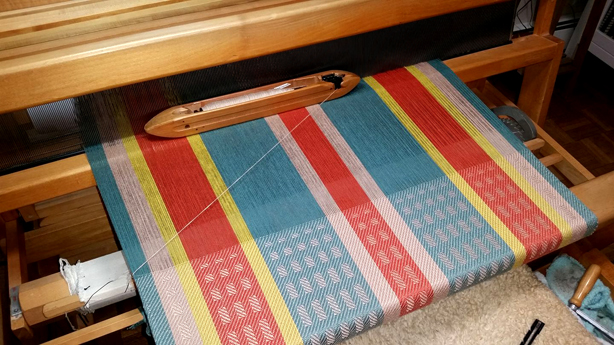 My eShop seems to be working, but not without some trials this week. I discovered I needed an SSL certificate, why did no one tell me this… And my tech guy came Tuesday and acquired one for me, got my hosting company to load it in and then the shop platform guy in England got it to work. Or so they tell me. I'm still not seeing the shop run the way it use to, but I suspect I'll always be tweaking something.
My blog on the other hand… I am really really sorry to all the readers who subscribe and are not getting notifications. I have paid hundreds of dollars in tech support to try and figure out the problem. We have had no luck other than the suspicion that my blog email has been blacklisted as spam. It won't even show up in spam boxes. I can't even get notification when a comment comes in. And WordPress has no tech support except for forums, which we have read and are not heartened by the general opinion that this is a common problem and there is nothing to be done.
I promise dear readers that I'll post the images from the OuterBanks Retreat I recently did, they are wonderful, and I took absolutely none of them. I had a couple of very photo prolific students who captured the heart of the experience, I was even in a couple of the photos, and I'm just thinking that I'll let everyone else take the photos for awhile. They do a better job and it is one less thing I have to take care of!
Stay tuned…