Finishing…
I an scarcely breathe with the craziness that has started to define my life. I keep telling myself, (and I'm sticking to this story) that you can't run a tight ship, or any ship at all, if you aren't on board. Which is what happens when I'm gone for so long so often. I have finished my traveling for the year dear readers, and I barely got home, and got the salt spray off my car when I jumped into my guild show and sale. After teaching for 7 days straight in the OuterBanks, NC, which I will blog about when I have a bit more time, I dove into the guild sale, I'm the treasurer, what was I thinking, and spent the last five days processing a lot of money, which is all safely in the bank and most of the bookkeeping done.
Rehearsal schedule is in full swing for all the December performances for my recorder consorts, yes that's plural, because I can't just play with one group… Don't cry for me, I actually chose all these fun things that I love to do, but dang, there just aren't enough hours in the day…
On top of that, my daughter had her 25th birthday. That in itself is really hard to comprehend. She is an adult, out on her own, and where the heck did that seemingly endless life with young children go. It seems like a lifetime ago, and actually it was.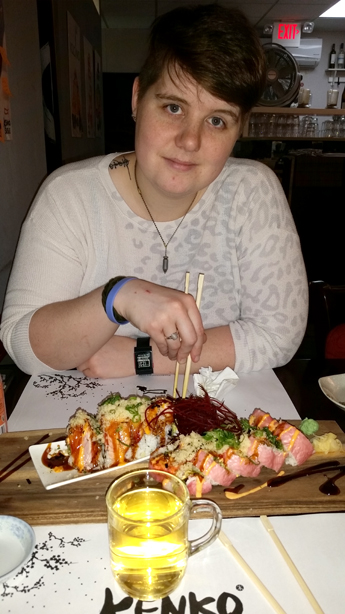 So I have a story…
Most of you who have followed my blog for while, (9 years next month), you might remember that my mother in law, Margaret Lancaster was a master bobbin lace maker. When she died in 2006, I wrote a piece on how we met and about how bobbin lace wove itself through our relationship. You can read it here…
Margaret wanted all the women in the family to have a bobbin lace hankie when they married, and when her son Kevin and I got engaged, she set to work on mine. She presented it to me the morning of our wedding and it sat framed on the wall until just recently when I needed to start fresh and paint each room and freshen the artwork. It is safely tucked away. You will notice that the edges of my wedding gown are trimmed in a lovely baby lace, I think she made 12 yards of lace for my gown as well.
Anyway, Margaret started a lovely bobbin lace handkerchief for my daughter when she was born. Already well into her late 80's when Brianna was born, her eyesight was failing and though she made it through three corners, she died in 2006 without ever finishing it. It was intended for my daughter when she married, which was of course assumed of all women at that time by that generation. Three weeks after my mother in law's death, my own mother remarried, and my mother in law, right before she died told me how much she wished that she could have made a hankie for my mom's wedding.
Whether you believe in ghosts or not, my mother in law's spirit followed me around my studio for quite awhile right after she died. She kept insisting I make a hankie for my mom's wedding and in frustration I told her spirit, I can't make something from nothing. And in only a couple weeks. I heard this voice telling me to look in a particular box, I had moved all of her craft/fiber/bobbin lace supplies and incorporated them as best I could into my own studio, and I opened the box and found right on the top, a long length of a pretty lace, with a motif that could easily be folded into a mitered corner. That was fine, but I needed fine linen to sew it to. A voice in my head told me to look in the corner cabinet. There was a lovely piece of folded linen, and I grabbed my thread and a needle and set to work. My mom carried the lace hankie during her wedding and I know my mother in law was proud and happy with me for making it happen.
My mother in law had a lot of lace pillows, bobbins, prickings and a lovely lace collection. And I have about the same quantity of stuff. So between the two collections there were way too many pillows and thread and bobbins and whatever, and to be really really honest, I'm starting to wind down and make serious decisions about what to keep and what to move on professionally, personally, and physically. I don't need 16 lace pillows. I don't even want to make lace, except on a rare occasion when I'm asked to demo at a historical society. I don't use lace in my clothing, and I don't need hankies framed and hanging on my walls. So I've spent the last year carefully working through the pillows, donating much of what I don't want to the local bobbin lace group, and paring down the collection and the equipment. I'll always keep something, but I can't keep it all.
Back to my daughter's three quarters finished hankie…
The pattern for this is a miniature version of a well known Danish Torchon pattern called Emporer's Crown. Most lace makers know it, especially those who studied with Gunvor Jorgenson. As a matter of fact, when I was sitting in an 11th century church on the Isle of Ven in the Öresund Sound between Copenhagen and Landskrona, Sweden, July of 2015, I saw, trimming the altar cloth, the Emporer's Crown bobbin lace. Made my heart sing. I have the full size version on another pillow.
But this little miniature version was of size 100 thread, very fragile, with many of the bobbins broken off, and I looked at the pillow in dismay last spring and took a deep breath and started in. I had help, I belong to a small lace group that meets with a mentor who also studied with Gunvor and knew the pattern. Pat got me back on track, and we found that the two patterns were not identical in how they were constructed and my goal was to replicate what my mother in law had started. I spent a lot of time looking through a magnifying glass.
My goal was to finish the hankie by my daughter's 25th birthday. She may or may not marry in her lifetime, and a wedding hankie may or may not be part of the ceremony, that isn't for me to say. But the hankie was for her, and I know my mother in law wanted it finished and for her to put it away for a time when it will be important to her. And I needed to clear this pillow and move it on. As a matter of fact, I'm going to ship it shortly to one of my OuterBanks students, also a lacemaker.
Anway, last Friday morning I was furiously joining the two ends of the hankie, 64 pairs of fragile 100 thread. There are a lot of ends to work back in. But the lace is off the pillow and I am thrilled. And I think my mother in law is happy. I showed Brianna, she was amazed at the intricacy of the pattern. It really is beautiful. I still have a lot of handwork to do. But I accomplished something that was very important to me. It is finished… (except for the handwork)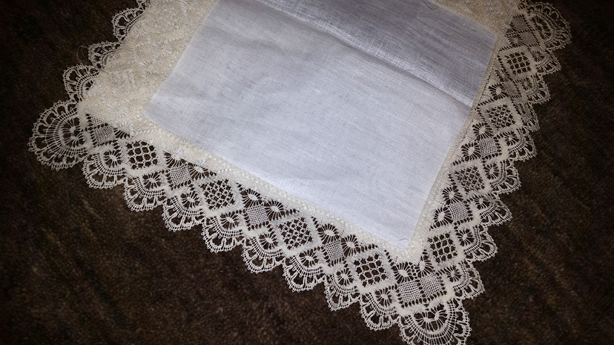 And the other night, I finally finished the bottom of a lovely shell I started only a couple months ago, from a C2Knits pattern called Daphne out of Shibui heichi silk, color Spore. I made one a couple years ago in a different color way, and it is my favorite of all my handknit shells.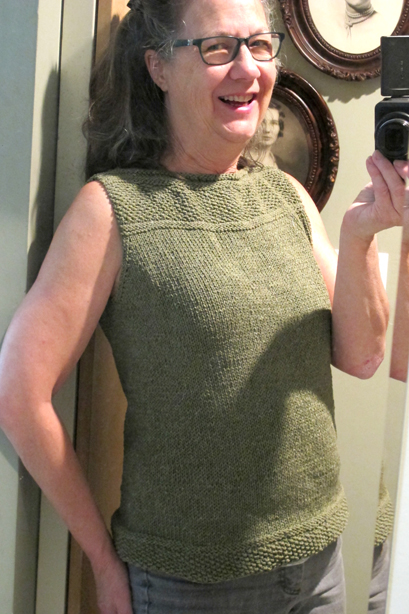 I'm starting to catch up on a few things, I really wish I had a little more time before Thanksgiving. As it is I made commitments for some fun outings over the next three days, and what I really want to do is just crawl into bed and sleep for a week.
The big news is I was able to upgrade my eShop. It needed to be done, and I moaned and whined to anyone who would listen, and got feedback on what direction I should go. In the end, I found out that the shop I had been working with was actually just fine, but there had four major upgrades over the years that I had never done because well, I had no idea, that was my husband's job. So I paid the crew at Cube Cart, a British company, to upgrade my entire shop, now the FusiKnit interfacing is back in stock and listed again, and I'm hoping to begin the process of creating and offering digital downloads for a lot of my monograph content. Stay tuned for that…