In and Out…
Two day classes are just a whirlwind. I did a quick jaunt to Cleveland last weekend, where a delightful group of women were eager to make a vest from their mostly handwoven fabrics. They had done a study of what it takes to make good cloth, prior to weaving the fabric for my class, and there were some pretty exquisite pieces of handwoven fabrics to behold!
The group is Western Reserve Weavers and Spinners, and the problem with a two day class, besides not enough time, is I really didn't learn everyone's name. Though I took a lot of pictures, I couldn't tell you their names. Because that part of my brain that remembers names has never ever worked properly…
My trip started on a really sour note. I am a Premier Gold frequent flier on United, with a United Club pass. I do everything in my power to make sure traveling is as stress free as possible including taking the first flight out, which normally doesn't experience delays, since the plane is there waiting and already serviced. Even if I have to go to the airport at 4am. Newark Airport is mostly owned by United, and the little RJ's, or Embraer Jets for United Express leave through terminal A, where security is short and fast, the terminal is short and fast, and baggage claim is one carousel for United, and again, short and fast. It is kind of the commuter terminal.
Without spending most of this blog on the horrors I experienced at the hands of TSA, I'll summarize it like this. First I did not get my usual TSA Pre-check for some reason. And there are no longer lines for Premier fliers. Just TSA Pre-check and regular everyone else. There were only two lines and two machines for security the morning I flew, and no one was on the Pre-check line and everyone was on the regular line. I got stopped for a pat down after exiting the back scatter machine, because, well, who knew that the back scatter machine didn't like volume. I had on an A-line skirt. Really. So that was pat down #1. Then my carry on bag was pulled because, well apparently I had food in it. I didn't know that food was no longer allowed. New rules apparently. My little bag of home made granola I travel with was pulled out of my suitcase, swiped, and declared that a second level alarm was triggered and they would have to wait for a supervisor to inspect my granola and everything else. Everything in my bag was inspected and swiped, and I went through yet another full body pat down. Since this was the only line, no one could move through until my issues were addressed. The line became ridiculous, and I think a number of people missed their planes.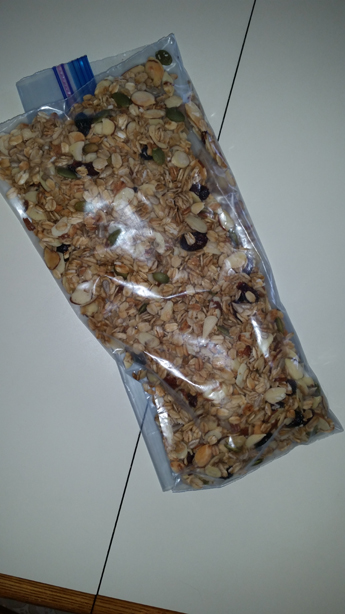 The supervisor was a recreation of officer Opie, from Alice's Restaurant, with his 8×10's with circles and arrows, he was taking pictures of my bag going through the scanner, the granola was rescanned, reswiped, and they decided that they needed to call in a specialist. An explosives specialist? Really? If this wasn't so serious, it was pretty hysterical. The people behind me in line, who all had their bags pulled for additional screening were pissed, scared, and dumbfounded, just like I was. I offered to eat the granola, but was told to stay away! The specialist came eventually, and went through the entire ritual again. It took almost an hour to get through security, because of my little bag of granola, and I have never felt so helpless and so bewildered by what the hell was happening here.
The flight itself was uneventful, I had about 10 minutes left to grab a cup of tea and some oatmeal in the club lounge before boarding, and I made it safely to Cleveland in 1 hour and 6 minutes. The flight was shorter than the line to get through security…
A couple of the guild members picked me up, and we met up with my hostess and we all went out for lunch. My hostess Nora took me back to her house, where I relaxed and enjoyed what was left of the day. I've stayed with Nora and her husband Tony a few years ago, and it was like being with old friends. They have a massage lounge chair in the living room. I tried it. Nora caught a great blackmail shot…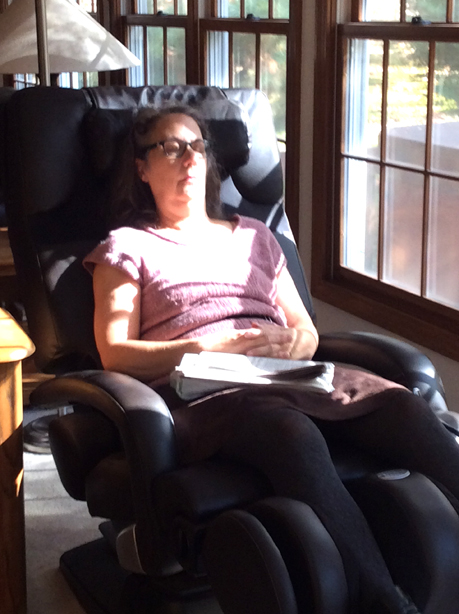 There were 14 in the class. It was a great group. They were eager and prepared, and there was a lot of handwoven fabrics. The space was narrow but with great light.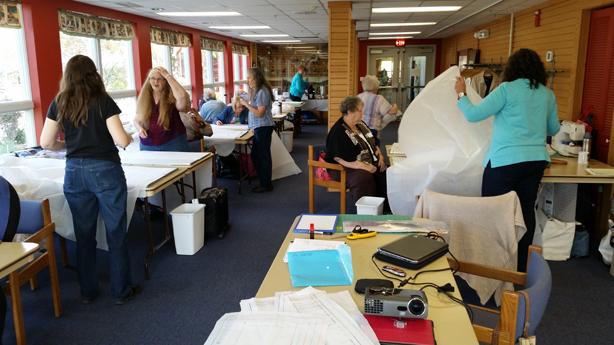 We fitted the vests in record time, and most of the patterns were traced by lunch the first day. By the end of the first day, most were cut out and ready to sew like the wind on Sunday morning. My newly rewritten and illustrated handouts proved to be quite successful, there were very little questions on the construction steps, and slowly the vests took shape.
This is one serious match job!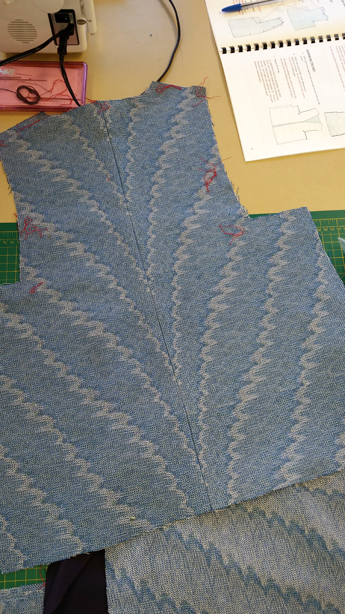 Linings were added and vest bodies were completed.
By the late afternoon on the second day, we had finished enough that everyone could put on a vest, many were still missing neck bands, and most were still missing arm bands, and they all were full of pins, but everyone seemed really happy. I especially loved the mother daughter team, using the same handwoven fabric!
I love my mid-western ladies, and they all looked great in their partially completed vests. I hope they send photos when they are all finished.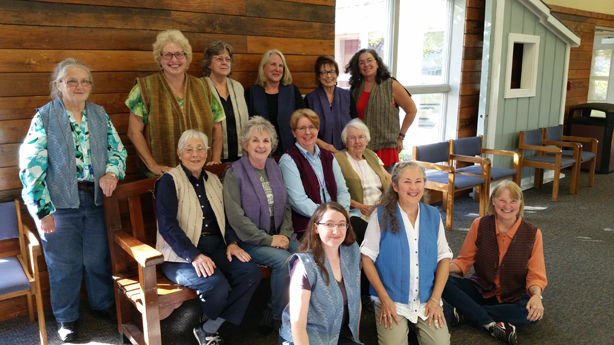 And there was a Daryl Jacket spotted, one of the participants, who had taken a Daryl Jacket class with me, used the pattern for a jacket in a class with Kenneth King on using faux fur. This was pretty cool.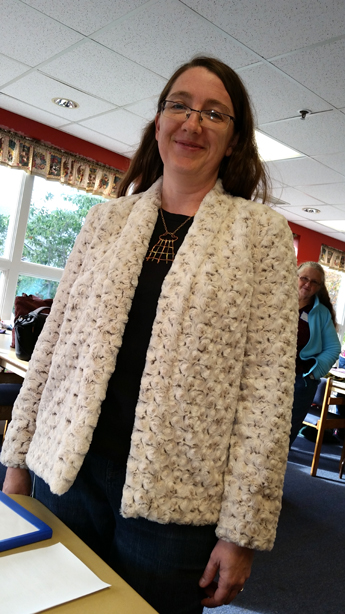 The trip home was exquisitely uneventful, I had TSA precheck, I was through security in about 7 minutes, but I did put the granola in my checked bags. I was not taking any chances. I may have to break down and apply for permanent TSA precheck status, and pay the $80.
The only down side to the whole trip was it was pretty apparent that by Sunday afternoon I was getting sick. Nothing serious. I haven't had a cold since before my husband died. Apparently there is a virus going around and I've been told that EVERYONE has it. I came home feeling pretty crappy. I'm a terrible patient. My house was crawling with contractors, my assistant picked me up at the airport and has been wonderful at helping me prep for my next venue which is Saturday, when I leave for the Outer Banks, NC retreat. It is a long drive but I'll break up the trip by staying with family in Maryland. I'll be teaching a five day garment construction intensive followed by an inkle weaving class. This is my last venue of the year, and I am really really tired. The drama at home, the cold/fever, the computer issues that have been partially resolved, my new computer system is nothing short of remarkable, and I've restored most of my settings, but my shop is still not functioning properly and has to be reworked, and I'm just not around to deal with it.
So hats off to Cleveland Western Reserve, you ladies rock! I'll be leaving shortly for the North Carolina coast, and then I go right into the guild sale, and I'm the treasurer. Somewhere I'll find a well deserved rest, but right now, rest eludes me…
Stay tuned…