Poor forgotten Harrisville…
I did say I'm working backwards, and so Harrisville Designs in NH is up next. I absolutely loved this class. Like Sievers, it is probably my top favorite place to teach, both are in cooler climates, both are in the very early fall, both with amazing students and repeat students. The big advantage of Harrisville is the awesome general store across the street where I have lunches and dinners, pre-prepared, so I don't have to cook for myself! I can just hang at the studio!
It is always tough for me when these 5 or more day retreats happen in such a short time period of each other. Not much happens in my own studio, it would be all prep and wrap up. But it is seasonal. I'm starting to wind down, one more weekend trip to Cleveland in a couple weeks, followed by the Outer Banks Retreat the end of October into November. I can see the light at the end of the proverbial tunnel.
But I want to highlight the great work that my students did at Harrisville this year, though it was only a five day, they worked hard and pushed the proverbial envelope and did some amazing things.
Though these are blurry, what is that about… The space at Harrisville is large, easy to move around in, well lit, and breezy in the early fall.
I always think I take tons of photos, between my cell phone and my little camera. And when I get back to the office and dump them into my computer, there are images that apparently I missed, especially of finished pieces. I'm sad for the great shots I missed, because you don't ever see the amazing finished pieces from some of the students.
I love the ones where students pose when they get the shoulders and side seams in, they are starting to realize an actual jacket or vest. These were my new students this year.
And Clare, in the middle, decided to try the princess seam version of my Daryl Jacket class pattern, using a sampler of handwoven wool, I might be wrong but I thought it was the first thing she ever wove. There wasn't a lot of it, so she supplemented with black something, I've forgotten what it was. She was so happy with the fit.
Jan and Anne made vests, Jan's vest was from a Sakiori rag fabric she wove from chambray colored sheets. Anne's is a commercial fabric and I think we ended up using the wrong side.
Sisters Mary and Anne came back this year, and Mary made a standard Daryl Jacket but the match job was the best I've ever seen. It was challenging! And Anne started in on a princess version of my jacket pattern, we worked hard on the fit. I can't believe I don't have a photo of her with the shawl collar and sleeves inserted. It is gorgeous.
My biggest challenge of this class though, was Nora's plaid bias cut raglan sleeve coat. She brought her own pattern. This was a huge wow when she put it all together. And everything matched!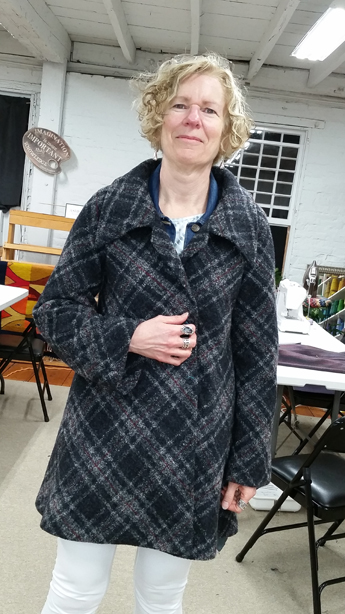 Jane has been with me for a long time. She is a lovely weaver, and this year's fabric was tencel, sett denser than the one she wove last year. I can't believe I don't have a photo of the jacket with sleeves, she did a beautiful job finishing it, and you can see the final jacket in the class photo below. Jane also chose to do the princess seam jacket. Though it takes longer to make, lots more pieces and lots more seams, there is nothing like the fit of the princess seam. If I recall correctly, once her sleeves were in, we tweaked the fit over the bust some more.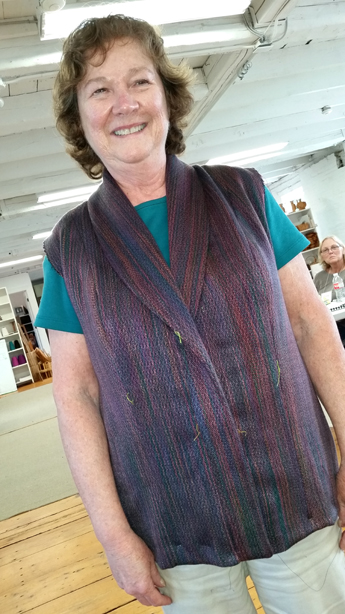 Carole and Amy are my repeaters, they have been coming to my class here for something like eight years? It is a vacation for them, and they walk away with some pretty great stuff.
Carole had cut out a striped shirt, from handwoven fabric, and I can't believe I don't have a single photo of it. Not even in process. Then she started in on a blouse that I think she cut out last year, and realized after she assembled it, that she has changed shape a bit since last year, she was going to release the waist darts to get a better fit. Another handwoven piece, both Carole and Amy are amazing weavers and work pretty fine. Amy made another button down shirt with her handwoven 60/2 silk, and then started in on a variation of the new collar I'm working on, the original vest, also a Daryl Jacket variation, is featured in the current issue of Threads Magazine. Amy had a lovely piece of handwoven wool, and made a gorgeous vest, perfect for a Vermont winter in the office. Again, I can't believe this is the only photo I got, and it is blurry.
Here is the final class photo for Harrisville 2017! We already have the same weekend booked for 2018, last week of August.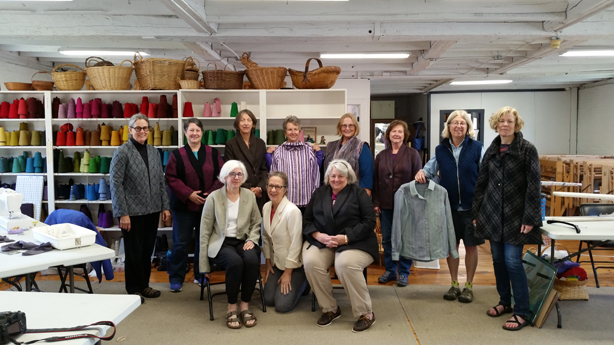 Stay tuned!