Oh Sievers, how do I love thee…
Let me count the ways…
My last post I raved about the inkle class I taught, now, working in reverse, I will tell the tale of the first class I taught, this, my 12th year at Sievers School of Fiber Arts on Washington Island, WI.
It starts and ends with the ferry…
I've been lucky the last two years, I've had fellow instructors drive me to hidden places on the island I wouldn't normally have access too, and this time Jo Amsler, the willow basket teacher took me to Jackson Harbor at dusk. Wow. I want to toss aside the 300 emails and contracts waiting for me and just paint. Sigh…
We were in the Sophie Studio this time, there are two studios at Sievers, Jo's class was in the Walter Studio. The lighting is good here, though it is a bit cramped, that actually made the setting more intimate and the students more supportive and helpful to each other. I had five repeat students and five new ones. They were all instant friends, and I love a class that pulls together.
Students helped each other, a blessing when I have 10 students and they all need me at once. The infamous alert list which keeps my sanity, was used well.
Handsewing and shenanigans after hours was the norm.
The new students made my standard jacket, some with shawl collars, all from handwoven fabric. Sara, Karen, Cristel, Lynn and Becky. I loved that Cristel used the first handwoven fabric she ever wove to make her jacket. It had been sitting on the shelf a long time.
Cristel also took apart a garment she had started before class and reworked the fit and drape, she is much happier.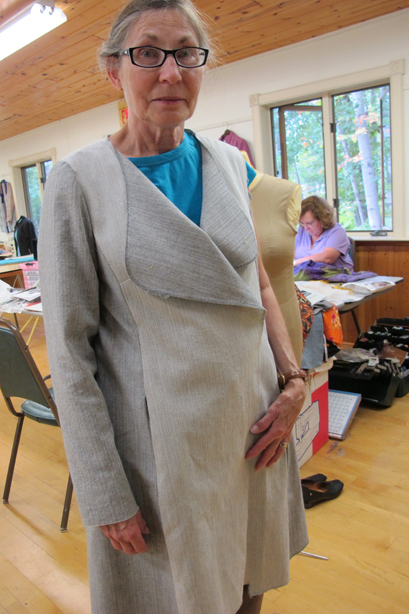 Lynn tried bound buttonholes, and even then, finished her jacket in record time for a first timer, then started on a new project. This jacket is a new collar variation I'm playing around with. We were able to edit her jacket pattern and she picked up some quilt fabric for the lining and trim at the Siever's store. She pulled the zipper out of an old garment. I am so very excited by this variation to my regular jacket pattern and Lynn was a good sport to have a go of it, construction sequence was made up as we went. We even turned the pockets upside down and used the lining as a design element.
Terry brought a clasped weft handwoven fabric, we turned it crosswise and she made the most fun tunic. I can't believe we didn't get a photo of the front. She also finished up a vest from last year with a twist ply closure.
Linda dove right in with a handwoven dyed and felted fabric, and made this gorgeous shawl collar coat from a pattern she brought from home. She finished that in short order and then made my tunic from a commercial fabric. Then she copied a shirt someone brought in and made a third garment from a commercial fabric. She gets the prize for the most!
Ginnie brought in her stretch twill snakeskin print fabric, we bought it together back in 2014 when we went on a buying trip to NYC together with Peggy Sagers. I made these pants a few years ago.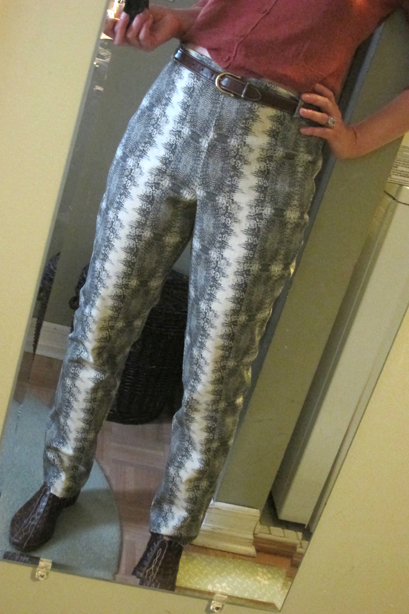 Ginnie made the most lovely vest, it fit her like a glove. It is a Sandra Betzina Vogue Today's Fit pattern.
Ginnie started figuring out a jacket I've made, and documented on my blog post a couple of years ago, because there were a number of errors in the pattern. Sadly there still are. I made mine (on the left) for an article for Sew News on how to make triangular bound buttonholes. The trim on this jacket is really fun to do once you figure it out. She had both sleeves in the last day, but somehow I didn't grab a photo. She says is is the trial run for a garment from handwoven fabric.
Cindy and Joy both wanted ensembles for a wedding they needed to attend. They both used the same jacket pattern, a Loes Hinse pattern, now out of print. Joy made her's from a velveteen, and Cindy made her jacket from a Handwoven fabric, and the dress from a knit. She had played around with the dress patttern last year and reworked it for this year's design. The lining was a wow.
And here are my Siever's Achievers from 2017. My most prolific bunch to date…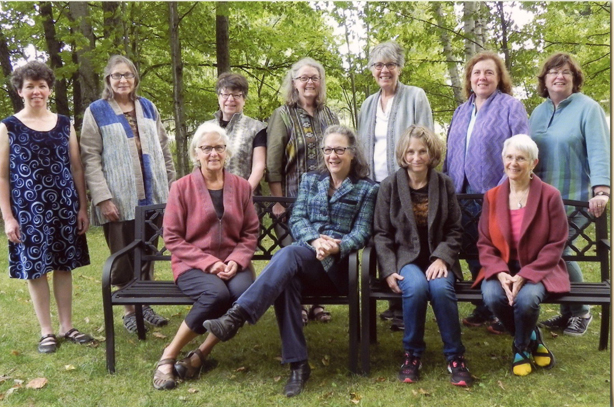 Back to the loom. Stay tuned…